First published in Country Music People, March 1978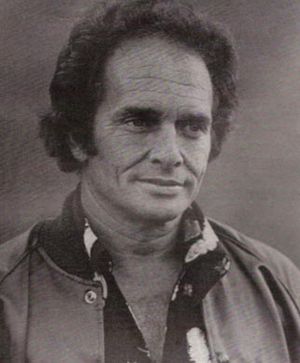 There is a risk of exhausting the stock of superlatives if you write often about Merle Haggard, and I dare say I've used up most of them down through the years. For one thing he keeps on getting better, so far as musicianship and writing are concerned, though his recordings have been of so consistent high standard for so long, that the improvement is hard to perceive.
It seems just as inconceivable that it was only a dozen years ago that the Hag started to make his mark on country music. He has achieved so much in that space of time that you would be excused for thinking that he'd been around a good deal longer.
Take some of his songs, like
Silver Wings, Daddy Frank, Sing Me Back Home, Okie From
Muskogee
and
The Bottle Let Me Down
, which have become country standards, and are as familiar as the classic works of Jimmie Rodgers, Hank Williams and A. P. Carter in the annals of country music.
His songs have class; they're different, honest, and when not whimsical, they are primeval. In the loosest of terms he really fits the country musician tag, but really there's much more involved than that. Each song he records he sings with utmost feeling, his own originals are all strong in story and cover the themes of love, inhumanity and heartache, three of the most popular subjects for country writers.
The big question is why did Merle Haggard make it as a superstar whilst a lot of other talented writers and singers around Bakersfield in the mid-1960s were left on the side lines. His first two or three albums, whilst containing some outstanding performances of songs like
Branded Man, I'm A Lonesome Fugitive, Swinging Doors
and
Strangers
, were solidly within the Bakersfield framework of jangling electric lead, solid drumwork and harmony vocals incorporating male voices with Bonnie Owens adding a harsh touch of feminity.
The real secret of Merle Haggard's success doesn't really become apparent until a little later in his career, but if you look back over those early albums and successful singles you will find the embryonic foundation of his style.
The influence of his past strongly flavour Haggard's work, and it is these influences that he has carefully reworked into his own distinctive style that make the man so special. We all know about his wayward youth and the brushes with the law, but behind the lawless young man was a musical mind that soaked up and stored the memories of the fine music created by Lefty Frizzell, Tommy Collins, Jimmie Rodgers, Ernest Tubb and Bob Wills.
Music was a part of Merle Haggard's early life and the musical memories of his past formed the strong foundations upon which his own career has been built. The hard life in the California cottonfields, the dust bowls of Oklahoma, the harsh times in prison, problems with the bottle and the search for happiness in love have all featured in his compositions, and have also been peppered with the sounds and styles that he heard as a youngster. 
The Lefty Frizzell Influence
I'm not too sure when it became apparent, but the first time I heard Merle Haggard sing
You Don't Have Very Far To Go
, I knew I'd heard the song somewhere before—the same with
I Threw Away
The Rose
—and it wasn't just down to those familiar chord progressions. It wasn't until a little later that the similarities became obvious, pairing Merle, in lots of cases, with Lefty Frizzell.
To say that everything Haggard composed or sung was Frizzell-inspired would be quite unjustifiable, for it's only true in some instances. Is this Frizzell influence just a passing reference, a fond nod in the direction of one of his peers, or does the Frizzell influence continue to guide the themes of Merle Haggard?
Merle has expressed his admiration for Frizzell's work more than once and has recently dedicated
Goodbye Lefty
to the man. His albums are littered with old Lefty Frizzell hits like
Mom And Dad's Waltz, I'm An Old Old Man, Run 'em Off
and
I Never Go Around Mirrors
. The similarity in phrasing is uncanny, yet there is still enough of Haggard's own individual style to make the songs sound fresh.
If anything, Frizzell was more of a narrator than a singer, his musical textures unpredictable. Haggard is one of the finest ballad writers around, he has this propensity for writing his songs conversationally in the second person. Songs like
I've Got A Darlin' (For A Wife), A Man's Got To
Give Up A Lot
and
Nothing's Worse Than Losing
are typical of this style and all contain little snatches of Frizzell.
Irrevocably their respective paths have crossed at various stations on their way and it is high time that more light was cast upon Lefty Frizzell's work. Haggard himself had been singing his praises regularly in interviews with various publications and also wrote one of Lefty's last hits,
Life's Like
Poetry
, a typical conversational piece.
I have the feeling that the Frizzell influence will always be a part of Merle Haggard's work, because it is Lefty who is the link between Merle Haggard and modern country music and his other two idols, Jimmie Rodgers and Bob Wills.   
Same Train, A Different Time
The Jimmie Rodgers influence became noticeable very early on in Merle Haggard's recording career, both in the inclusion of Rodger's songs and the similarity in the themes that they both shared in their writing.
It was against the trend to record Jimmie Rodgers' songs in 1967 when Merle Haggard cut 
My Rough And Rowdy Ways
. But Haggard has never been one to follow trends, and unwittingly he was about to change the very direction in which country music was heading.
Country music was searching for a smoother sound that would lead to more pop acceptance. Along came Haggard, who delved back into the past and reminded us of the vast legacy of songs that the legendary Jimmie Rodgers had left behind. It was really only a matter of time before Merle paid tribute to the Blue Yodeller with the SAME TRAIN, A DIFFERENT TIME album set which featured Hag's interpretation of twenty songs either written or irrevocably associated with Rodgers.
Concept albums are notoriously difficult to put across, yet this Rodgers' tribute makes it as a series of songs united by style, rather than any heavy handed attempt to put across a message. Haggard's particular vocal style is straightforward and honest, and that can be a potent force if the songs themselves have sufficient strength.
The fact that Jimmie Rodgers; songs have been gracing for the repertoires of country artists for the last forty-odd years shows just how strong his material was. Haggard suitably adapts the songs to suit his own style, whilst still retaining the original feel that made Rodgers' original recordings so timeless. The inclusion of narrations between tracks only heightened the feeling that Merle Haggard felt a personal debt to the Father of Country Music.
A landmark, not only in Merle Haggard's career, but also in modern country music, SAME TRAIN, A DIFFERENT TIME, helped to bring Jimmie Rodgers music back in vogue and was instrumental in taking country music away from the symphonic sounds and back to the basic roots.
Haggard, like Rodgers, often attempts to carve out a working-class standpoint with songs like
Workin' Man's Blues, A Working Man Can't Get Nowhere Today
and
Holding Things Together
, all backing the lot of the outsider. These are no high-flying fantasies, just songs about plain folks working their way through the passing moments of life. Some of these moments are harsh and bitter, others are tender and compassionate, they are all sensitive and touching.
Usually legendary figures are larger than life. But somehow Merle Haggard has managed to become a legend in his own time without losing the reality of being a down-to-earth human being. Perhaps this is because his songs deal so closely with the reality of being human.
His songs even touch the ordinary guy and even when singing and writing about situations that only a few have experienced, you can feel and understand the emotion. Merle's songs about prison life are taken from personal experiences, and though he may colour the songs for extra effect, you will find the basic themes of
Sing Me Back Home, I Wonder If They Ever Think Of Me
and
Life In Prison
, totally believable.
The Blues Meet Country
Merle Haggard has also brought outside influences to bear on his music, following in the footsteps of Jimmie Rodgers, Hank Williams and Bob Wills in encompassing the blues and western swing into his style.
Because so many of his songs are about the loser, the blues slip into his repertoire almost unnoticed and if you turn back to his early albums you will find many 'blues' songs. He also followed Jimmie Rodgers' idea of using horns on records and recorded an album of DIXIE BLUES, 'live' in New Orleans.
This brought together the four main styles of music that started Merle Haggard singing and writing; blues being just another form of American root music. New Orleans was the obvious place to make the album, being the home of Dixieland Jazz, and also in a unique way, it ties together the stylings of Jimmie Rodgers, Lefty Frizzell and Bob Wills, the three main influences of Merle Haggard.
The 'French' phrasings of Frizzell, the blues of Rodgers and the jazz of Bob Wills all inexplicably find their roots down South in New Orleans. The resultant album contained five Haggard songs which feature snatches of all three artists, all cleverly tied up into the Merle Haggard style, along with fine interpretations of standards like
Lovesick Blues, I Ain't Got Nobody
and
Way Down Yonder In New Orleans
.
Many of Haggard's songs deal with the eternal triangle of man, woman and society in terms best explained by the lyrics themselves.
Everybody's Had The Blues
is a self-explained song, and though it has a sad edge, it always makes me feel good to know that I'm not the only one who sometimes feels down.
I Wonder If They Ever Think Of Me
, is a soft, story ballad with an uncanny lyrical bite. It deals with a man in a prisoner-of-war camp who often wonders if anyone remembers him back home. Very simple, but like so much of the Hag's work, compelling.
CLICK HERE FOR PART TWO