First published in Country Music People, April 1978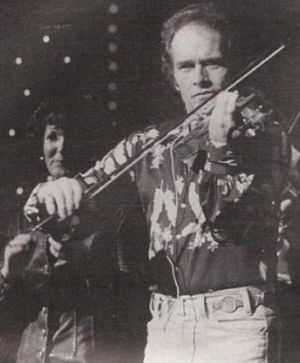 Western Swing Lives Again
The Bob Wills' influence didn't appear so strongly in Merle Haggard's work until his later albums, and I guess the reasons for this are two-fold. From around the mid-1950s, western swing music had faded from popularity. Nobody bothered to listen to the style and even fewer played it. The second problem was that it was not a style easily played by a small, modern country combo like The Strangers.
But Merle felt it necessary to recall the days in the late 1940s when Bob Wills was the King and Merle, as a youth, would catch his performances at one of the many large dance halls in California. When he came to record his tribute to Bob Wills and his Texas Playboys (A TRIBUTE TO THE BEST DAMN FIDDLE PLAYER IN THE WORLD), in the spring of 1970, it was at a time when western swing music was a forgotten style.
The only way to recreate the memory of that great toe-tapping music of the 1930s and 1940s was to bring in some of the original Texas Playboys. The result was one of Merle Haggard's best albums, though I know many of his fans are not too keen on it.
Most of the Bob Wills' classics like
San Antonio Rose, Stay A Little Longer, Take Me Back To
Tulsa
and
Time Changes Everything
were included, but rather surprisingly,
Faded Love
was omitted. Though Merle has since recorded several other Bob Willss songs like
Cotton Patch Blues
and
Bring It Down To My House, Honey
on his later albums, he has yet to record the best song that Wills ever wrote.
You might find western swing music hard to swallow at first, but play this album right through several times and you'll find it a satisfying and enjoyable musical experience, thanks to the giant personality of Merle Haggard and to the tremendous care which has gone into the musical presentation.
Merle Haggard has certainly taken to western swing during the 1970s, becoming an accomplished, self-taught, fiddle player and incorporating the Wills' styling to some of his own writing. This is very apparent on songs like
The Old Man From The Mountain
and
Honky Tonk Night Time Man
.
Perhaps more important to the current scene is the way that Bob Wills and his music is being appreciated again, a full quarter-of-a-century after it was deemed, 'out-of-fashion.' New groups like Asleep At The Wheel and Alvin Crow and The Pleasant Valley Band have continued Merle Haggard's pioneering work and made western swing a viable and important part of the modern country music spectrum.
There are three qualities which make Merle Haggard stand out above his peers; firstly his songwriting has amazing depth of feeling; secondly he is an upfront stage performer with an aura about him that commands attention and respect; finally, he is one of the finest song interpreters that country music has.
The latter quality is an indefinable one that I guess could almost come down to personal taste. Country music is renowned for song stylists. Artists like George Jones, Gene Watson and Waylon Jennings rely more on their own individual phrasing than any perfection in singing, and it is this individualism that, for me, makes the music so special.
Haggard is an excellent vocalist, with a distinctive voice, which he utilises with great skill. His phrasing is a source of constant surprise, occasionally quite mesmerising. The key to his communication and sincerity is a liberal supply of other people's work in his repertoire. This way his own compositions come across all the more powerful and human.
Where other ego-chasing songwriters lose contact with life, in his interpretations of
California Cottonfields, The Roots Of My Raising
and
Bill Woods From Bakersfield
is a conscious affinity with his roots and influences and not the slightest hint of pretentiousness.
He has been able to mirror America best from the inside with many of his songs and those he has picked from other writers, tracing his rural ancestry through the depression and the hopes of the American dream. Like many idealists, which I believe he is, he has a chronic streak of romanticism. Just listen to
Someday We'll Look Back
, and you'll probably understand Haggard, the man, a whole lot better.
Merle Haggard and his band, The Strangers, have come closer than anyone has the right to expect to the essence of his individual and brilliant compositions, and are currently producing music as good and honest as any you've ever heard. On a musical level his albums would indicate that The Strangers have few peers in their own territory of modern country instrumentation.
At the heart of the albums, though, when one has completed praising this very fine band, is Merle Haggard and his songs. His writing, its scope and capacity for containing in individual compositions such a diverse concentration of emotions, owes little to any of his contemporaries.
Merle has the ability as a composer to draw on various styles and attitudes of country music, acknowledging that influence and creating something fresh and invigorating. His vision encompasses both loss, as on the staggering,
A Shoulder To Cry On
—and the simple, aching beauty of
My Woman Keeps Loving Her Man
, a song of great warmth and affection. Each emotion is met with compassionate eloquence and there are very few performers who sing with such honest passion as Hag.
Most of his material reflects his personal feelings toward life, yet the songs themselves are much less complex than the topic about which they are written. He is a writer of lyrics that are tender, but not soft-soapy.
You'll Always Be Special To Me
and
Hungry Eyes
are two of his finest love ballads.
It is Hag wearing his heart on his sleeve, a role in which he excels, but which, unfortunately, inclines him sometimes to sentimental overkill, though not the kind ladled out by Tin Pan Alley. His songs are both sad and reflective and
Silver Wings
is still one of his finest.
It keeps to the basics with a dramatically played piano the prime accompaniment. It builds up nicely without ever degenerating into the classic ballad formula. A romantic love song, slightly bitter and full of irony, it is sung with tender emotion with just a touch of strings to suggest sweetness.
Merle Haggard's formula for long lasting success and wider acceptance outside of the tight confines of country music relies very much on his taste and restraint. A maudlin song like
Soldier's Last Letter
is totally acceptable in his hands, and even tribute records to Lefty Frizzell and Elvis Presley convey a feeling of taste that others can only hope for.
Many titles have been thrust upon Merle Haggard, but when it comes down to the final analysis, I believe he is one artist who fully embodies all that is good about country music. In a unique way he bridges the gaps between the old-time country music of the 1930s, the western swing of the 1940s, the solid sound of the 1950s, the modern approach of the 1960s and the contemporary feel of the 1970s. And in much the same way, he succeeds in appealing to those people who like the differing forms of country music, bring them together, collectively, as country music lovers.