Brent Cobb - And Now, Let's Turn To Page.....
Ol' Buddy Records
****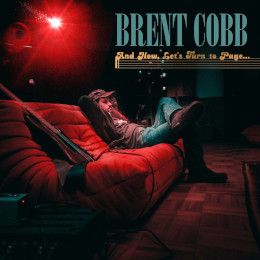 Georgia-born Brent Cobb brings back the long-held tradition of country singers recording at least one gospel record in their career. In these days, when the majority of mainstream country acts pay lip service to radio playlists rather than creating heartfelt or meaningful music, it is heartening that this long-haired country renegade holds true to his southern Christian beliefs. Unlike the country singers of the past, Brent deconstructs and reimagines classic songs like In the Garden, The Old Rugged Cross and the sweaty revival tent of We Shall Rise, shaking these old chestnuts to their bones, revealing an underbelly of the darkness of Americana standards and turning them into a booze-sodden cry from America's trailer park soul. The entire album breathes his personality. Of course, there's always an extra additive found when message and music find common ground, and ring with both resolve and resilience. That's the case here. Brent has enough heart, soul, and power to light up a city. He mixes up the elements and turns them into something new, beautiful and uniquely his own. There's a certain magic in this collection's accessibility too. While some gospel-based albums can drag and drone on, Brent and his musicians and singers keep you engaged, dialing up Southern rock one moment, before veering to more subdued country-gospel the next. It's not surprising then that he creates a powerful impression, given his powerfully stated sentiments and uplifting approach. With the unsettled state of affairs that's gripped the world since the start of the pandemic, it's comforting to find an album that offers an optimistic outlook, one that not only bodes well for a better tomorrow, but also for what lies beyond this earthly plain as well. Indeed, while Brent's Christian sentiments are echoed throughout, there's nothing to say that they can't find a secular following as well.
Collaboration has always been a focal point in country music and so it is with this album. Community though, is a much more fluid concept and Brent engages his family and friends from Ellaville, Georgia where he grew up. Recorded in Nashville's famed RCA Studio A, the album is very much a family affair. His wife Layne Cobb, his mother Renee Cobb, his sister Alecia Grant, his father Patrick Cobb and his cousin Dave Cobb, all joining him on the closing track, Blessed Be The Tie That Binds. Dave handles production bringing in Brian Allen (bass), Mike Harris (guitar), Chris Powell (drums, percussion) and Philip Towns (keyboards) as well as special background vocals from Caylee Hammack (a fellow Ellaville native), Anderson East and members of Antioch, a Georgia-based gospel group led by Brent's father.
The slow-burning, Just A Closer Walk With Thee— with a swirling organ echoing Spooner Oldham's masterful grooves and ethereal backing vocals reminiscent of the best from Muscle Shoals—delivers a message at the very heart of the album. There are great blasts of electric guitars in Are You Washed In The Blood? while Brent and the background singers pump and strut their way through this uplifting gospel standard … it's little wonder that the jubilation is so contagious. Brent and the musicians maintain their earnest intent so well in fact, that even a deeply spiritual song such as Softly And Tenderly could find an atheist or agnostic singing along, strictly in deference to its compelling conviction. In a real sense, this set of songs carries the same feeling that comes from witnessing a revival, given the unabashed fervor and enthusiasm. There's so much real passion and projected emotion, you'd be a cold soul to come away from listening to this without being affected. Maybe you will too. Maybe there's something here we can all sing together.
February 2022