Blue Whale Records
****
Kudos to Yonder Boys for providing such an intriguing set of songs, one that broadens traditional music boundaries while also piercing further parameters in the process. This Berlin-based trio have served up a powerhouse blast of tracks on this debut album, that range from bluegrass-infused tunes, string-band banjo-driven rave-ups, Celtic-flavours, Sicilian folk, Beach Boys styled harmonies, hints of California country-rock and glints of psychedelia. For those concerned that Americana roots has be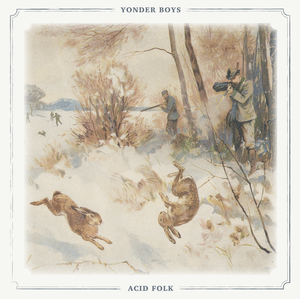 come too quantised, freeze dried, sedate and safe, this threesome and their guest musicians blow the cobwebs way off into outer space. It's a distinctive genre-jumping sound, simple but rarely straight-forward, one that allows each of the players to contribute in subtle yet suggestive ways. If you want a great example in changing tempos, switching up styles of songs and arranging vocals in multiple ways, then this record is the one. Granted, this kind of music requires one to lean in and listen in order to fully absorb all it has to offer. Subtlety and complexity coexist within the framework of each of these entries, offering a new musical experience for your ears.
Though based in Berlin, none of the Yonder Boys are German. David Stewart Ingleton (vocals, banjo) is Australian, Jason Serious (vocals, guitar) is American and Tomás Peralta (vocals, mandolin, lap steel, banjo, bass) hails from Chile. They each bring diverse influences to the band's repertoire, hence the varied musical strains that wind through the grooves of this album. To create this pot-pourri of sounds they have brought in several guest musicians and vocalists, including Héloïse Lefebvre (violin), Sebastian Hoch (harmonica), Matías Ignacio Piñeira (tuba, trumpet), Shiomi Kawaguchi (shamisen), Han Sato (tenor saxophone), Sebastián Villegas (French horn) with additional backing vocals courtesy of
Mabloni. Folk music of the people is at the very root of what the Yonder Boys share with the listener. Sharing our folk music is what helps to build sturdier bridges between cultures. Musicians help more than anything to spread the positive aspects of various cultures. I would argue that music, in all of its different sounds, styles, genres and offshoots, is the greatest contribution that the human race has given to the world. When I hear it played so passionately by young foreigners who obviously care, I want to help them, because this is the kind of thing that really breaks down the stereotypes and notions of what we think we know about each other. This album doesn't just cross musical boundaries, but also national borders, as it brings such diversity into one great big universal melting pot.
They open with the banjo-driven Run Rabbit Run, a percussive romp with each of the musicians adhering to a basic stringband regime, but even so their ability to vary that template and add other elements to the mix provides an intriguing listening experience overall. Dancing fiddle, crazy lyrics and Beach Boys-like harmonies deep in the mix all add to the delight. Several of the songs—Mumma's Boy and Look At What You Done among them—sound like archival examples of a hootenanny that gets folks up to the dance floor as part of a Saturday night celebration, given the festive frenzy and the up-tempo treatment each of them offers. In contrast, the captivating Eagle Song, ripples with delicate, elusive textures informed by a blend of soft English folk-rock and sweet American West Coast harmonies. There's an upbeat poppy vibe to New Bohemians; virtuosic banjo, driving rhythm, tight harmonies. This is a band to watch.
They turn their hand to bluegrass with High On A Mountain, but add a twist with wild harmonica and even tuba as they succeed in blurring the musical boundaries even while providing a vintage tapestry. A revival of the traditional House Carpenter keeps to a stark plucked banjo, until they succinctly bring in trumpet and French horn to add a haunting dimension to this desolate song of unrequited love. It's back to Beach Boys-styled vocals on the Sicilian ballad Il Pesce Spada, which begins a cappella, before developing into a marching beat that builds up intensity into a frenzied climax. Yonder Boys are weaving intriguing new trails into tradition and bringing it kicking and screaming into 2021. If you are in any way musically adventurous, this is indeed an album to seek out.
July 2021