Women In Country Music - Sister Act
First Published in Country Music International, April 1995
The South Bank  Show's WOMEN IN COUNTRY MUSIC special will be broadcast in April, Alan Cackett talks to producer Tim Quinn about a TV programme that has been two years in the making.
"It's been very obvious that something very special is going down here. I really do view it as the same kind of thing that happened back in '62 with the Beatles and the Mersey scene growing and growing and ready to explode in '63, firstly across Britain and in '64 across the world. Of course, this thing has already exploded across America and now Britain's catching on to that."
Tim Quinn, the Associate Producer of the South Bank Show's Women In Country Music, which is due to be network televised on Sunday April 2, has been bitten hard by the country music bug since he first started work on this programme two years ago.
In less than six months he has travelled to Nashville three times to research and film the programme, and has instantly fallen in love with the city, the people and its music. "The whole town gave me the feeling of stepping back 30 years to Liverpool in '62, there was such a buzz."
Tim first hit on the idea for a programme about country music when he was working in New York with Daniel Wiles, a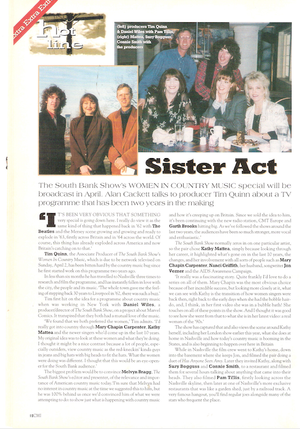 producer/director of the South Bank Show, on a project about Marvel Comics. It transpired that they both had a mutual love of the music.
"We found that we both preferred the women," Tim admits. "I'd really got into country music through Mary Chapin Carpenter, Kathy Mattea and the newer singers who'd come up in the last 10 years. My original idea was to look at these women and what they're doing. I thought it might be a nice contrast because a lot of people, especially outsiders, view country music as the red-kneckin' kinda guys in jeans and big hats with big heads to fit in the hats. What the women were doing was different. I thought that this would be an eye-opener for the South Bank audience."
The biggest problem would be to convince Melvyn Bragg, The South bank Show's editor and presenter, of the relevance and importance of American country music today. "I'm sure that Melvyn had no interest in country music at the time we suggested this to him, but he was 100% behind us once we'd convinced him of what we were attempting to do; to show just what was happening with country music and how it's creeping up on Britain. Since we sold the idea to him, it's been continuing with the new radio station, CMT Europe and Garth Brooks hitting big. As we've followed the shows around the last two years, the audiences have been so much stronger, more vocal and enthusiastic."
The South Bank Show normally zeros in on one particular artist, so the pair chose Kathy Mattea, simple because looking through her career, it highlighted what's gone on in the last 10 years, the changes, and her involvement with all sorts of people such as Mary Chapin Carpenter, Nanci Griffith, her husband, songwriter Jon Vezner and the AIDS Awareness Campaign.
"It really was a fascinating story. Quite frankly, I'd love to do a series on all of them. Mary Chapin was the most obvious choice because of her incredible success, but looking more closely at it, what we can see with Kathy is the transition of how women singers were back then, right back to the early days when she had the bobble hair-do, and I think in her first video she was in a bubble bath! She touches on all of these points in the show. And I thought it was good to see how she went from that to what she is in her latest video, real woman of the '90s."
The show has captured that and also views the scene around Kathy herself, including her London show earlier this year, what she does at home in Nashville and how today's country music is booming in the States, and is also beginning to happen over here in Britain.
While in Nashville the film crew went to Kathy's home, down into the basement where she keeps Jon, and filmed the pair doing a duet of Has Anyone Seen Amy. Later they invited Kathy along with Suzy Bogguss and Connie Smith, to a restaurant and filmed them for several hours talking about anything that came into their heads. They also filmed Pam Tillis, firstly looking across the Nashville skyline, then later at one of Nashville's more exclusive restaurants that was like a garden shed, just by a railroad track, A very famous hangout, you'll find regular joes alongside many of the stars who frequent the place.
One of the weirdest happenings occurred the day that Tim and Danel were guests on the Gerry House Show on Radio WSIX. Initially they went along to interview Gerry and get the lowdown on the Nashville scene. But the DJ was so taken with the British pair that he invited them on to his programme to talk about what they were doing in Nashville.
"We were on air and explained that we wanted to take a look at someone trying to break into the scene," says Tim. "So we asked for young female singer-songwriters to meet us at Tootsies, the Nashville bar and restaurant, that afternoon, We went along to Tootsies sat down, had a beer and coke, and waited and waited. Eventually an 18-year-old girl came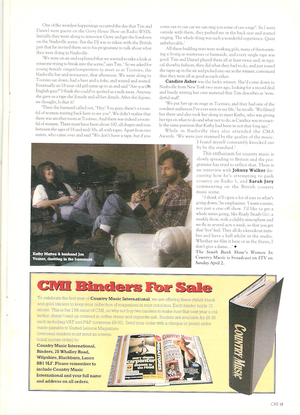 up to us and said: 'Are you the English guys.' I think she could have spotted us a mile away. Anyway, she gave us a tape she'd made and all her details. After she'd gone, we thought, is that it?"
"Then the barmaid called out: 'Hey! You guys, there's a roomful of women waiting back here to see you.' We didn't realise that there was another room at Tootsies. And there was indeed a roomful of women, There must have been about 100, all shapes and sizes, between the ages of 18 and mid-30s, all with tapes. Apart from two sisters, who came over sand said: 'We don't have a tape, but if you come out to our car we can sing you some of our songs.' So I went outside with them, they pushed me into the back seat and started singing. The whole thing was such a wonderful experience. Quite unbelievable."
All these budding stars were working girls, many of them earning a living as waitresses or barmaids, and every single tape was good. Tim and Daniel played them all at least twice and, in typical showbiz fashion, they did what they had to do, and just tossed the tapes up in the air and picked one out as the winner, convinced that they were all as good as each other.
Candice Asher was the lucky winner. She'd come down to Nashville from New York two years ago, looking for a record deal and busily writing her own material that Tim describes as 'wonderful stuff.'
"We put her up on stage in Tootsies and they had one of rowdiest audiences I've ever seen in my life," He recalls. "We filmed her there and also took her along to meet Kathy, who was giving her tips on what to do and what not to do, as Candice was in exactly the same position that Kathy had been in not that long ago."
While in Nashville they also attended the CMA Awards. "We were just stunned by the quality of the music. I found myself constantly knocked out by the standard."
This enthusiasm for country music is slowly spreading to Britain and the programme has tried to reflect that. There is an interview with Johnny Walker discussing how he's attempting to push country on Radio 1, and Sarah Jory commenting on the British country music scene.
"I think it'll open a lot of ears to what's going down," he emphasises, "I want a series, not just a one-off show, I'd like to get a whole series going, like Ready Steady Go, a weekly show, with a clubby atmosphere and we fly in several acts a week, so that you get that live feel. They all do a knockout number and have a ball whilst in the studio, Whether we film here or in the States, I don't give a damn …"