Wembley 8th Festival, Saturday - May 1976
First Published in Country Music People in May 1976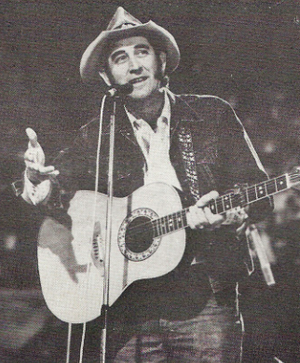 It's late in the afternoon, hardly a cloud in sight as the sun beats down on the concrete jungle that comprises the Wembley complex. It seems an odd setting for the rural music we are about to hear, but with my shirt sticking to my back, I join the crowds pouring back into the Empire Pool for the start of the Saturday evening concert. Jeannie Denver struggled to make herself heard above the sound of the J.D Band. Eventually she wins through with her last number, Jeannie's
Afraid Of The Dark
, which she fills with quivering and passionate emotion.
A hurried change over of bands and it's time for Frank Jennings' Syndicate on their first Wembley appearance. They score from the word go with
Big Mama Lou
with real country harmonies and a kick-up-yer-heels fiddle, then they switch to the Nashville sound they favour in
A Good Love Is Like A Good Song.
Tex Withers is next. A slightly built guy, his presence is nonetheless commanding; a first class showman, even if he does lack polish in his vocal approach.
Now it's time for the first American act, and the applause for Jack Greene and Jeannie Seely shows that it was the Nashville stars the audience had come to see. In the past their act has flowed like an electric current, but this time it seemed sadly disjointed and overpowering.
They seem to rush through a series of duets, the lyrics hard to locate through the wall of sound they produced until Jeannie Seely presented some of her hits, highlighted by a beautiful
Can I Sleep In
Your Arms Tonight Mister
. Then Jack offered a sensitive
There Goes My Everything
and a staggering
Statue Of A Fool
, before the pair launched into an unexpected
England Swings
. This led to a short
From Sea To Shining Sea
into a stirring
American Trilogy
, raising to inspirational heights. Jack and Jeannie had finally made the impact that fires an audience into instant applause. The Jolly Green Giants remained on stage to accompany Connie Smith. Very much interpretative, never-the-less Connie lent her own qualities to the material and was given splendid support by the skilled team of musicians, especially Wayne Cox on steel.
Ray Lynam and Philomena Begley were promoted to equal billing with the American acts this year and responded with a slick, professional show featuring country standards and new songs.
The applause that greeted Don Williams' arrival on stage showed that he had many followers in the audience, but would they have the patience to listen to his thought-provoking music? With just a bass player and lead guitarist, Don strode to the front of the stage, his battered Stetson balanced precariously atop his lean frame, and he went straight into
Shelter Of Your Eyes
. By  the time he got to
Atta Way To Go
, his third number, he had won through completely. The general tenor of his act was understatement and subtlety. The main strength lies in his voice. With none of the twang so prevalent in country music, Don delivers lyrics with a powerful, mellow style that flows pleasantly to the listener's ears.
There were few surprises in his choice of material,
Fly Away, Come Early Morning, Amanda
and of course,
I Recall A Gypsy Woman
. He glided through the songs with consummate ease, not one note was ever forced. His backing band of David Williamson on bass and Danny Flowers on lead guitar were in perfect tune with his laid back style. In the most amazing scenes I've ever witnessed at a Wembley Festival, Don quietly took the vast audience into his world and they in turn took him into their hearts. It threw television people into confusion, brought tickling teardrops to many eyes and ended with the first standing ovation I've ever witnessed at Wembley.
The second half had difficulty picking up after such scenes. It was impossible for Jon Derek to make an indelible impression. Luckily Wanda Jackson followed and presented a fine and varied act.
Vernon Oxford's style and vocal mannerisms remind one of Hank Williams as he transports you back in time to the early 1950s. His nasal, mountain voice is unlikely to win any new converts to the music, but his act was well received.
The bluegrass segment of the evening was provided by Jim & Jesse and The Virginia Boys. There are echoes of The Louvins in the high lonesome sound of their vocal harmonies and the music which spreads wider than the confines of bluegrass, should set many British pickers back into thinking of why they are playing and how.
Flawless musicianship and precise vocals, their material was excellent including
When I Stop Dreaming, Paradise
and
Diesel On My Tail
. What they may lack in uniqueness they more than make up for, if I may use the word positively, professionalism.
Then came Tammy Wynette. She did what was expected; a quick run through of the all-time greats, a few new ones, which fit neatly into the same mould, and that's your lot. If she'd just have taken a few risks, it could have been a great performance. But no, she was secure and predictable. Better safe than sorry? She was safe and I was sorry! During a string of personal songs she had written herself she made totally unnecessary references to her broken marriage with George Jones. I felt this was a below-the-belt way of gaining audience sympathy and totally unbecoming of a star of Miss Wynette's stature. But the audience loved every minute of it and she responded by graciously walking amongst her faithful fans, whilst singing
Stand By Your Man
. It was a noble gesture and completed a fine evening's entertainment.