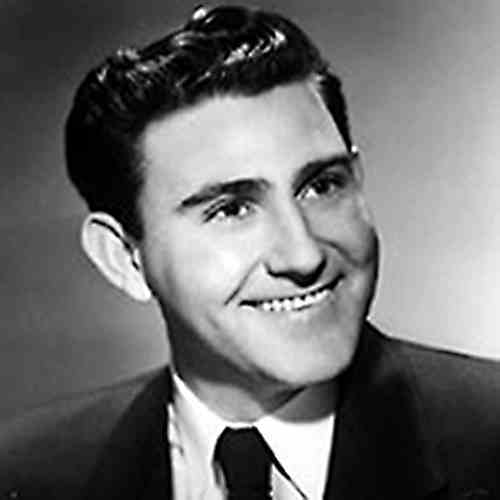 A honky-tonk innovator, Webb Pierce was a fine singer, responsible for many of the hardest-cutting and daring recordings of honky-tonk's golden age. His revival of Jimmie Rodgers' In The Jailhouse Now was the bridge between country's hillbilly roots of the 1930s and the burgeoning rockabilly of the 1950s.

Honky-tonk king and heir apparent to the throne vacated by Hank Williams, he had more hits than any other country artist in the 1950s, including Eddy Arnold and Elvis Presley. Following his chart-topping debut single, Wondering, in 1952, each subsequent release made it into the top ten and he continued to make the charts with at least one title every year right through to 1972. He had eight monster hits in 1953 alone, including his barroom anthem There Stands The Glass, which imposed a twelve-week stranglehold on number one that year.

His voice had the authentic, nasal modern country ring and his songs had a barroom edge, uncluttered by the excessive orchestration that was to later dominate Nashville recordings. Like so many of the big country stars of the early 1950s, Webb arrived in Nashville via the Louisiana Hayride. He first appeared on the hugely popular radio show in 1949 and soon became a regular. Though Webb wrote several of his biggest hit songs, he was also an astute talent spotter when it came to finding songs that he could make his very own. He was one of the first to recognise the talent of Mel Tillis, who would go on to write Ruby Don't Take Your Love To Town and emerge as one of the biggest stars of the 1970s. In the mid-1950s, Webb nurtured Mel's talent and scored with several of his songs including I Ain't Never, Honky Tonk Song and I'm Tired, three major hits that typified the Webb Pierce style.

Born August 8, 1926 in West Monroe, Louisiana, Webb learned to play guitar before he was a teenager and was soon gaining notice playing at local events. By the time he was sixteen he had his own local radio show, Songs By Webb Pierce. Following a three-year stint in the US Army, he moved to Shreveport, working as a Sears Roebuck shoe salesman whilst appearing on the famous Louisiana Hayride. At this time he put his own band together, and early members included future country stars Faron Young, Floyd Cramer and steel guitar maestro Jimmy Day. He began recording for Pacemaker, and then in 1950 for Four Star without any success. The following year he joined Decca Records, and his third release, Wondering, a littler-known pre-Second World War song, previously recorded by Louisiana favourite Joe Werner and the Riverside Ramblers in 1936, became a number one hit. Webb gave the song a modern honky-tonk feel that had instant and long-lasting appeal. It was a styling he was to use for most of his career.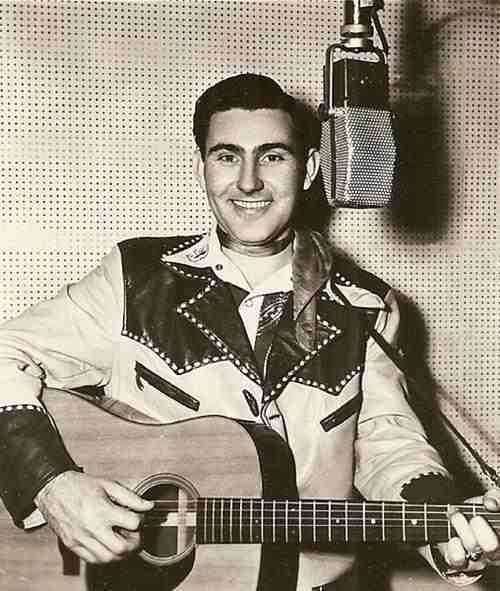 He continued to chart on a regular basis with such honky-tonk numbers as That Heart Belongs To Me, Back Street Affair, The Last Waltz and There Stands The Glass. By 1953 he had become popular enough to win the Number One singer award given by the American Jukebox Operators. Soon after, he moved to Nashville and joined the Grand Ole Opry. In 1954 he recorded Slowly, a number one single, which featured a ground-breaking steel guitar solo by Bud Isaacs, and was also one of the first hard-country artists to use twin fiddles. There were three more chart-toppers in 1955, including In The Jailhouse Now, featuring The Wilburn Brothers on harmonies, that spent twenty-one weeks at number one. He also undertook several successful duets with Red Sovine, including a cover of George Jones' Why Baby Why and the weeper Little Rosa. Later there were to be duets with Kitty Wells, Mel Tillis, Willie Nelson and his daughter, Debbie Pierce. Though he continued to chart regularly well into the 1960s, by 1963 the 'Wondering Boy's' regular run of top ten entries became fewer. He scored his last top ten hit with Fool Fool Fool in 1967. Unable or unwilling to deviate from what had been a highly successful sound, his records started to sound sadly dated. In 1975 he moved over to Plantation Records without too much success and more-or-less retired from recording and touring. In later years his health deteriorated resulting in several hospital visits. He underwent heart surgery in 1987, was diagnosed with cancer in 1990, and died at his Nashville home on February 24,1991.

A flamboyant showman, as Webb Pierce's fame grew he took great delight in showing off his riches in a somewhat extravagant style. His customised 1962 Pontiac—complete with embedded silver dollars, pistols mounted on the fenders and doors, and a set of steer horns for a hood ornament—currently resides in the Country Music Hall of Fame museum. He was also the first star actually to own the Nashville cliche, the guitar-shaped swimming pool. In fact, at one point, he owned two of them. He also became extensively involved in the business side of the music. Along with partner Jim Denny, he developed Cedarwood Publishing into one of Nashville's biggest music publishers and, at one time, owned three radio stations. But it was his recorded legacy that Webb Pierce is best remembered. Many of his best known songs have been revived by some of today's younger stars, and in 2001, at the time it was announced that he was to be inducted into the Country Music Hall Of Fame, an all-star tribute album, CAUGHT IN A WEBB, was being produced in Nashville by Gail Davies with such luminaries as George Jones, Willie Nelson, Allison Moorer, Charley Pride and Dwight Yoakam all taking part.

Recommended Listening

The Wondering Boy 1951-58 (Bear Family box set 1990)
The King Of The Honky Tonk (Country Music Foundation-MCA 1995)
The Wondering Boy (The King of '50s Country) (Edsel Records 2000)
Fallen Angel/Cross Country (Hux Records 2012)