First published in Country Music People, January 1976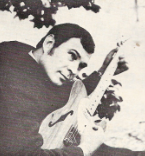 To most country fans Wayne Kemp is just another of those faceless people who write songs for the big country stars. You have probably noticed his name on dozens of records by artists like George Jones, Conway Twitty, Faron Young and Jack Greene. What you probably don't realise is that Wayne Kemp has been recording his own songs for more than a dozen years.
To start at the beginning, Wayne Kemp was born thirty-five years ago in Muldrow, Oklahoma. He followed his father into a career as a motor mechanic and became interested in motor racing during his teens. Luckily, this was just a passing fad and he soon took to his other interest—music. Forming his own band he toured throughout the South-West, working clubs, road shows and beer joints.
His early days on the road gave him the insight necessary for songwriting and in 1963 he came into contact with Buddy Killen, who signed him as a writer to Tree Music and as a singer with Dial Records. He never made the charts, but in a four year period released several fine singles, including the self-penned
I Made Her That Way, Little Old Heartache Maker
and
Watch That Big Step
.
Things began to happen for Wayne Kemp when George Jones recorded
Love Bug
in 1965. The song went to the top of the country charts and soon other artists were clamouring for Wayne Kemp songs. Jimmy Peters recorded
One Town Behind
, Norma Jean took
I'm A Fool For Any Man
and Onie Wheeler made
Burn A Honky-Tonk Down
.
In 1967 Wayne joined Jeb Records, a newly formed country label and his first release for them,
The Image Of Me
began to create the right interest in Nashville. So much so that Conway Twitty decided to record a version for Decca and pushed the Wayne Kemp version into the background as he stormed to the top of the country charts.
During the next few years Conway more than repaid Wayne with a string of his songs that he took up the charts including
Next In Line, Darling, You Know I Wouldn't Lie
and
That's When She
Started To Stop Loving Me
. Typical of Wayne Kemp's songs, they all dealt with love, drinking or a mix of the two.
Wayne Kemp is no country poet. He writes good, straightforward, real country songs. They tell about life, both the harsh and the good sides. Much happens when you blend drink and love, and Wayne uses this blend to recreate situations which are easy to understand.
Late in 1968 Wayne joined Conway Twitty on Decca, but his emergence as a country singer has been slow. In 1971 he began to create interest with
Who'll Turn Out The Light (In Your World
Tonight)
which resulted in his first album, WAYNE KEMP, which showed that he's no novice when it comes to performing as well as writing.
Rather than use his own compositions, he also lends his distinctive country voice to Ray Griff's
Step Aside
, Dallas Frazier's
Touching Home
and the popified
Knock Three Times
. But it is his own barroom sagas that suit his vocal chords best, like
Barroom Habits
and
Won't You Come Home (And Talk To A Stranger).
Over the years, Wayne Kemp has continued writing hit songs and also recording singles for Decca, like
Honky Tonk Wine
which made the charts in 1973 and
Just To Know She'd Let Me Leave
in 1972. Other artists who have hits with Wayne's songs include Bobby Wright and
Upstairs In The
Bedroom
and Faron Young and
I Just Came In Here To Get My Baby
, but it's the genuine country vocalists like Conway Twitty and George Jones who suit Wayne Kemp's material best.