Waylon Jennings - Howling At The Moon
First published in Country Music International, June 1995
Singing tales of life's common denominators: sex, music, home, work, family, prison, failure and death, and sounding like a man who's been through the mill and emerged more than a little world-weary, Waylon Jennings has a life story that reads like the lyrics to one of his own songs. The Wolf has survived. Story by Alan Cackett
Waylon Jennings has been in the music business for the best part of the last 40 years. He started his musical career working as a DJ in Lubbock and playing the West Texas honky-tonk circuit. Later came a spell with Buddy Holly & The Crickets, before he set about establishing himself as a country/folk innovator for the 1960s. Next came a rebellious period when he brought country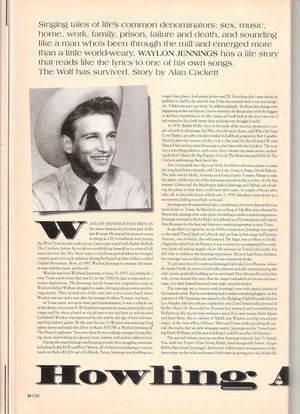 music to a rock audience during the hyped-up days of the so-called Outlaw Movement. Now, in 1995, Waylon Jennings is a mature old-timer, at ease with his music and his life.
Waylon was born Wayland Jennings on June 16, 1937, in Littlefield, a west Texas cattle town that was hit in the 1930s by dust storms and economic depression. The Jennings family home was originally a tent as Waylon's father William struggled to make a living picking cotton and driving trucks. They moved out of the tent into a two-room shack when Waylon was two and a year after his younger brother, Tommy, was born.
In Texas music was more than just entertainment; it was a vehicle out of the dreary cotton patch. William Jennings was no mean guitar picker and singer and he often played at social functions and bars in and around Littlefield. Waylon was impressed by this and by the age of four had mastered his father's guitar. By the time he was 12 Waylon was entering local talent shows and made his debut on Radio KVOW as Waylon Jennings & The Texas Longhorns. Two years later he was making a meagre living playing music and working in a grocery store, lumber yard and as a delivery boy.
During this time Jennings was hanging around other struggling musicians including Buddy Holly and Roy Orbison, all of whom were playing in various bands on Radio KDAV out of Lubbock, Texas. Jennings was doubling as a singer, bass player, lead guitar picker and DJ. Anything that came along he grabbed at, and by the time he was 21 he was married with a son and daughter. "I didn't see past one week," he reflects jokingly. "In those days things were happening so fast and furious. I never wanted to be the greatest or the biggest or the best of anything in my life. I guess as I look back at the way I am now, I just wanted to be a little better than anybody ever thought I could."
In 1958, Buddy Holly, then at the peak of his success, produced a couple of tracks for Jennings: Jole Blon, the old Cajun classic, and When Sin Stops (Love Begins), an upbeat honky-tonker by Lubbock songwriter Bob Vanable. Shortly after the session, Holly took to the road for the ill-fated Winter Dance Party and recruited Jennings to play bass with the Crickets. The tour was a travelling jukebox, with more than a dozen top name artists, including Richie Valens, the Big Bopper, Dion & The Belmonts and Holly & The Crickets performing their latest hits.
Just over a week into the tour Holly decided to charter a plane to make the long haul from a bitterly cold Clear Lake, Iowa, to Fargo, North Dakota. The plan was for Holly, Jennings and lead guitarist Tommy Allsup to take the plane, whilst the rest of the entourage stayed on the tour bus. At the last minute, Valens and the Big Bopper talked Jennings and Allsup out of taking the plane so they could have their seats. A couple of hours after take-off, in the early hours of February 3, 1959, the plane came down in a snowstorm, killing everybody on board.
Jennings was devastated and after completing a few more days of the tour went home to Texas. In March his recording of Jole Blon was released by Brunswick, gaining a few radio plays, but failing to make a serious impression. Jennings returned to Radio KILL in Lubbock as a DJ teaming up with wacky Don Bowman for the best and funniest country programme in west Texas.
In an effort to capitalise on his Holly connection, Jennings was signed to the small Trend label in Lubbock and cut four or five songs in Phoenix, Arizona, one of which, the self-penned The Stage, was a tribute to Holly. Originally titled Stars In Heaven, it was a narrative accompanied by a military drum roll and an angelic choir. His releases for Trend sold locally, but did little to enhance Jennings' reputation. He now had three children, his marriage was on the rocks and he was constantly broke.
To get away from his creditors Jennings hightailed it to Phoenix, where he landed work on various local radio stations and also started playing the club circuit, gradually building up his own band. Now divorced from his first wife, it was around this time that the singer embarked on his second marriage, to a dark-haired barmaid some eight years his senior.
The marriage was a disaster with Jennings's new wife openly jealous of his musical career. But he was determined to make something happen. In the summer of 1963 Jennings was signed to the fledgling A&M Records label in Los Angeles. His first release coupled his own Love Denied with a revival of Holly's Rave On. Recorded in Phoenix, but remixed and overdubbed in Hollywood, the record sunk without a trace. For some reason Herb Alpert and Jerry Moss, the co-owners of A&M, saw Waylon as a big-voiced pop singer in the vein of Roy Orbison. "Herb and I were really good friends outside the studio, but we were strangers inside," Jennings recalls. "I was thinking Hank Williams and he was thinking I could be another Al Martino."
The second release, pairing another Jennings original, Just To Satisfy You, with Ian Tyson's Four Strong Winds, fared marginally better. Singer Bobby Bare heard Jennings' distinctive folk/country arrangement of the latter song on the radio and wasted little time in getting into the Nashville studio to rush out an almost note-for-note cover that soared high on the pop and country charts in late 1964.
Taken by Waylon's authoritative vocal style and impeccable musical taste, Bare talked Chet Atkins into signing Jennings to RCA. He still had a couple of years to run with his A&M contract, but the label agreed to let him go if he'd record another six songs to complete an album. Jennings recorded what they wanted; mainly pop sings including Kisses Sweeter Than Wine and The Twelfth Of Never.
By this time Jennings had not only landed a regular gig at JD's Nightclub in Phoenix, but he had also cut an album, WAYLON JENNINGS AT JD'S, between his two label contracts at the end of 1964, which gave a good indication of how his unique vocal style and diverse musical tastes were developing.
His first sessions for RCA took place in March 1965. They were produced by Chet Atkins, and unusually for a new artist, featured three of the Waylors, Jennings's backing band from JD's. This would be the last time for almost 10 years that Jennings would be allowed to use his band members in an RCA Nashville studio.
Though Jennings rapidly gained the monicker of The Nashville Rebel, he still had to toe the Nashville line by recording with a select team of session players; a process that would rapidly stifle his free-wheeling talent. The first single, That's The Chance I'll Have To Take, released in June 1965, was another of Jennings' own songs. The record spent just two weeks on the country charts, but set the style for future Jennings' hits with a hard-edged folk/country sound.
By now Jennings was drawing upon such diverse sources as Mickey Newbury, Harlan Howard, Tim Hardin, the Rolling Stones and Delbert McClinton for his material, while enjoying the patronage of artists such as Keith Richards, Neil Diamond and John Lennon. He toured regularly, mainly playing small clubs and honky-tonks, before eventually breaking into the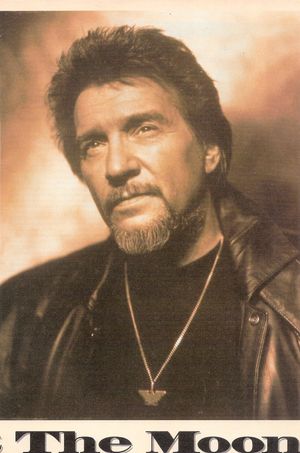 Top 10 with (That's What You Get) For Lovin' Me at the end of 1966.
Jennings was now a Nashville resident, shacked up with a bombed-out Johnny Cash in a one-bedroom apartment in Madison. Both singers were going through a bad patch with their marriages and were continually high on drugs. Jennings had moved on to his third wife, who he was to divorce in January 1967, and by the end of the year had married blonde-haired beauty Barbara Rood. This was to be the singer's shortest marriage; the couple staying together less than a year.
Jennings starred in the low-budget B-movie Nashville Rebel, which was probably more memorable for his song Nashville Bum, than for the plot or the singer's acting skills. But it wasn't until a couple of years later that Jennings really made a breakthrough when his Only Daddy That'll Walk The line stalled at number two on the country charts for five weeks.
Jennings teamed up with folk group The Kimberleys for all the ill-advised COUNTRY-FOLK album that saw him gain a Grammy for a heavy-handed rendition of Jimmy Webb's MacArthur Park. But the whole project was designed to prolong the ailing country/folk sound. He was no longer being produced by Chet Atkins and found himself being passed around from one producer to another in the faint hope that one of them would truly connect with Jennings and his music. In less than five years he had worked in the studio with Atkins, Bob Ferguson, Felton Jarvis, Danny Davis, Lee Hazlewood and Ronny Light, churning out an incredible 13 albums that ranged from the mediocre JEWELS to the superb ONLY THE GREATEST.
Surprisingly, Atkins allowed Jennings into the studio to co-produce aspiring female singer Jessi Colter's debut RCA album, A COUNTRY STAR IS BORN. Following an 11-month courtship, Waylon and Jessi were married on October 26, 1969.
A few months later Jennings cut his first session outside of Nashville in almost five years when he worked with Lee Hazlewood in Los Angeles on the SINGER OF SAD SONGS album. Sadly, the record was not the classic that was anticipated. "We rushed it too much," explains Jennings. "We worked 18 hours one session without stopping because we were behind."
Not surprisingly Jennings was becoming more and more disillusioned with the way his recording career was being handled. He was frustrated with the Nashville system, unhappy that the real Waylon Jennings was not being captured on disc, and puzzled as to why lesser talents were having more commercial success. Ironically, he had now become one of the first mainstream country acts to be featured in the rock press, and was gaining support from outside of country music circles. Against this background, the singer was attempting to revitalise his music, but coming up against Nashville's indifference to his progressive ideas, Jennings was set to pack it all in and move back to Phoenix.
Instead, he decided to take one last shot at the music–but on his own terms. Jennings found a new manager in New Yorker Neil Reshen and renegotiated a new RCA contract that gave him total control of his recordings. Jennings was known for his liberalism and iconoclasm, and those qualities, coupled with his new image of long-haired, cowboy machismo, were carefully exploited. In 1973 Jennings achieved partial acceptance with American rock audiences when he played live at the Troubadour in Los Angeles and Max's Kansas City in New York.
Jennings was now in control and was helping Music City move away from the pop-tinged Nashville sound as he ushered in starker, stripped-down production values, and promoted the poetic, progressive songs of writers like Billy Joe Shaver and Kris Kristofferson. The seeds had been planted during sessions for both the LADIES LOVE OUTLAWS and LONESOME ON'RY AND MEAN albums during 1972, and it all came to fruition the following year when Jennings completed work on his HONKY TONK HEROES album, made up almost entirely of Billy Joe Shaver songs.
The 1960s had been a time when many new country stars and styles were uncovered, but it was during the 1970s that these styles and artists combined to form the new musical compounds known as outlaw music, contemporary country or progressive Nashville. Jennings was one of the leading artists attempting to revitalise country music by returning to an older, more honest tradition.
Away from country, Jennings took his music into new territory and started playing the rock stadiums with the like of the Grateful Dead and the New Riders Of The Purple Sage. Despite being well-received, Jennings is now critical of the career move. "The thing with the Grateful Dead was a mistake," he now claims. "Grateful Dead fans don't want anybody else up there. They liked us all right, but it was like going to a baseball game in the World Series and playing for two hours before the game starts, with the guys sitting on the side, when they could've been playing an hour ago."
Jennings finally hit the top of the country charts with This Time in the summer of 1974. Ironically, he had been pitching the song to RCA's staff producers at every session since 1968, and it had been turned down every time. Jennings went on to score further chart-toppers including I'm A Ramblin' Man and Are You Sure Hank Done It This Way, during the next six years.
Jennings, Willie Nelson, Jessi Colter and Tompall Glaser teamed up in 1976 to produce WANTED: THE OUTLAWS. The project became the first platinum album ever recorded in Nashville and gave credibility to what was being described by many as a 'new musical style.' "I think it was creative control and artistic freedom," says Jennings describing the Outlaw Movement now. "That's what we were a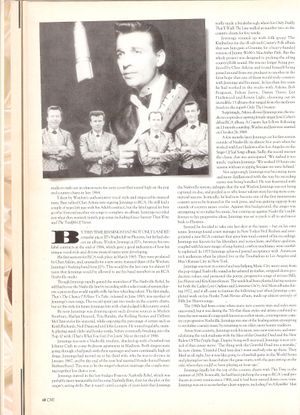 fter and that's what I had to have. It was all about taking control of our music. We were willing to do that and the record companies weren't. I tried it their way and it was a long time before I ever felt appreciated. Finally, I just said, 'To Hell with it."'
Jennings had been working in the studio for several years with both Willie and Tompall, the three gaining a reputation for hellraising. Eventually the wild trio fragmented and each went their own way, with Tompall and Waylon having a disagreement that has still not been patched-up some 20 years later. "Tompall Glaser and I were great friends," Jennings reflects. "The last day in my life I'll have a soft spot in my heart for Tompall. But I brought out things in him that were awful."
Jennings snubbed the 1974 CMA Awards when he was nominated as Male Vocalist, but refused to cut his planned performance of I'm A Ramblin' Man down to a paltry two minutes. He had now released DREAMIN' MY DREAMS WITH YOU, arguably his finest ever album, while the classic Are You Sure Hank Done It This Way had crossed over to the pop charts. Waylon was on a roll. He had spent years struggling to figure out just who the hell he was, now he had become it, he was revelling in his new-found style.
Jennings cut a 'live' album in Texas in 1974, but the set was to remain in the can for two years before RCA finally gave it a release. Rather than follow Willie Nelson's Red-Headed Stranger trail, Jennings chose to go in the studio, record the best songs he had and put out at least one album a year.
Most of the time the ploy worked. He came up with some great records, like OL' WAYLON, the first country album by a solo performer to go platinum. But Jennings' drug problem had seriously escalated, and his organisation was running wild, with more than 50 people in his employ; many of them hangers-on and fortune-seekers.
"I didn't know who the hell they were," Waylon ruefully reflects. "Somebody would walk by me and I'd ask who was that. 'That's ol' Carl and he does this and that' someone would say. Then I'd see another stranger, and I'd ask who he was. 'That'se Carl again.' I always said all you had to do was get on the bus and come by my table once in a while and say 'Hi chief' and you could ride around for two or three months and nobody would ever know the difference. I had people working for me that I didn't even meet. I actually fired everybody one time. I said, 'We're quitting. This is going to be it'."
Meanwhile Jennings's album sales were soaring way past the million mark, he cut duet albums with Willie Nelson and Johnny Cash, appeared on Paul Kennerley's critical acclaimed WHITE MANSIONS album, and was playing sell-out dates right across the States, appearing in stadiums rather than cramped honky-tonks.
"I was selling more records than I could keep up with," he explains. "Yet I was two million dollars in debt. I had no money in the bank. They said I had to go bankrupt." I said, 'No, I'm not gonna go bankrupt. I'm gonna go somewhere and find the hole where all that money's going and plug those holes, and then I'll pay this two million dollars off.' And in less than a year I was back even. Nobody had been taking care of my business. Now I have the best set of books the IRS have seen."
While Jennings had long been regarded as a talented songwriter as well as a performer, there came a time in his career when the songs just didn't flow. Alongside problems in his personal life, he began settling for mediocre material and false posturing; Waylon-doing-Waylon and sleepwalking his way through it. His drug problems were largely to blame. "I just couldn't write," he admits. "You really don't know who you are when you've spent 21 years on drugs. It's like a big part of you is missing. It took me a long time to get over it and get back on my feet. I didn't know which way to turn. I probably did more drugs than anybody you ever saw in your life. With everything I did, from music to sex—everything—I was high."
"I remember the look on Jessi's face; that helpless, hopeless and hurt look, from knowing that I was going to die and there was nothing that she could do about it," he continues. "She couldn't get me to do anything. But then I realised that the first thing people said to me was: 'You're killing yourself,' and I'd say: "Yeah! Well its my life.' Well you can think that way if you live in a cave, but when you're around other people, it's just not right. I looked around and everybody that cared about me had the same look as Jessi in their eyes. That's what made me quit."
"That was at the end of March 1983. I had decided to go to Arizona," he explains, the lines of his face showing through. "I was in a really bad shape. I was losing cars; couldn't remember where I'd left 'em. And I was blacking out."
"Jessi wanted me to go to hospital. But I never believed in treatment centres. So I told her: 'I'm not going to be doing drugs in 30 days, but for the next 30 days I'm not going be doing anything.' I leased a house in Arizona, and went through all the withdrawals; the shakes, the pain, the toxins coming out of your body, the sleepless nights, headaches and all that stuff. After three weeks it lightened up and got to going away."
During the early 1980s Jennings was cutting songs by such diverse writers as Billy Joel, Dire Straits, Hank Williams and Bob Seger. But all too often his albums had become patchy affairs. The innocuous Theme From The Dukes Of Hazzard, taken from the popular TV series, became his biggest hit, roaring up the pop and country charts. But the pioneer spirit was missing from his recordings, while his voice was now a pale imitation of how it had once sounded.
Jennings last regular album for RCA was to be TURN THE PAGE. Ironically, it was the first album that the singer had cut without drugs in close on 20 years and it heralded a new beginning. The voice was clearer and more powerful and the music was more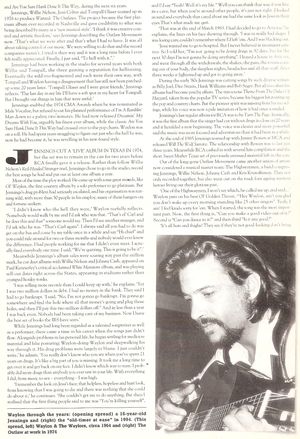 focused and adventurous than it had been in a while.
At the end of 1985 Jennings teamed up with Jimmy Bowen at MCA and released WILL THE WOLF SURVIVE. The relationship with Bowen was to last just three years. Meanwhile RCA cashed in with several hits compilation and the short SWEET MOTHER TEXAS set of previously unissued material left in the can.
Out of the long-gone Outlaw Movement came another union of artists considered a musical master team: The Highwaymen, a band comprising Jennings, Willie Nelson, Johnny Cash and Kris Kristofferson. They not only recorded together, but also went out on the road; four ageing western heroes living out their glorious past.
"One of the Highwaymen, I won't say which, he called me up, and said … (Waylon puts on his best Ol' Golden Throat) 'Hey Waylon, ain't you glad you don't wake up every morning sounding like 25 other singers.' Yeah, I am! I feel kinda sorry for 'em. When I started, the song was the most important part. Now, the first thing is: 'Can you make a good video out of it?' Second is: 'Can you dance to it?' and then third: 'Is it any good?'"
"It's all hats and things! They say if you're not good-looking don't bring 'em around. There's a real discrimination against older guys but I don't know what age has to do with music. Most of these people are Johnny-Come-Latelys, who don't have a history, and don't know the history of country music, therefore they have no emotional ties to us or even respect for us for anything we've done. Well that's alright, y'know, 'cause we'll be here and when the dust settles."
As the 1980s turned into the 1990s Jennings grew disillusioned with the music business. He joined Epic Records and released just a couple of albums, but his heart and soul were no longer in it. He had cut right back on his live dates to spend more time at home with Jessi and his son Shooter. He cut a children's album, the delightful COWBOYS, SISTERS, RASCALS & DIRT, but felt no pressure or inclination to record again. Then RCA decided to put together a retrospective CD box set and invited him to become involved in the choice of tracks.
"It was Thom Schuyler at RCA who said: "Just go in there and do a good album, do what you want to. We'd love to have you back at RCA.' "I agreed but told him that I didn't want to be involved in what's happening now in country. It's just like it was when I first came to town; it's back to a system, which works. But I don't do that kind of thing."
In true outlaw fashion, Jennings re-signed with RCA Nashville and promptly took off to LA to make WAYMORE'S BLUES PART II, a very un-Nashville album produced by Don Was. Atmospheric production touches, reminiscent of Daniel Lanois, inject a spooky edge into songs like Endangered Species, Come Back And See Me and the title track, while Ol' Waylon cuts loose as a Waylon impersonator on Nobody Knows.
"Don Was is the biggest hillbilly I ever met in my life," Waylon enthuses. "He came to the studio without no shoes and a big ol' double bass and I said: 'Don, I ain't sure I'm that country. You might be more country than I am'".
"A couple of years ago when we were on a show together Don told me he was about to start recording with the Rolling Stones but that when I was ready to call him, he'd put the Stones on hold. And he did. We recorded and the Stones were at his house waiting for him to come back. So I knew he cared."
WAYMORE'S BLUES PART II provides the necessary proof that Jennings is indeed on familiar ground when playing contemporary country music. The name Waymore's Blues came from a nickname bestowed upon him by his long-time guitarist Gerry Gropp, who called him Waymore Swenson, the Swedish Yodeller. The original Waymore's Blues appeared on the DREAMING MY DREAMS album 20 years earlier.
Perhaps the reason why Waylon Jennings is now sounding his best and having such a good time doing it, is because he has learned a lot of hard lessons in the past, and is now ready to deal with whatever comes his way. In the past he has only contributed a few of his own songs to an album, this time he was responsible for all but one, firmly stamping his own mark on the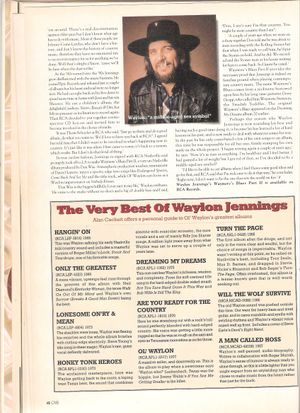 whole project. "I began writing again a couple of years ago," he says. "Now it's as easy as anything. I'm healthier and I feel better. I had gained a lot of weight, but I got rid of that, so I've decided to be a middle-aged sex symbol!"
"I'd like to be able to cut albums when I feel I have some good ideas and go for that, and RCA said that I'm welcome to do it that way," he concludes. "Right now, I don't want to be the one that sets the world on fire."
The Very Best of Waylon Jennings
Alan Cackett offers a personal guide to Ol' Waylon's greatest albums
HANGIN' ON
(RCA LSP-3918) 1968
This was Waylon refining his early Nashville folk/country sound and includes a masterful version of Roger Miller's Lock, Stock And Teardrops, one of his favourite songs.
ONLY THE GREATEST
(RCA LSP-4023) 1969
A more vibrant, up-tempo feel runs through the grooves of this album with Neil Diamond's Kentucky Woman, the tense Walk On Out Of My Mind and Waylon's own Sorrow (Breaks A Good Man Down) being the best.
LONESOME ON'RY & MEAN
(RCA LSP-4854) 1973
The shackles were loose, Waylon was flexing his muscles and the whole album bristles with cutting-edge electricity. Steve Young's title song is sheer magic; Waylon's raw, gutsy vocal defiantly delivered.
HONKY TONK HEROES
(RCA APL1-0240) 1973
The acclaimed masterpiece, here was Waylon getting back to the roots; a loping west Texas beat, the sound that combines electric with muscular acoustic, the sure vocals and a set of mainly Billy Joe Shaver songs. A million light years away from what Waylon was set to serve up a couple of years later.
DREAMING MY DREAMS
(RCA APL1-1062) 1975
This one catches Waylon's richness, wisdom and complexity.  From the soft-centred title song to the hard-edged double-sided smash Are You Sure Hank Done It This Way and Bob Wills Is Still The King.
ARE YOU READY FOR THE COUNTRY
(RCA APL1-1816) 1976
Here he was stretching out with a rock'n'roll sound perfectly blended with hard-edged country. His voice was getting a little more rugged so that he was as rough on the ears and eyes as Tennessee moonshine is on the throat.
OL' WAYLON
(RCA APL1-2317) 1977
A massive seller, and deservedly so. This is the album to play when a newcomer says 'Waylon who?' Luckenbach, Texas was the biggie, but Jimmy Webb's If You See Me Getting Smaller is the killer.
TURN THE PAGE
(RCA AHL1-5428) 1985
The first album after the drugs, and not only is the voice clear and soulful, but the choice of songs is impeccable. Waylon wasn't writing at this point, so he relied on Nashville's best, including Troy Seals, Max D. Barnes, and dragged in Stevie Nicks's Rhiannon and Bob Seger's Turn The Page. Often overlooked, this album is a lesser-known gem that is worth seeking out.
WILL THE WOLF SURVIVE
(MCA MCAD-5688) 1986
The old Waylon sound was pushed outside this time. Out went the heavy bass and steel guitar, and in came mandolin and synths with swirling rhythms and Waylon's vibrant voice mixed well up front. Includes a cover of Steve Earle's Devil's Right Hand.
A MAN CALLED HOSS
(MCA MCAD-42038) 1987
Waylon's self-penned audio-biography. Written in collaboration with Roger Murrah, Waylon's sense of humour is always ready to shine through, so this is a little lighter than you might expect from an unyielding man who chose to make music from the heart rather than for the buck.