Warren Zevon - Sounds Familiar
First Published in Country Music International, December 1996
Poor, Poor Pitiful Me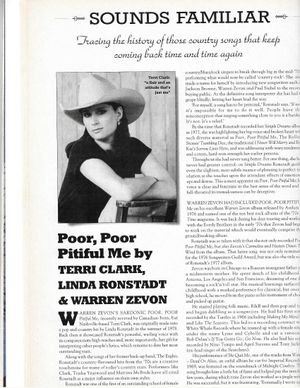 Warren Zevon's sardonic Poor, Poor Pitiful Me, recently revived by Canadian-born, but Nashville-based Terri Clark, was originally made into a pop and country hit by Linda Ronstadt in the summer of 1978. Back then it showcased Ronstadt's powerful, wailing voice with its compassionate high reaches and, more importantly, her gift for interpreting other people's lyrics, which remain to date her most outstanding trait.
Along with the songs of her former back-up band, The Eagles, Ronstadt's country-flavoured hits from the 1970s are a creative touchstone for many of today's country stars. Ronstadt was one of the first of an outstanding school of female country/blues/rock singers to break through big in the mid-1970s, performing what would now be called 'country-rock.' She also made a name for herself by introducing songwriters such as Jackson Browne, Warren Zevon and Paul Siebel to the record-buying public. As the definitive song-interpreter she has had to grope blindly, letting her heart lead the way.
"For myself, a song has to be personal," Ronstadt says. "If not it's impossible for me to do it well. People have this misconception that singing something close to you is a burden. It's not. It's a relief."
By the time that Ronstadt recorded her SIMPLE DREAMS album in 1977, she was highlighting her big voice and broken heart with such diverse material as Poor, Poor Pitiful Me, The Rolling Stones' Tumbling Dice, the traditional I Never Will Marry and Eric Kaz's Sorrow Lives Here, and was addressing with wary tenderness and a stern, hard-won strength her earlier persona.
Throughout she had never sung better. For one thing, she had never had greater control: on SIMPLE DREAMS Ronstadt guides even the slightest, most subtle nuance of phrasing to perfect resolution as she touches upon the attendant effects of emotional ups and downs. This is most apparent on Poor, Poor Pitiful Me; her voice is clean and feminine in the best sense of the word and so full-throated its tremulousness can be deceptive.
Warren Zevon had included Poor, Poor Pitiful Me on his excellent WARREN ZEVON album released by Asylum in 1976 and named one of the ten best rock albums of the 1970s by Time magazine. It was back during his days touring and working with the Everly Brothers in the early 1970s that Zevon had begun to work on the material which would eventually comprise that ground-breaking album.
Ronstadt was so taken with it that she not only recorded Poor, Poor Pitiful Me, but also Zevon's Carmelita and Hasten Down The Wind from the album. That latter song was not only nominated for the 1976 Songwriters Guild Award, but was also the title song of Ronstadt's 1977 album.
Zevon was born in Chicago to a Russian immigrant father and midwestern mother. He spent much of his childhood in Arizona, Los Angeles and San Francisco, dreaming of one day becoming a rock'n'roll star. His musical learning surfaced in childhood with a marked preference for classical, but once in high school, he moved from the piano as his instrument of choice and picked up guitar.
He started playing folk music, r&b and then pop and rock and began dabbling as a songwriter. He had his first songs recorded by the Turtles in 1966 including Making My Mind Up and Like The Seasons. This led to a recording contract with White Whale Records where he teamed up with a female singer under the name Lyme and Cybelle and cut a version of Bob Dylan's If You Gotta Go, Go Now. He also had his songs recorded by Nino Tempo and April Stevens and Tony Jackson (ex-lead singer of the Searchers).
His performance of the She Quit Me, one of the tracks from WANTED –DEAD OR ALIVE, an awful album he cut for Imperial Records in 1969, was featured on the soundtrack of Midnight Cowboy. That song brought him a little bit of fame and helped pay the rent for a few years, during which time Zevon also worked as a jingle writer. He was successful, but it was frustrating. "Eventually I wrote some lyrics which the advertising agency found particularly offensive," recalled Zevon, "and they fired me for insubordination."
Returning to playing piano, he hooked up with the Everly Brothers, an association that was to last from 1971 through to 1975. He played keyboards on their last album, STORIES WE COULD TELL, and in 1972,  following the irrevocable break-up of the Everlys, played in their separate road bands. Eventually he went with Phil Everly and played on his solo albums including STAR SPANGLED SPRINGER, working as an arranger and keyboard player. It was during this period that he met David Geffen, who signed him as a songwriter and eventually to a recording contract with Asylum.
A relentless period of touring, travel and personal struggles followed EXCITABLE BOY, Zevon's breakthrough platinum album of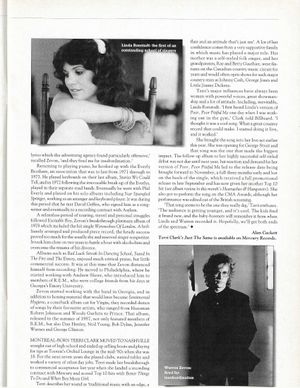 1978, which included the hit single Werewolves Of London. A brilliantly arranged and produced record, the heady success proved too much for the usually shy and reserved singer-songwriter. It took him close to two years to battle a bout with alcoholism and overcome the trauma of his divorce.
Albums such as BAD LUCK STREAK IN DANCING SCHOOL, STAND IN THE FIRE and THE ENVOY, enjoyed much critical praise, but little commercial success. It was at this time that Zevon distanced himself from recording. He moved to Philadelphia, where he started working with Andrew Slater, who introduced him to the members of R.E.M., who were college friends from his day at Georgia's Emory University.
Zevon started working with the band in Georgia, and in addition to honing material that would later become SENTIMENTAL HYGIENE, a comeback album cut for Virgin, they recorded demos of songs by their favourite artists, who ranged from bluesman Robert Johnson and Woody Guthrie to Prince. That album, released in the summer of 1987, not only featured members of R.E.M., but also Don Henley, Neil Young, Bob Dylan, Jennifer Warnes and George Clinton.
Montreal-born Terri Clark moved to Nashville straight out of high school and ended up selling boots and playing for tips at Tootsie's Orchid Lounge in the mid-1980s when she was 18. For the next seven years she played clubs, waited tables and worked a variety of other day jobs. Terri made her breakthrough to commercial acceptance last year when she landed a recording contract with Mercury and scored Top 10 hits with Better Things To Do and When Boy Meets Girl.
Terri describes her sound as 'traditional music with an edge, a flair and an attitude that's just me.' A lot of her confidence comes from a very supportive family in which music has played a major role. Her mother was a self-styled folk singer, and her grandparents, Ray and Betty Gauthier, were fixtures on the Canadian country music circuit for years and would often open shows for such major country stars as Johnny Cash, George Jones and Little Jimmy Dickens.
Terri's major influences have always been women with powerful voices, great showmanship and a lot of attitude. Including, inevitably, Linda Ronstadt. "I first heard Linda's version of Poor, Poor Pitiful Me one day when I was working out in the gym, Clark told Billboard. "I thought it was a cool song. What a great country record that could make. I started doing it live, and it worked."
She brought the song into her live act earlier this year. She was opening for George Strait and that song was the one that made the biggest impact. The follow-up album to her highly successful self-titled debut was not due until next year, but reaction and demand for her version of Poor, Poor Pitiful Me led to the release date being brought forward to November, a full three months early and hot on the heels of the single, which received a full promotional release in late September and has now given her another Top 10 hit. She also got to perform the song on the CMA Awards, although her performance was edited out of the British screening.
"That song seems to be the one they really dig," Terri enthuses. "The audience is getting younger, and it's cool. The kid's find it brand new, and the baby-boomers will remember it from when Linda and Warren recorded it. Hopefully, we'll get both ends of the spectrum."