Ward Thomas - The Next Step
Whenever I find myself thirsting for inspiration, I tend to search out the blessed gift that is the harmonies of sibling pairings. My adolescent years were shaped by the Everly Brothers. Don and Phil led me back to the Louvins, the Delmores, the Monroes and the Blue Sky Boys whilst moving forward I discovered the Bellamy Brothers, the Judds, the McCarters, Dixie Chicks and the Church Sisters. My most recent discovery has been Ward Thomas. It was almost three years ago that Catherine and Lizzy Ward Thomas first crossed my radar. I heard an early demo disc that they had recorded in Nashville and was suitably impressed by their songwriting and vocal skills and wanted to hear more.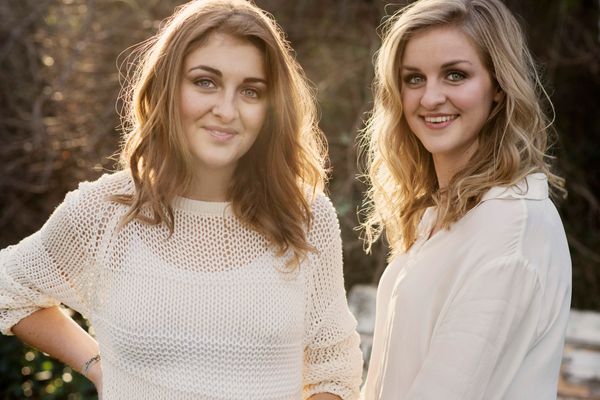 In the ensuing months I've watched as the teen twin sisters matured and grew into one of the finest home-grown country music acts to have ever come out of the British Isles. The triumphs of choosing a life in music are few and far between and finding your own unique and compelling voice is almost as rare as finding a four leaf clover. To achieve success playing country music in Britain, is doubly hard, but over the past twelve months Ward Thomas have overcome the obstacles and stigmas associated with country music in the UK, to gain a sizeable and much younger audience for their brand of country music, without in any way compromising their musical integrity.
I was struck by the Ward Thomas girls' passion for country music that very first day that they sat in my lounge. They enthused about the Dixie Chicks, but also demonstrated a much wider knowledge of country music that most British 18-year-olds would find impossible to match. Rather than sitting there bemoaning how hard it was to gain an audience for their music, they were buoyant and positive about how they intended to build an audience by writing, recording and performing their own songs.
They then went on to amaze me with some of those songs, along the way informing me that they'd already taken the bull by the horns, been to Nashville, and recorded some of their songs with top Music Row musicians. They'd not gone the back-street route and worked with division three players. Oh no! Somehow these girls had got on board with A-team players, and it showed on that demo disc they were hawking around. These Nashville players don't go into the studio with just anyone, like me, they saw the huge potential of Ward Thomas and their songs, and it shows in the inspired way that they played behind the girls' incredible vocals.
Of course, creating great music in the confines of a recording studio is not quite the same as performing live in front of an audience. On stage you not only need to recreate the sound of your recordings, you also need to entertain a crowd. For most, that takes years of treading the boards, being on the road, touring and playing one-night stands.
The first time I saw Catherine and Lizzy on stage was in Nashville at one of the clubs on Lower Broadway. It was a noisy lunchtime session, part of the CMA's Global Showcase events and I was bitterly disappointed. They failed completely to connect with the audience. In retrospect, I should not have been surprised. It was, after all, a noisy, boozy music business audience … the worst of all audiences. They were only interested in the free food and booze and talking as loud as possible to impress fellow music biz associates about their successes over the past year. A totally wrong environment for showcasing new talent!
A few months later I saw the girls performing an acoustic set at a London showcase and this time I was knocked out. Stripped back to the bare essentials, they were vocally sensational. The audience this time had come to listen, and what Catherine and Lizzy lacked in stage presence, they more than compensated for with their powerful, exquisite and stunning lead vocals and sibling harmonies. As I sat there soaking up their music, I wondered what they'd be like with a full band, playing in front of a paying audience.
It wasn't too long before that happened. In the same way that they'd been developing their career one step at a time with careful consideration, so it was when it came to finding the right musicians to form their own band. The girls grew up on a farm in rural Hampshire. Though it sounds like an idyllic lifestyle, a farm runs on organisation and planning, and this kind of upbringing has obviously made a big impression on Catherine and Lizzy.
With an exciting mission to assemble the finest group of musicians to recreate their songs live, Catherine and Lizzy found a powerhouse group of friends that share their passion for musical excellence and exploration. Dan Gordon is the inventive lead guitarist, a guy who knows when and where to cut loose, and when to hang back and add in those soulful and melodic touches. The rhythm section is held down by Dave Baker on drums and Linus Fenton on bass. Catherine and Lizzy both play acoustic guitars, they also add some mandolin and occasionally they are joined by David Whitmey on keyboards. When the girls took to the stage with their band, I was instantly tickled. The band was tight in all the right ways, and loose where it mattered.
Sitting down with Catherine and Lizzy and their band members to talk about how they all came together to make music became rather confusing. All are passionate about the music, excited about touring and how everything has come together so successfully in what seems to have been a short period of time and they were brimming over with excitement. Out of the melee of voices, somehow the story began to make sense …
"It was so cool because we had been playing with Dan for a long time,"
explains Lizzy.
"It all kinda started out when it came to the music video, The Good And The Right. We got Linus and Dave in for that and we just had this kind of dynamic that worked so quickly with all of us. Dave and Linus knew all the parts like super quickly and we were like: 'Whoa! These guys are really good, we should try and grab them.'""We've known Dave for a long time and we've all lived in the same village,"
Catherine takes up the story.
"Yeah, I'm a builder by trade and fortunately I was working for the girls' mum, renovating a house she'd brought, and since working there, I obviously got to know the girls and their music and fortunately I was able to get involved,"
Dave offers.
The five of them all got together the day before Catherine and Lizzy were due to fly off to Nashville for three months for some shows and songwriting sessions.
" … and it was our 20th birthday,"
recalls Catherine..
" … and we felt so good about us all playing together,"
adds Lizzy,
"and we were like: 'Oh my god we're so in love … the three of them, it's so good … I hope they're still here when we get back.""You had faith in us,"
Dave chips in.
"I mean, you'd never really heard us play before, you never saw me play the drums.""We just clicked so well when we started playing together,"
Dave continues.
"There was an immediate connection … when I started to play with Dan and Linus, I had a really good feeling, you know, we just worked really well together."
All five come from the same area on the Hampshire/Surrey borders which makes it easier when it comes to rehearsals and travelling to gigs. Though Dave, Dan and Linus hadn't played together prior to that day in May, they had all come across each other at various festivals and gigs over the previous six or seven years without ever realising it. Camaraderie between five people in a group playing music and touring can be tough, but somehow the Ward Thomas band seems to get on really well.   
"You could always get three really difficult people that don't get along, with too much testosterone,"
Catherine giggles,
"but we've got a really good dynamic because we've got the perfect balance between organised and relaxed, I think."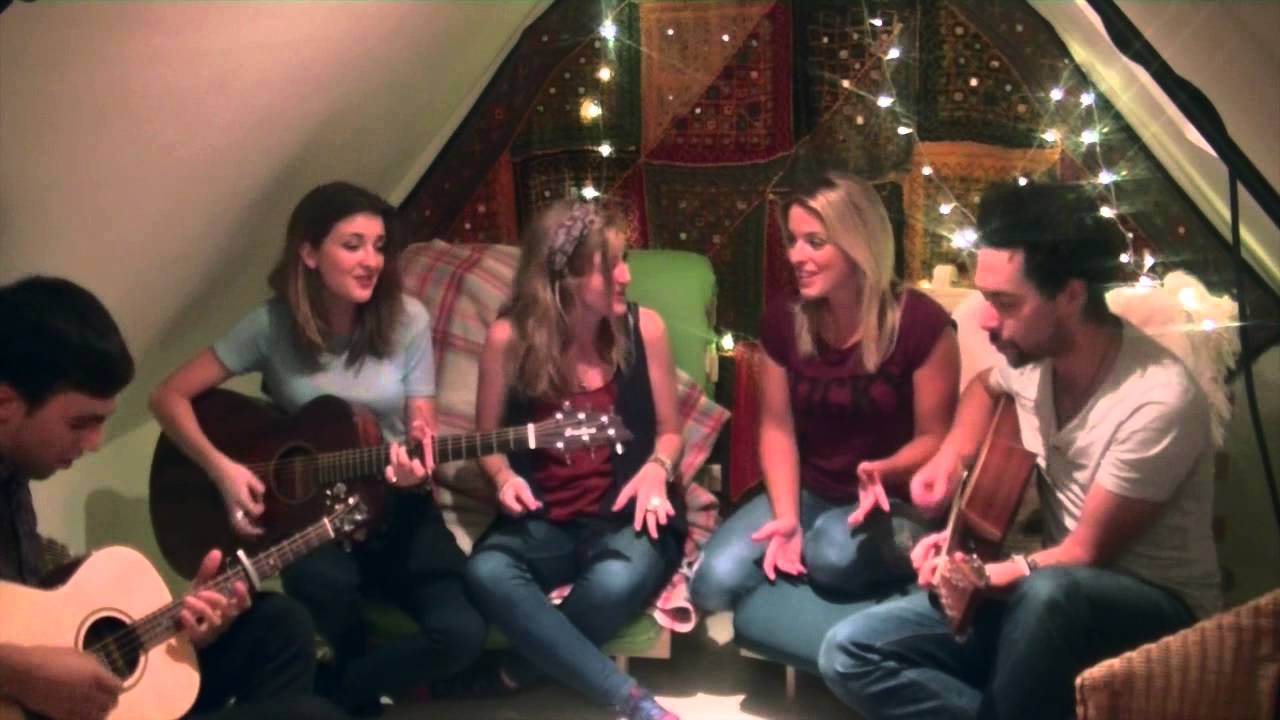 Though they'd played several gigs together up and down the country, November 2014 was the first time that Ward Thomas took to the road for a tour. They co-headlined with the Shires, criss-crossing the UK in a van, playing every night, with radio and press interviews in-between. The first time out on the road like that can be a shock to the system, but all five seem to have emerged unscathed.
"Oh it's been amazing hasn't it,"
beams Catherine.
"It's been a lot of fun!""We've made everyone have a playlist, so everyone has an hour-long playlist,"
explains Lizzy.
"It's good fun, it's been really fun hasn't it? It's been going really quickly … annoyingly.""Everyone's got different music styles, we've got a very wide range,"
Catherine adds.
"I mean Dan's playlist is like teenage rock and all the hard hits, and then Linus's is like super, super jazzy and we haven't heard Dave's yet, but he's kind of into metal, so that will be different, and then there's country …"

"… and a bit of Taylor, Taylor Swift's new album's in there, you know,"
Lizzy adds excitedly.
Both Catherine and Lizzy are huge Taylor Swift fans. They went off into their own world talking animatedly about Taylor's new album and the merits of whether she's country or pop. Recently they recorded their own take of Taylor's
Shake It Off
in the attic studio built in their mother's house in Hampshire. Part of their SnugSessions, this acoustic version works really well and is much better than the Taylor Swift repetitive pop-flavoured original. 
Crossing country with pop music is not a recent development. You can trace it back to the very earliest days of commercial recordings. Traditionally, country music supposedly appeals more to older people than younger music lovers, though I could dispute that by citing such young performers as Jean Shepard, Wanda Jackson, Johnny Rodriguez, Faron Young, Tanya Tucker, Leann Rimes and of course Taylor Swift, all of whom enjoyed country music success in their teens.   
It is more difficult for country to appeal to teens than pop because pop has fewer barriers. Country is more about the song and the artist. Pop is more about the image, and in some cases, the rhythm and the track, the whole feel. But good looking people with talent and good songs will win youngsters over, and there's little doubt that Catherine and Lizzy are succeeding in a way that no other British country music act has ever managed. And they are attracting youngsters to their music without alienating older country music listeners.
Music plays a big role in youngsters' courting rituals, so the more it can relate to dating or related social events, the bigger its chance for success. Young music fans don't want to be fooled. They want something that is real and genuine. They are hip, relatively sophisticated consumers. To some degree kids want role models. They want to hear good positive messages. Catherine and Lizzy have grasped this, and by utilising the traditional country story-telling model they have successfully blended modern country with teen pop to create an exciting and vibrant musical fusion.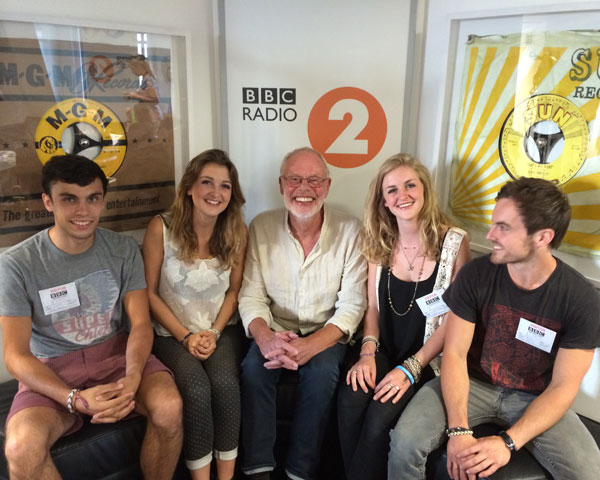 Wisely, having gained the support of this younger audience, they have ensured that they can hold on to them where it really matters, in the live gig environment. Too often, young British country singers take on board older musicians, steeped in country music, when they take to gigging. Ward Thomas have brought on board skilled players from diverse musical backgrounds who are only a few years older than themselves; full of youthful enthusiasm and appealing to those all-important younger music fans they need to attract.
"I was in a like heavy metal band for quite a few years,"
Dave explains,
"That was my first musical experience, which was great. Obviously, playing drums in metal music, they are quite prominent, you know. It's not that they're more important in that genre than any other genre, but it's very loud—it's a loud presence. So, obviously I was drawn to that, and that was good fun. Since then, over the years, I've realised that I want to be more varied in my playing ability. I think, you know, playing different genres and stuff like that, is really the way to become a better musician. Playing country, I started with not much experience with it at all, and you know, it's a real challenge to actually go back to basics, and like to play in time consistently. Right tempo at the right dynamic, you know, that takes a lot of effort and a lot of conditioning. Though it's been challenging, it's really changed me, as a musician.""I ended up realising how big country music is and how well regarded the musicians are,"
Dave continues.
"I kind of feel like I've been really ignorant … like a lot people that I speak to, all the guitarists in particular, the calibre has been very high and I'm enjoying learning how to do it and keep upping my game."
Linus is one of the few bass players that I've seen who always seems to have a big beaming smile across his face whilst playing. Too many of them stand there looking either totally bored or just so wrapped up in their own thoughts that they ignore the need to communicate and relate to the audience. He is currently studying jazz at the Royal Welsh College in Cardiff.
"I grew up listening to a lot of pop and indie and I've been playing that a lot in bands and stuff,"
Linus says, "
but mostly, what I've been playing for the last few years, is jazz. That really excites me, but I've been playing all types of music and I do whatever I can. This is a really exciting thing and really fun to do. I think that there is a lot you can learn with jazz and the skills you learn are very transferable, to all the other types of genres."
As we sat there talking, Dan, the dynamic and versatile lead guitarist, remained very quiet, taking it all in and just soaking up the good vibes that were emanating from these good friends. It was time to bring him into the conversation. 
"Well I sort of grew up listening to a lot of American pop punk,"
he offered.
"Along with that, my step-mum has been a big country fan for years, so it was a bit of an odd mixture and then it just popped up with these guys and it's been alright. Also, me and Linus played in a band together once."
I was intrigued to know how the band members worked out their musical arrangements. Though, for some songs, they more or less followed the arrangements laid down in the studio for the album, onstage they often test new songs that Catherine and Lizzy have written and also put their own stamp on well-known classics like
9 To 5
.
"In the past we have worked them out amongst ourselves,"
Catherine explains.
"But we've recently just got David, who worked out our musical arrangements for the tour and the Hyde Park show and has been helping us with the musical directions … and at times we've needed it. It's so nice, as well, when a fresh pair of ears comes along and goes: 'Do you know what might sound cool in this is if you do this,' and we're like: 'Okay then.' We're like: 'How did we not realise that.'"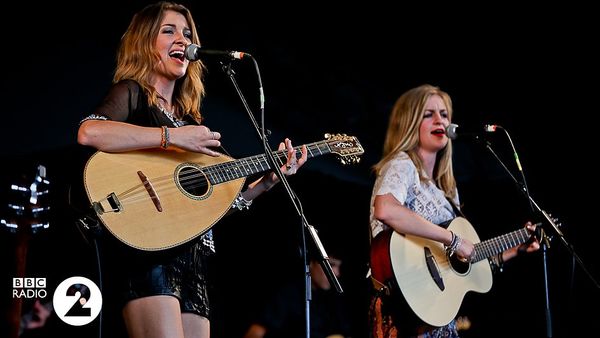 "I think that you guys are all amazing,"
David adds,
"but when you are stuck in a room for months and months on end, you end up that you lose all your creativity. I think you are all amazing, but like you said, a fresh pair of ears really helps.""You've got to consistently develop,"
Lizzy interjects,
" "Every show you want to do a better show. I think that's why we need David.""What's really cool, as well, is that everyone in the band is sort of interested in always wanting to up their game,"
explains Catherine,
"so you never get complacent. Everyone says how can we make this better, so we're always trying to better ourselves. I think you can get to that kind of place where everyone's a bit complacent in the band, and that's what's difficult, because you've played so much, so we're always wanting to improve to make us work harder."
The Ward Thomas work ethic and boldness have paid off in spades in a relatively short period of time but none of them is prepared to sit back on their laurels. Armed with an impressive knack for being able to spin a great tale and the ability to engage audiences with a combination of sparkling instrumental arrangements, great grooves and magnetic melodies, clever turns of phrase built around wonderfully etched imagery, and an immediately identifiable and passionate vocal delivery, they are on the cusp of a major breakthrough. But with everything happening for them, the demands of media interviews, live performance and radio and television appearances, it can take its toll on the time needed to be creative with their songcraft.
"We got so used to gigging and then it was like gigging, gigging, gigging, with no time for writing."
Catherine explains.
"and then we were suddenly like: 'Oh now we need to be writing again, let's re-learn.'""The two weeks before the tour our friend Rebecca Powell from Nashville, who's Monty Powell's daughter, came over and we wrote a whole load of new songs with her and a girl called Jessica Sharman,"
Lizzy says.
"Writing seven new songs in two weeks, it was literally a songwriting retreat and we just suddenly got a whole load of new songs.""It was really cool, because it was the Nashville discipline in Hampshire,"
Catherine takes it up.
"In Nashville, they're like, right we want this done today, we have a session from 9 to 2, and then  another session from 3-5, and they'll finish with like two songs over the day. Whereas here, it's a bit like, let's see what happens. A song might come and a song might not come, Rebecca is so disciplined; she's like: 'Right we're going to write a song today.'""We had one day when we didn't write anything, just in the room talking."
Catherine continues.
"It's so good to write with her … you know, four females together. We wrote with this lovely girl  Jessica Sharman, who is London-based … just such a talented songwriter. It was like four girls in a room talking about heartbreak, men, friends fall out … and a song would just come from that. It's like constant ideas, so we were lucky to have a week where we could cram in some songwriting … and it was so needed."
Country music is a genre that defies definition these days, ranging from music coming out of modern Nashville to old school Texas country, red dirt music of Oklahoma, Bakersfield honky-tonk, current pop-country to the new monikers of bro-country and Americana. Country music at its heart is the universal human element known as singing the truth. Ward Thomas readily embrace this as they write and sing about their perception of the world, the human condition and having faith in their own beliefs. There is nothing more truthful than that.
"Everything that we've written is specific to our kind of points of view and our lives and that we hope that other people feel as well and can relate to,"
explains Catherine.
"We've got a new song out called Cartwheels, which is so personal to me and Lizzy, yet we've had people come up to us and say: 'I feel like that was written about me.' That is the sort of thing that we sort of aim to do when we write a song, that we hope that people feel like it's about them.""This is why I love Taylor Swift's old album, RED,"
Lizzy nods in agreement,
"Because she is great at that and writing songs that everyone can relate to, so yeah, that's what I feel like we try to aim to do."
All the band members are as one in agreement. As we sit in their dressing room, I'm very aware that soon they all have to get ready for the evening show. There's not a whiff of nerves, everyone is comfortable and at ease with the self-knowledge that they have reached their current position as Britain's finest modern country act with the potential to take their music to an international  audience  genuine talent and sheer hard work. But they also readily accept that there's much more to do, with more barriers to break down in their quest to make country music more readily acceptable to a mass audience throughout the UK,  
"We are consistently wanting to keep everything moving forwards,"
enthuses Catherine.
"Everything keeps going up a notch. I mean, the album has done like so much, it's totally exceeded our expectations, so we're so happy with that. We're still really proud of the album and we want to carry on pushing the album."
"And maybe, you know, add a few more songs on it," Lizzy adds her twopennyworth,
"like a deluxe version, We are obviously putting out a new single in the next few months and hopefully I think in the future we want to do a European tour.""We would love to go back to Nashville,"
Lizzy continues enthusiastically,
"Oh my gosh, I think in the New Year. We have a few plans to go back and record the new material, it's just up in the air at the moment.""It's really cool having all of the songs we wrote on the first album with English influences."
Catherine says.
"written with Matt Reeves and a woman called Ann Bailey, who comes from Mitcham, whereas a lot of the songs we've written with Rebecca, she's got the Nashville thing in her brain. She's grown up and lived and breathed Nashville, so I think they've got a lot more kind of Nashville feel to them. I mean, well hopefully, the first album did have a Nashville feel to it, it had the perspective of Nashville in it. It helped that we've been there so often, I think our understanding got clearer and I think it's beginning to show in our new material.""We really are desperate to go out to Nashville, we miss it so much,"
chimes in Lizzy.
"I saw a picture on FaceBook of our friends in Nashville and I was like, I miss them. I really want to go back."