Sony Music/WTW Music
88985338782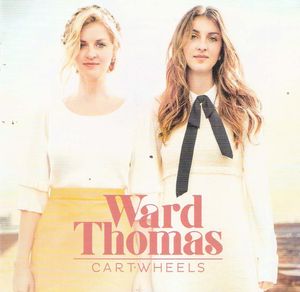 In a few short years Ward Thomas have shown themselves to be distinct from many existing UK country acts due to the pure warmth and honesty in their songwriting coupled with eye-catching imagery and lack of pretence. Having dipped their toes in the water with the well-received FROM WHERE I STAND debut, twins Lizzy and Catherine are now set to embark on an exciting new chapter of their career, having stepped up from indie to a major label for their second album, CARTWHEELS, with songs that are a compelling portrait of an act coming very much into their own. At once effortless and adroit, Ward Thomas' consummate hypnotic country-pop remains at the album's heart, though this time there's room for a little experimentation, incorporating influences of classic pop and lush string sections.
Ward Thomas are not reinventing the wheel, but taking the wheel in their hands and driving the music down both familiar roads and out to new territory. The music on CARTWHEELS can be described as harmony-based pop with subtle country elements and great, and often grand, arrangements, but still with an acoustic, occasional rootsy feel.
The overall sound is welcoming, warm and comfortable, with the sisters' unpretentious vocals drawing the listener in and the rich melodies keeping them around and encouraging further listening.
Several of the songs are upbeat and celebratory, with soaring harmonies and earnest performances.
The summer single,
Carry You Home
, sets the pace early, with a pulse-quickening rhythm, intricate guitar/keyboard interplay and dynamic pop-styled vocals.
Almost Easy
highlights a softer, more emotional side as this forlorn song of coping after a break-up builds to a powerful climax. The melodic
Guilty Flowers
is vividly emotional and mind-blowingly catchy as the chorus insinuates every corner of your mind in an Abba way. They continue in similar vein with
Lose Me
; emphatically rhythmic, building to an irresistible lead hook, this is most certainly in the timeless terrain.
Good On You
is rich with imagery and as vivid as it is thought provoking.
There's little doubt that Ward Thomas are maturing rapidly as great songwriters, pairing up with like-minded writers, they've created some incredibly good songs here, and none better than
When It's Not Me
. Seriously, how great is this song? I've heard it about a dozen times already and that's still not enough! This is music aimed squarely at a mid-twenties audience, yet these songs should also reverberate with listeners of all ages because the themes are so universal. Even the slightly lightweight
Boomerang
is damn irresistible. Then in total contrast you have
Where The Sky Is
, which brings a fresh focus for Ward Thomas—both musically and lyrically. Close your eyes and open your ears to this track, and you will be temporarily transported to a land devoid of stress, worry, noise and pollution.
The hummable melodies and, of course, heavenly interplay of the voices wheedle their way into the consciousness and refuse to let go …Catherine and Lizzy, known collective as Ward Thomas, continue to go from strength to strength. Let's encourage these young artists, who are taking a chance in striving to do something different, with our support and love.
www.wardthomasmusic.com