Wade Hayes - The Boy From Oklahoma
First Published in Country Music International, January 1997
Despite spending his teenage years watching the music business chew up his father's musical aspiration and spit them out. Wade Hayes never wavered from the dream of country music stardom. "I tried to deny what I was supposed to do because of what happened to my dad and the family," he tells Alan Cackett, "but eventually I couldn't deny it any more."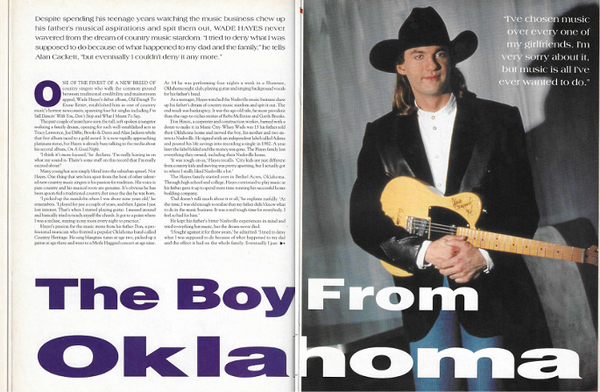 One of the finest of a new breed of country singers who walk the common ground between traditional credibility and mainstream appeal, Wade Hayes's debut album, OLD ENOUGH TO KNOW BETTER, established him as one of country music's hottest newcomers, spawning four hit singles including I'm Still Dancin' With You, Don't Stop and What I Meant To Say.
The past couple of years have seen the tall, soft-spoken youngster realising a family dream, opening for such well-established acts as Tracy Lawrence, Joe Diffie, Brooks & Dunn and Alan Jackson while that first album raced to a gold award. It is now rapidly approaching platinum status, but Hayes is already talking to the media about his second album, ON A GOOD NIGHT.
"I think it's more focused," he declares. "I'm really honing in on what my sound is. There's some stuff on this record that I'm really excited about!"
Many young hat acts simply blend into the suburban sprawl. Not Hayes. One thing that sets him apart from the host of other talented new country music singers is his passion for tradition. His voice is pure country and his musical roots are genuine. It's obvious he has been spoon-fed a traditional country diet since the day he was born.
"I picked up the mandolin when I was about nine years old," he remembers. "I played for just a couple of years, and then I guess I just lost interest. That's when I started playing guitar. I messed around and basically tried to teach myself the chords. It got to a point where I was a recluse, staying in my room every night to practice."
Hayes's passion for music stems from his father Don, a professional musician who fronted a popular Oklahoma band called Country Heritage. He sang bluegrass tunes at age two, picked up a guitar age three and went to a Merle Haggard concert at age nine. At 14 he was performing four nights a week in a Shawnee, Oklahoma night club, playing guitar and singing background vocals for his father's band.
As a teenager, Hayes watched the Nashville music business chew up his father's dreams of country music stardom and spit it out. The end result was bankruptcy. It was the age-old tale, far more prevalent than the rags-to-riches stories of Reba McEntire and Garth Brooks.
Don Hayes, a carpenter and construction worker, burned with a desire to make it in Music City. When Wade was 13 his father sold their Oklahoma home and moved the boy, his mother and two sisters to Nashville. He signed with an independent label called Adena and poured his life savings into recording a single in 1982. A year later the label folded and the money was gone. The Hayes family lost everything they owned, including their Nashville home.
"It was rough on us," Hayes recalls. "City kids are just different from country kids and moving was pretty upsetting, but I actually got to where I really liked Nashville a lot."
The Hayes family started over in Bethel Acres, Oklahoma. Through high school and college, Hayes continued to play music as his father gave it up to spend more time running his successful home building company.
"Dad doesn't talk much about it all," he explains ruefully. "At the time, I was old enough to realise that my father didn't know what to do in the music business. It was a real tough time for everybody. I feel so bad for him."
He kept his father's bitter Nashville experiences in mind and tried everything but music, but the dream never died.
"I fought against it for three years," he admitted. "I tried to deny what I was supposed to do because of what happened to my dad and the effect it had on the whole family. Eventually I just couldn't deny it anymore."
With his parents' blessings he became a hot lead guitarist, a deeply expressive honky-tonk singer and a budding songwriter. "I was trying to get through college to get a full-time job," the singer remembers. "But I knew in my heart that it wasn't what I wanted. I was miserable. I knew I had to make up my mind and quit trying to serve two different things. If you are gonna do something, you need to do it wholeheartedly."
In 1992 Hayes moved back to Nashville and spent the winter working in construction. At an amateur night at Gilley's he wowed the owners so much that they offered him a nightly singing job. Country star Johnny Lee hired him as a lead guitarist and Music Row also took notice of his singing and playing abilities.
He played the clubs at every opportunity he could, still showing up faithfully for his construction job at seven o'clock the next morning.
"My biggest worry from being in Nashville before with my folks was finding a job. I was mainly concerned with having enough money to keep the lights on and having enough to eat. I immediately went to work swinging a hammer. I knew how to do that. My dad has been a homebuilder for as long as I could remember, and I''ve worked with him since I've been old enough to help out. I went to work driving nails and playing in clubs at night. I was very fortunate to start getting session work so quickly. It was real good for me, learning how to use a studio and being comfortable when recording."
Those early years spent honing his craft in smoky Oklahoma honky-tonks had turned him into quite a guitarist, a fact that soon put him at the forefront when producers were looking for session players. Soon he was doing songwriter demos and full sessions in the famed Nashville studios. It was at one of these sessions that he met songwriter Chick Rains who, suitably impressed, alerted his publishing company, Sony/Tree. Within three days Hayes was signed to a publishing contract with Tree and had also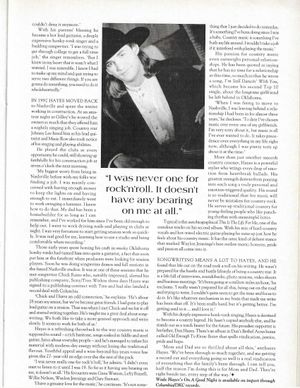 landed a record deal with Columbia.
"Chick and I have odd connections," he explains. "He's about 28 years my senior, but we've become great friends. I had gone to play lead guitar on a session. That was when I met Chick and we hit it off and started writing together. He's taught me a great deal about songwriting. We both like to take a more general approach and write slowly. It seems to work for both of us."
Hayes is a refreshing throwback to the way country music is supposed to sound—a rich baritone, songs soaked in fiddle and steel guitar, lyrics about everyday people—and he's managed to infuse his material with modern-day energy without losing the traditional flavour. Youthful appeal and a wise-beyond-his-years voice has given the 27-year-old an edge over the rest of the pack.
"I was never really one for rock'n'roll," he admits. "I didn't even start to listen to it until I was 19. So far as it having any bearing on me, it doesn't at all." His favourites were Gene Watson, Lefty Frizzell, Willie Nelson, Waylon Jennings and Gary Stewart.
"I have a genuine love for music," he continues. "It's not something that I just decided to do yesterday. It's something I've been doing since I was a baby. Country music is something I've built my life around. I wouldn't take a job if it interfered with playing the music."
His passion for country music even outweighs personal relationships. He has been quoted as saying that he has no time for a relationship at this time, so much so that he wrote a song, I'm Still Dancin' With You, which became his second Top 10 single, about the long-time girlfriend he left behind in Oklahoma.
"When I was fixing to move to Nashville, I was leaving behind a relationship I had been in for almost three years," he discloses. "To date I've chosen music over every one of my girlfriends. I'm very sorry about it, but music is all I've ever wanted to do. It takes precedence over everything in my life right now, although I was pretty torn up about it at the time."
More than just another smooth country crooner, Hayes is a powerful stylist who wrings every drop of emotion from heartbreak ballads. His greatest strength derives from pouring into each song a truly personal and emotion-triggered quality. His sound is so traditional that his music will never be mistaken for country-rock. He serves up traditional country for young-feeling people who like punching rhythm with meaningful lyrics.
Typical is the autobiographical This Is The Life For Me, one of the standout tracks on his second album. With his mix of hard-country vocals and hot-wired electric guitar playing he sums up just how he feels about his country music. It has the same kind of defiant stance that marked Waylon Jennings' best outlaw music; honesty, pride and passion all come into it.
Songwriting means a lot to Hayes, and he found that life out on the road took a toll on his writing. He wasn't prepared for the hustle and bustle lifestyle of being a country star. It is a life full of interviews, sound checks, photo sessions, video shoots and business meetings. "It's been going at a million miles an hour," he exclaims. "I really wasn't prepared for all this, being out on the road and trying to write. I couldn't quite seem to get the time and focus to do it. It's like whatever mechanism in my brain that made me write has been shut off. It's been really hard, but it's getting better. I'm getting used to it ... and I love it."
With his deeply expressive honk-tonk singing, Hayes is destined to become a country legend. He hasn't copied anybody else, and he stands out as a torch bearer for the future. His proudest supporter is his father, Don Hayes. There's an album in Don's Bethel Acres home called OLD ENOUGH TO KNOW BETTER that spells vindication, justice, pride and hope.
"Mom and Dad are so thrilled about all this," enthuses Hayes. "We've been through so much together, and me getting a record out and everything going so well is a real vindication of everything that the family's been through. I can tell you, half the reason I'm doing this is for Mom and Dad. They're right beside me, every step of the way."