Wade Hayes - On The Right Track
First Published in Country Music International – March 1998
Nashville has been crying out for someone to stretch the boundaries of country music for years. With two gold albums under his belt, and having aptly been voted Male Star of Tomorrow at the fan-voted TNN/Music City News awards, Wade Hayes is set to do just that. "I want the flavour of old country with a modern twist," he tells a forward-looking Alan Cackett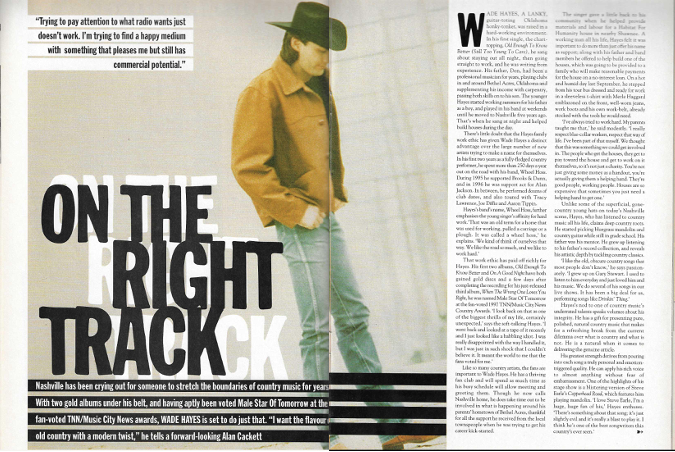 Wade Hayes, a lanky, guitar-toting Oklahoma honky-tonker, was raised in a hard-working environment. In his first single, the chart-topping, Old Enough To Know Better (Still Too Young To Care), he sang about staying out all night, then going straight to work, and he was writing from experience. His father, Don, had been a professional musician for years, playing clubs in and around Bethel Acres, Oklahoma and supplementing his income with carpentry, passing both skills on to his son. The younger Hayes started working summers for his father as a boy, and played in his band at weekends until he moved to Nashville five years ago. That's when he sang at night and helped build houses during the day.
There's a little doubt that the Hayes family work ethic had given Wade Hayes a distinct advantage over the large number of new artists trying to make a name for themselves. In his first two years as a fully-fledged country performer, he spent more than 250 days a year out on the road with his band, Wheel Hoss. During 1995 he supported Brooks & Dunn, and in 1996 he was a support act for Alan Jackson. In between, he performed dozens of club dates, and also toured with Tracy Lawrence, Joe Diffie and Aaron Tippin.
Hayes' band name, Wheel Hoss, further emphasises the young singer's affinity for hard work. "That was an old term for a horse that was used for working, pulled a carriage or a plough. It was called a wheel hoss," he explains. "We kind of think of ourselves that way. We like the road so much, and we like to work hard."
That work ethic had paid off richly for Hayes. His first two albums, OLD ENOUGHT TO KNOW BETTER and ON A GOOD NIGHT have both gained gold discs and a few days after completing the recording for his just-released third album, WHEN THE WRONG ONES LOVE YOU RIGHT, he was named Male Star Of Tomorrow at the fan-voted 1997 TNN/Music City News Country Awards. "I look back on that as one of the biggest thrills of my life, certainly unexpected," says the soft-talking Hayes. "I went back and looked at a tape of it recently and I just looked like a babbling idiot. I was really disappointed with the way I handled it, but I was just in such shock that I couldn't believe it. It meant the world to me that the fans voted for me."
Like so many country artists, the fans are important to Wade Hayes. He has a thriving fan club and will spend as much time as his busy schedule will allow meeting and greeting them. Though he now calls Nashville home, he does take time out to be involved in what is happening around his parents' hometown of Bethel Acres, thankful for all the support he received from the local townspeople when he was trying to get his career kick-started.
The singer gave a little back to his community when he helped provide materials and labour for a Habitat For Humanity house in nearby Shawnee. A working man all his life, Hayes felt it was important to do more than just offer his name and support; along with his father and band members he offered to help build one of the houses, which was going to be provided to a family who will make reasonable payments for the house on a no-interest loan. On a hot and humid day last September, he stepped from his tour bus dressed and ready for work in a sleeveless t-shirt with Merle Haggard emblazoned on the front, well-worn jeans, work boots and his own work-belt, already stocked with the tools he would need.
"I've always tried to work hard. My parents taught me that," he said modestly. "I really respect blue-collar workers, respect that way of life. I've been part of that myself. We thought that this was something we could get involved in. The people who get the houses, they get to pay toward the house and get to work on it themselves, so it's not just a charity. You're not just giving some money as a handout, you're actually giving them a helping hand. They're good people, working people. Houses are so expensive that sometimes you just need a helping hand to get one."
Unlike some of the superficial, gone-country young hats on today's Nashville scene, Hayes, who has listened to country music all his life, claims deep country roots. He started picking bluegrass mandolin and country guitar while still in grade school. His father was his mentor. He grew up listening to his father's record collection, and reveals his artistic depth by tackling country classics. "I like the old, obscure country songs that most people don't know," he says passionately. "I grew up on Gary Stewart. I used to listen to him every day and just loved him and his music. We do several of his songs in our live shows. It has been a big deal for us, performing songs like Drinkin' Thing."
Hayes' nod to one of country music's underrated talents speaks volumes about his integrity. He has a gift for presenting pure, polished, natural country music that makes for a refreshing break from the current dilemma over what is country and what is not. He is a natural when it comes to delivering the genuine article.
His greatest strength derives from pouring into each song a truly personal and emotion-triggered quality. He can apply his rich voice to almost anything without fear of embarrassment. One of the highlights of his stage show is a blistering version of Steve Earle's Copperhead Road, which features him playing mandolin. "I love Steve Earle, I'm a huge, huge fan of his," Hayes enthuses. "There's something about that song; it's just slightly evil and it's really a blast to play it. I think he's one of the best songwriters this country's ever seen."
His superb six-piece Wheel Hoss band has been with him since he first hit Nashville on Thanksgiving Day in 1992. "We have our own bus and we're all just the best of buddies," Hayes says. "I would rather be on the road on my bus than anywhere. I don't like to be in any one place at one time."
He is quick to acknowledge that being out on the road for too many days can be counter-productive to his career development. His songwriting has been the first thing that has suffered, and then there was the problem of finding time to get into the studio for recording. This last year he cut down to 135 days to spend time songwriting and working on the new album. Even so, now that the third album is out, Hayes intends to spend a lot of this year out on the road, working close to 200 days taking his unique style of modern honky-tonk to the masses.
"I love it out there," he insists. "When I get on stage, I get to be somebody else for a while. The music really gets me going, so I don't just stand still in one spot and sing. On the other hand, I won't swing from a rope or go crazy on stage. I won't do things that'll take attention away from my music, because my belief is that a country music singer's music's got to speak for him, not flashing lights or other gimmicks."
Along with his family and band members, Hayes has built a friendship with several of the newer guys in Nashville. Singers like Greg Holland, with whom he shares an apartment, and Tracy Lawrence, who all grew up in rural towns and are deeply into traditional country sounds. "I used to be real close to Tracy, but I don't get to see him so much lately. I'm friends with Joe Diffie, and Ray Benson from Asleep At The Wheel. I really think a lot of him."
Wade's humility and small-town shyness shines through as he admits he is pretty quiet and doesn't get excited about much. But he breaks into a little bit of a sweat when it comes to discussing the new album. Hayes says that the intention was to produce a classic-sounding, honky-tonk album. "Trying to pay attention to what people think radio might want just doesn't work. But we were trying to find a happy medium in there with something that still pleases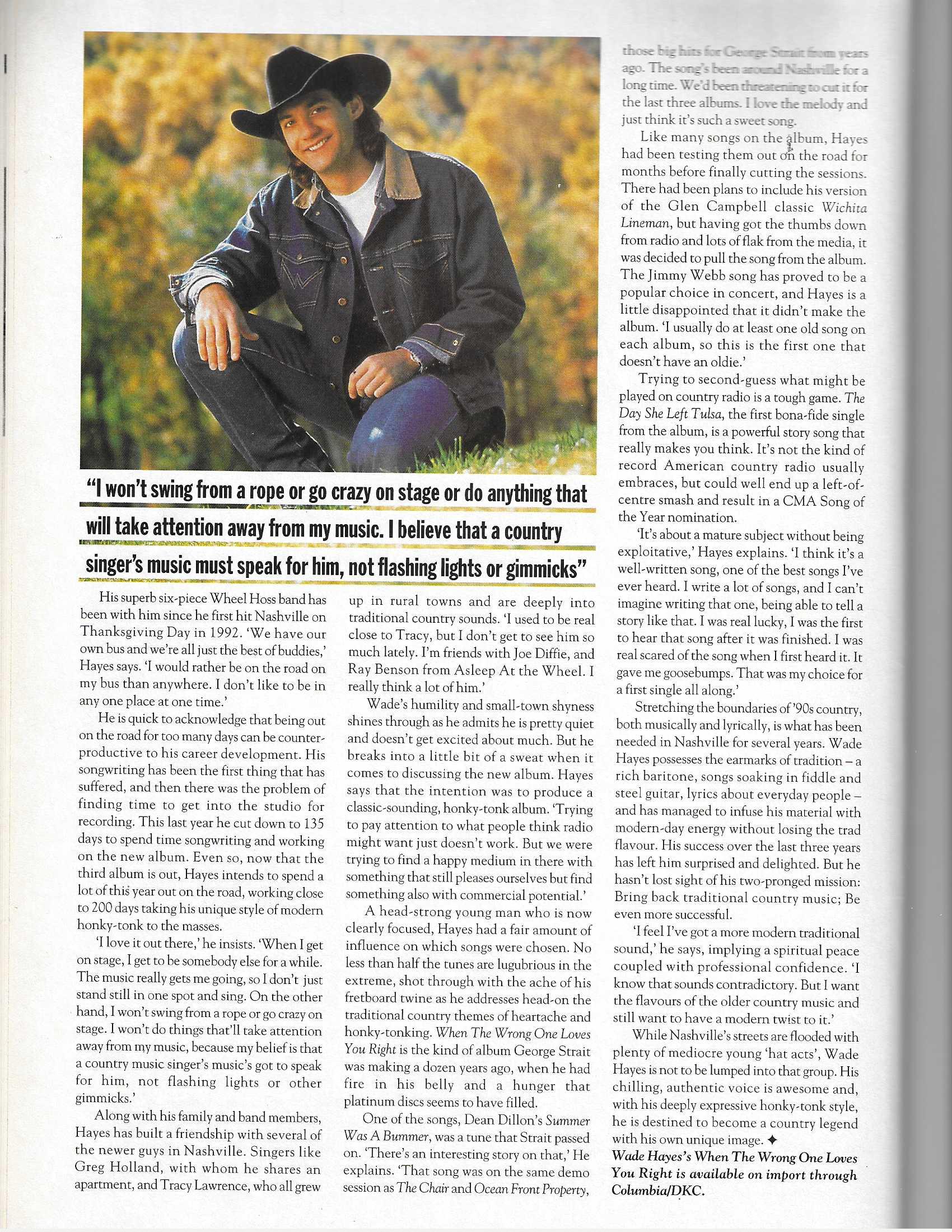 ourselves but find something also with commercial potential."
A head-strong young man who is now clearly focused, Hayes had a fair amount of influence on which songs were chosen. No less than half the tunes are lugubrious in the extreme, shot through with the ache of his fretboard twine as he addresses head-on the traditional country themes of heartache and honky-tonking. WHEN THE WRONG ONE LOVES YOU RIGHT is the kind of album George Strait was making a dozen years ago, when he had fire in his belly and a hunger that platinum discs seems to have filled.
One of the songs, Dean Dillon's Summer Was A Bummer, was a tune that Strait passed on "There's an interesting story on that," He explains. "That song was on the same demo session as The Chair and Ocean Front Property, those big hits for George Strait from years ago. The song's been around Nashville for a long time. We'd been threatening to cut it for the last three albums. I love the melody and just think it's such a sweet song."
Like many songs on the album, Hayes had been testing them out on the road for months before finally cutting the sessions. There had been plans to include his version of the Glen Campbell classic Wichita Lineman, but having got the thumbs down from radio and lots of flak from the media, it was decided to pull the song from the album. The Jimmy Webb song had proved to be a popular choice in concert, and Hayes is a little disappointed that it didn't make the album. "I usually do at least one old song on each album, so this is the first one that doesn't have an oldie." 
Trying to second-guess what might be played on country radio is a tough game. The Day She Left Tulsa, the first bona-fide single from the album, is a powerful story song that really makes you think. It's not the kind of record American country radio usually embraces, but could well end up a left-of-centre smash and result in a CMA Song of the Year nomination.
"It's about a mature subject without being exploitative," Hayes explains. "I think it's a well-written song, one of the best songs I've ever heard. I write a lot of songs, and I can't imagine writing that one, being able to tell a story like that. I was real lucky, I was the first to hear that song after it was finished. I was real scared of the song when I first heard it. It gave me goosebumps. That was my choice for a first single all along."
Stretching the boundaries of 1990s country, both musically and lyrically, is what has been needed in Nashville for several years. Wade Hayes possesses the earmarks of tradition—a rich baritone, songs soaking in fiddle and steel guitar, lyrics about everyday people—and has managed to infuse his material with modern-day energy without losing the trad flavour. His success over the last three years has left him surprised and delighted. But he hasn't lost sight of his two-pronged mission: Bring back traditional country music; Be even more successful.
"I feel I've got a more modern traditional sound," he says, implying a spiritual peace coupled with professional confidence. "I know that sounds contradictory. But I want the flavours of the older country music and still want to have a modern twist to it."
While Nashville's streets are flooded with plenty of mediocre young 'hat acts,' Wade Hayes is not to be lumped into that group. His chilling, authentic voice is awesome and, with his deeply expressive honky-tonk style, he is destined to become a country legend with his own unique image.