Wade Bowen - Somewhere Between The Secret And The Truth
Thirty Tigers
****1/2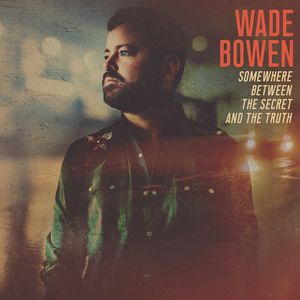 It's always refreshing to champion an artist whose music doesn't fall prey to the makings of that big money machine in the sky. Wade Bowen is a true old-school troubadour, but with a very modern vision of where his music should take the listener. Years of touring non-stop have honed his musical assault to a fine edge.
Through biding his time, treading the boards and playing more than his fair share of dance halls and dive bars, the grace and good will of word of mouth has seen his music develop an ever growing and impressive fan base. His own story is as rich and winding as the stories he weaves in his songs. This latest album is blessed with some incredible songwriting, with the open, lucid, and emotive lyricism set to some finely contoured melodies. The West Texas singer pushes and pulls and cuts and bleeds onto the record, and even 25 years into his prolific career, he continues to uncover new layers to his humanity in swift and undeniable ways. The vivid characters that populate his songs have a life far past the last chord, experiencing heartbreak and hope, sweetness and sin, the mundane and the divine. The embodiment of mainstream country's guilty conscience coming to life, giving a voice to all of its sins, the whiskey-soaked rockers and gritty ballads roll with hell-bent immediacy, as Wade straddles primal ferocity and haunted vulnerability, his voice as dominant as ever, straddling Texas barroom rockers and soulful tear-stained ballads with ease.
Wade has the knack of writing songs with unexpected twists of fate at the end. The title song is an intricately honest approach to 'I walk the line,' as the married guy sitting in the bar seems all set to head to a motel room for a night of cheatin', but then in the final throw, he heads home to the missus. Hypnotic and imaginative while exerting a familiar pull, the production and vocals are mesmerising, with an earworm of a chorus. Everything Has Your Memory begins with a humble, muted guitar line paired with Wade's rich, life-worn voice. The phrasing of the song's lyrics—and the way he sings, like he's working his way through a necessary but unwanted break-up—are palpable and narcotic as he reveals all the little things he can't get past. The stonkingly powerful Honky Tonk Roll just oozes class. Hot, sweaty, wonderfully off-balance, and shamelessly, tomorrow-ruiningly fun. There's a thrashy, trashy quality to this track about drinkin' a heartbreak away in a bar to the accompaniment of a hard-edged rockin' combo.
From the moment She Drives Me Crazy begins, the song instantly attracts the listener with the opening verse. A perfect slice of throwback 1990s country-rock, the sound of a slowly twisting radio dial in 1996. A classic chorus built on fuzzy guitars and exuberant vocals slices through the air, yet somehow it is catchy all the same. The energy bubbles over and the lively pace will help shake off the hangover felt on the following day. No less bold than the music is Wade's storytelling. The Secret To This Town is a stripped-down stunner, with simple instrumentation and vocals giving rise to a strong message that is at odds to the usual small-town yarn of folks moving on. In this song, the folks that thrive are the ones that stay put and make a successful life. There's also a couple of duet performances. Co-writer Lori McKenna adds her distinctive voice to A Beautiful World. A majestic, stirring, ballad, it offers up all the simple things that contribute to making the world and life so special. The lyric is spot on as is the musical arrangement, never over noodling and always to the betterment of the song. Just as effective is A Guitar, A Singer And A Song, featuring Vince Gill not only on harmony vocals, but also taking a game-changing final verse. This is a song for anyone who might feel that their life's work ain't worth a dime. There are so many other great songs and performances on this record, so all I can suggest is that you stop wasting time reading my words and go get yourself a copy.
August 2022