Viv & Riley - Imaginary People
Free Dirt Music 
****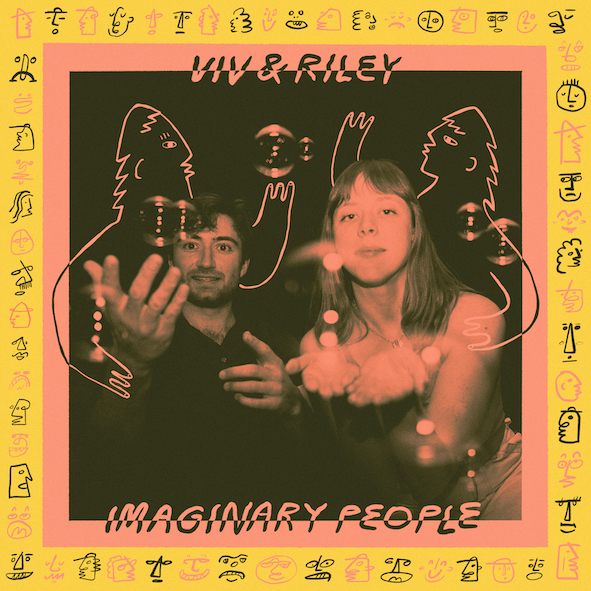 The duo of musical partners Vivian Leva and Riley Calcagno, showcase how their songs have matured as they've toured and lived together for the past five years; they've lost none of their ability to create melodies pop superstars would kill for, or craft gently but powerfully lyrical imagery that will delight you for ages after just one listen. Steeped in Appalachian roots, their indie rock-meets-Americana sound is airy and triumphant as they've created fuller, more complex arrangements … yet their close-knit, sweet and occasionally mournful harmonies accentuate their new 'expanded' sound. From jangly folk-pop numbers about the pull of the old homeplace to stripped down acoustic roots-rock cuts chronicling the futility of the space race whilst the world burns, drive down a hopeful road of renewal with echoes of bittersweet nostalgia disappearing in the rear view mirror. The voids that Viv and Riley create and punctuate with precision provide room for hope in the margins. Ragged yet tight, sprawling yet focused, it's a singular vision of a disparate time.  
Produced by Alex Bingham at his lakeside studio in Virginia with local musicians including Andy Stack (drums, acoustic guitar, organelle, pump organ), Whit Wright (pedal steel), Sam Fribush (keyboards, banjo, ice cubes) with Bingham (bass, synthesisers), Viv (acoustic guitar) and Riley (acoustic, electric, high-strung guitars, fiddle and banjo), varied yet consistent musical arrangements abound to enhance the well-constructed songs. Currently based in Durham, North Carolina, the couple recall their time in Portland, Oregon with Sauvie Island the nearby retreat where they could escape the worries and chaos of life. Viv's aching vocals, bright harmonies and loping guitar patterns splits the difference between modern-day Americana and old-school country. This just coils around you and won't let go. There's an even more pronounced country vibe to Imaginary People with fiddle, steel guitar and twangy guitars very much to the fore, showcasing the duo's musical and lyrical versatility. The kind of authentic country music that says as much with the instrumentation as it does with the lyrics, the steel-drenched Flashing Lights, combined with Viv's most forlorn vocal conveys both the worn-down, burned-out aftermath of fighting for your dreams, and the kind of hardscrabble staying power it takes to keep on chasing them anyway. Riley handles the lead vocal on the reflective How To Lose, a plaintive ballad in which the harmonies brighten what could be a doleful moment. Riley is also to the fore on Chance Creek, an instrumental he wrote and plays fiddle on, that blends old time and Irish approaches, presented here as traditional string-band music with some added swing. They close this superb collection with the traditional The Blackest Crow, on which their raw, emotionally stirring vocals take centre stage.  
This version evokes—thanks to the ethereal strains of the organ, the plucked banjo and the heavenly harmonies—the transcendence for which the singer longs. This rides an old-school Appalachian-mountain groove, with a dark gospel flavour that is irresistible. But of course, that's just one of many factors here that'll keep you coming back for more; a tangled web that's never less than utterly compelling. 
 August 2023