Vince Melamed - The Nashville Cats
First Published in Country Music International – March 1998
Having paid his dues thirty years ago supporting rock and soul acts like the Doors, janis Joplin and Smokey Robinson, Vince Melamed is now one of Music Row's most successful writers, penning hits for top Nashville artists like Trisha Yearwood, Ty Herndon and Restless Heart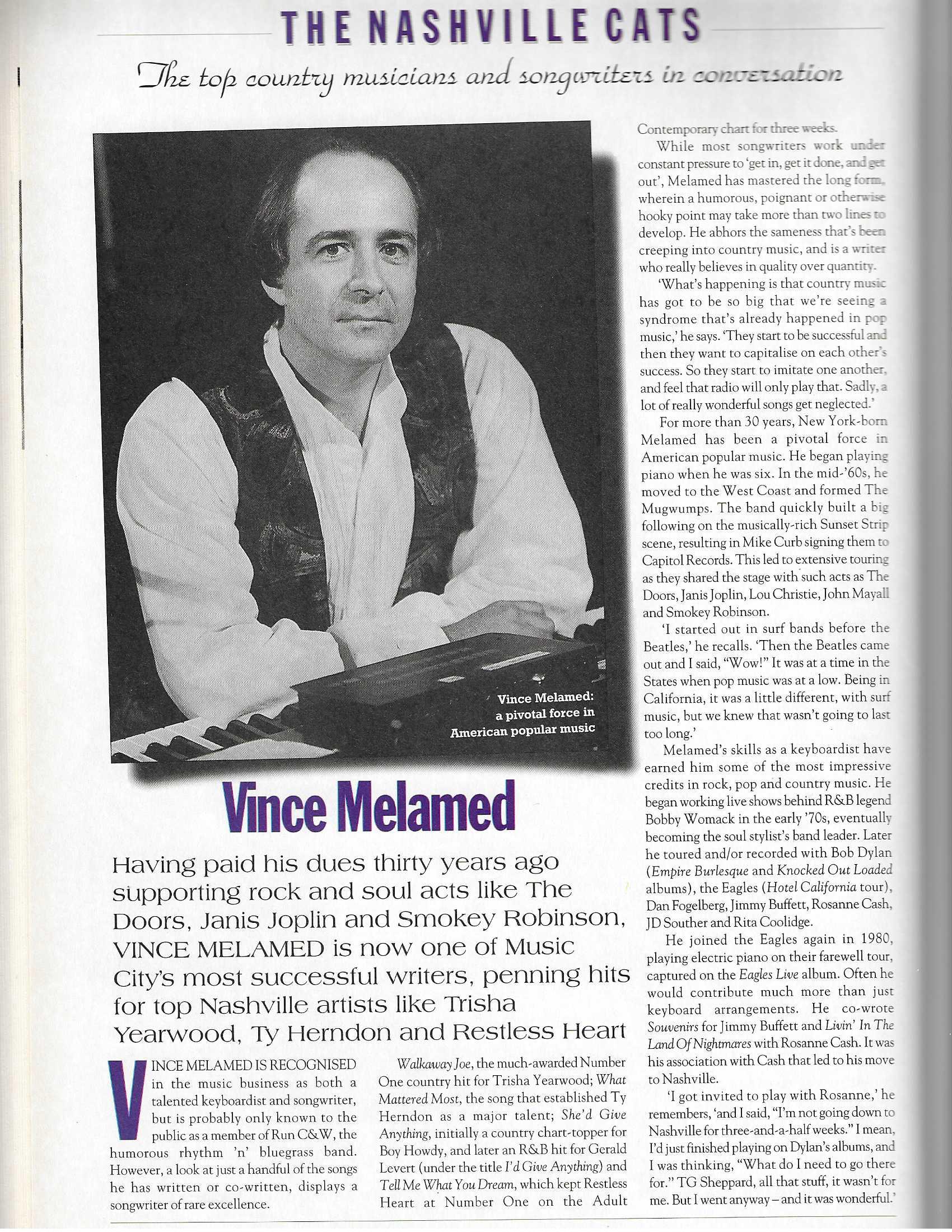 Vince Melamed is recognised in the music business as both a talented keyboardist and songwriter, but is probably only known to the public as a member of Run C&W, the humorous rhythm'n'bluegrass band. However, a look at just a handful of the songs he has written or co-written, displays a songwriter of rare excellence. 
Walkaway Joe, the much-awarded number one country hit for Trisha Yearwood; What Mattered Most, the song that established Ty Herndon as a major talent; She'd Give Anything, initially a country chart-topper for Boy Howdy, and later am r&b hit for Gerald Levert (under the title I'd Give Anything) and Tell Me What You Dream, which kept Restless Heart at number one on the Adult Contemporary chart for three weeks. 
While most songwriters work under constant pressure to 'get in, get it done, and get out,' Melamed has mastered the long form, wherein a humorous, poignant or otherwise hooky point may take more than two lines to develop. He abhors the sameness that's been creeping into country music, and is a writer who really believes in quality over quantity.
"What's happening is that country music has got to be so big that we're seeing a syndrome that's already happened in pop music," he says. "They start to be successful and then they want to capitalise on each other's success. So they start to imitate one another, and feel that radio will only play that. Sadly, a lot of really wonderful songs get neglected."
For more than 30 years, New York-born Melamed has been a pivotal force in American popular music. He began playing piano when he was six. In the mid-1960s, he moved to the West Coast and formed The Mugwumps. The band quickly built a big following on the musically-rich Sunset Strip scene, resulting in Mike Curb signing them to Capitol Records. This led to extensive touring as they shared the stage with such acts as the Doors, Janis Joplin, Lou Christie, John Mayall and Smokey Robinson.
"I started out in surf bands before the Beatles," he recalls. "Then the Beatles came out and I said: 'Wow!' It was at a time in the States when pop music was at a low. Being in California, it was a little different, with surf music, but we knew that wasn't going to last too long."
Melamed's skills as a keyboardist have earned him some of the most impressive credits in rock, pop and country music. He began working live shows behind r&b legend Bobby Womack in the early 1970s, eventually becoming the soul stylist's band leader. Later he toured and/or recorded with Bob Dylan (EMPIRE BURLESQUE and KNOCKED OUT LOADED albums), the Eagles (Hotel California tour), Dan Fogelberg, Jimmy Buffett, Rosanne Cash, JD Souther and Rita Coolidge.
He joined the Eagles again in 1980, playing electric piano on their farewell tour, captured on the EAGLES LIVE album. Often he would contribute much more than just keyboard arrangements. He co-wrote Souvenirs for Jimmy Buffett and Livin' In The Land Of Nightmares with Rosanne Cash. It was his association with Cash that led to his move to Nashville.
"I got invited to play with Rosanne," he remembers, "and I said: 'I'm not going down to Nashville for three-and-a-half-weeks,' I mean, I'd just finished playing on Dylan's albums, and I was thinking: 'What do I need to go there for.' TG Sheppard, all that stuff, it wasn't for me. But I went anyway—and it was wonderful."
Soon after making that move he started landing country cuts. The Nitty Gritty Dirt Band recorded Hillbilly Hollywood and Junior's Grill, then Restless Heart cut Big Iron Horses, but all the time he was pitching his songs to outside acts like Jill Sobule (Too Cool To Fall In Love), Pheobe Snow, Cher and Tina Turner (who all cut Games) and Timothy B Schmit (Tell Me Why You Dream).
Like so many writers who move to Nashville, he soon got into the Music Row tradition of co-writing, his regular partners being Gary Burr, Jim Photoglo, Bob DiPiero and, more recently, Sharon Vaughan. As Melamed sees it, his years in bands prepared him for the dynamics of co-writing songs. "When I was a keyboard player," he says. "I learned how to deal with people—to be open and exchange ideas with them. You can't say: 'This is the way I do it. You're wrong.' You have to respect their input and hope they'll respect yours."
He counts Walk Away Joe and What Mattered Most as the songs he's most proud of, 'because they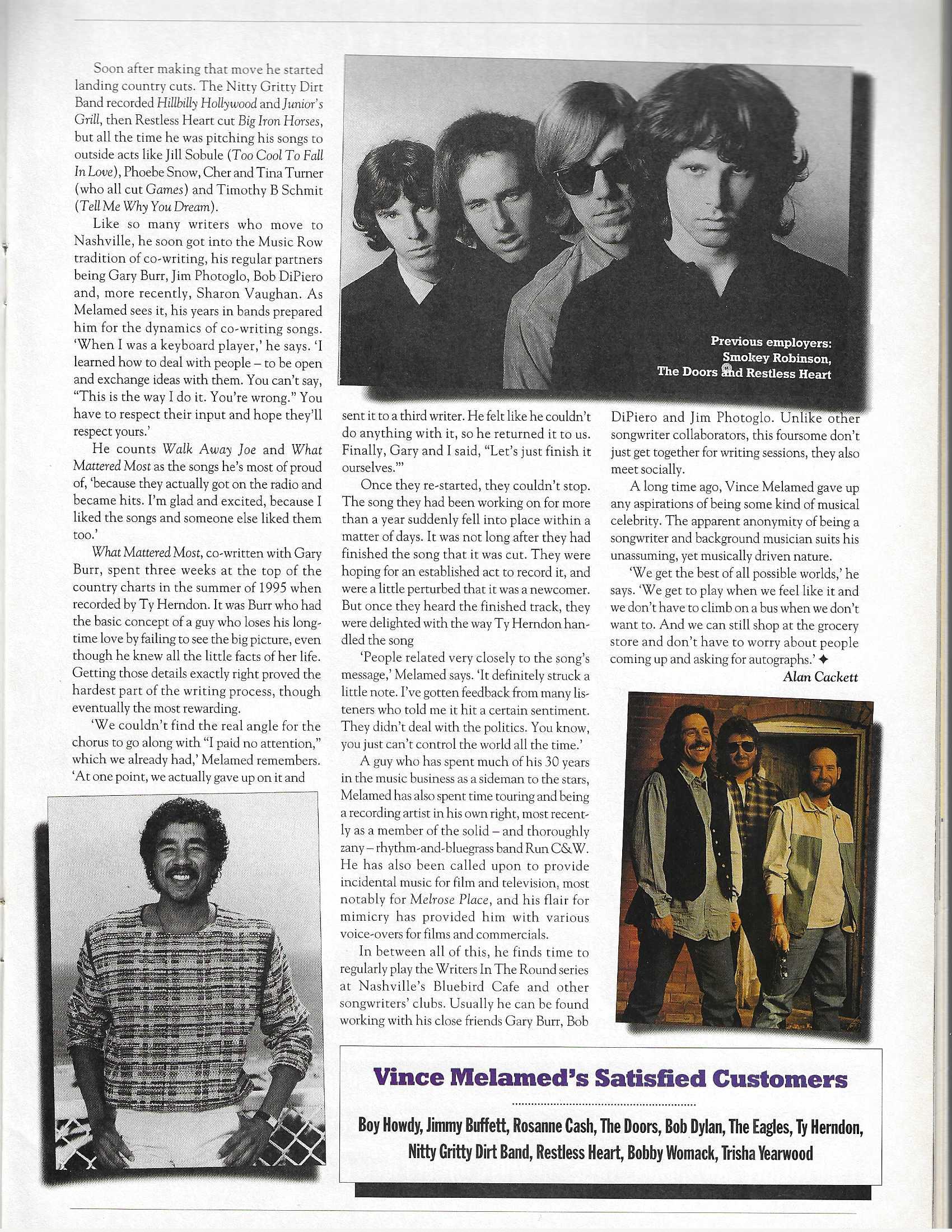 actually got on the radio and became hits. "I'm glad and excited, because I liked the songs and someone else liked them too."
What Mattered Most, co-written with Gary Burr, spent three weeks at the top of the country charts in the summer of 1995 when recorded by Ty Herndon. It was Burr who had the basic concept of a guy who loses his long-time love by failing to see the big picture, even though he knew all the little facts of her life. Getting those details exactly right proved the hardest part of the writing process, though eventually the most rewarding.
"'We couldn't find the real angle for the chorus to go along with 'I paid no attention,' which we already had," Melamed remembers. "At one point, we actually gave up on it and sent it to a third writer. He felt like he couldn't do anything with it, so he returned it to us. Finally, Gary and I said: 'Let's just finish it ourselves.'"
Once they re-started, they couldn't stop. The song they had been working on for more than a year suddenly fell into place within a matter of days. It was not long after they had finished the song that it was cut. They were hoping for an established act to record it, and were a little perturbed that it was a newcomer. But once they heard the finished track, they were delighted with the way Ty Herndon handled the song.
"People related very closely to the song's message," Melamed says. "It definitely struck a little note. I've gotten feedback from many listeners who told me it hit a certain sentiment. They didn't deal with the politics. You know, you can't control the world all the time."
A guy who has spent much of his 30 years in the music business as a sideman to the stars, Melamed has also spent time touring and being a recording artist in his own right, most recently as a member of the solid—and thoroughly zany—rhythm-and-bluegrass band Run C&W. He has also been called upon to provide incidental music for film and television, most notably for Melrose Place, and his flair for mimicry has provided him with various voice-overs for films and commercials.
In between all of this, he finds time to regularly play the Writers In The Round series at Nashville's Bluebird Cafe and other songwriters' clubs. Usually, he can be found working with his close friends Gary Burr, Bob DiPiero and Jim Photoglo. Unlike other songwriter collaborators, this foursome don't just get together for writing sessions, they also meet socially.
A long time ago, Vince Melamed gave up any aspirations of being some kind of musical celebrity. The apparent anonymity of being a songwriter and background musician suits his unassuming, yet musically driven nature.
"We get the best of all possible worlds," he says. "We get to play when we feel like it and we don't have to climb on a bus when we don't want to. And we can still shop at the grocery store and don't have to worry about people coming up and asking for autographs."