Victoria Shaw - Uptown Girl
First published in Country Music International, February 1995
She may have spent her childhood in New York and California rather than down on the farm but Victoria Shaw assures Alan Cackett that she's country through and through
With her film star good looks and chic dress sense, country diva Victoria Shaw gives the impression that she's just stepped off the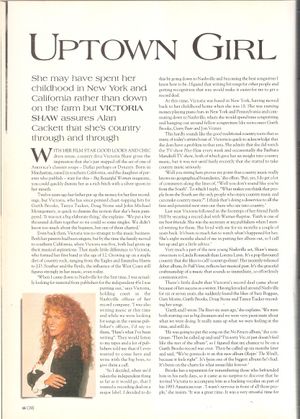 set of one of America's classier soaps—Dallas perhaps or Dynasty. Born in Manhattan, raised in southern California, and the daughter of parents who publish—wait for this—Big Beautiful Woman magazine, you could quickly dismiss her as a rich bitch with a silver spoon in her mouth.
Twelve years ago her father put up the money for her first recordings, but Victoria, who has since penned chart-topping hits for Garth Brooks, Tanya Tucker, Doug Stone and John Michael Montgomery, is quick to dismiss the notion that she's been pampered. "It was not a big elaborate thing," she explains. "We put a few thousand dollars together so we could do some singles. We didn't know too much about the business, but one of them charted."
Even back then, Victoria was no stranger to the music business. Both her parents had been singers, but by the time the family moved to southern California, when Victoria was five, both had given up their musical aspirations. That made little difference to Victoria, who formed her first band at the age of 12. Growing up on a staple diet of country-rock, ranging from the Eagles and Emmylou Harris to J.D. Souther and the Byrds, the influence of the West Coast still figures strongly in her music, even today.
"When I came down to Nashville for the first time, I was actually looking for material from publishers for the independent 45s I was putting out," says Victoria, holding court in the Nashville offices of her record company. "I was also writing music at this time and while we were looking for songs in the various publisher's offices, I'd say to them: 'Here's what I've been writing.' They would listen to my tapes and a lot of publishers told me that if I ever wanted to come here and write with the big boys, to give them a call."
"So I decided, when we'd taken the independent thing as far as it would go, that I wanted a recording deal on a major label. I decided to do this by going down to Nashville and becoming the best songwriter I knew how to be. I figured that writing hit songs for other people and getting the recognition that way would make it easier for me to get a record deal."
At this time, Victoria was based in New York, having moved back to her childhood home when she was 18. She was earning money playing piano bars in New York and Pennsylvania and commuting down to Nashville, where she would spend time songwriting and hanging out around fellow songwriters like newcomer Garth Brooks, Garry Burr and Jon Venzer.
This hardly sounds like the good traditional country roots that so many of today's artists boast of. Victoria is quick to acknowledge that she does have a problem in that area. She admits that she did watch the TV show Hee-Haw every week and occasionally the Barbara Mandrell TV show, both of which gave her an insight into country music, but it was not until fairly recently that she started to take country music seriously.
"Well, you sitting here proves my point that country music really knows no geographical boundaries," she offers. "But, yes, I do get a lot of comments along the lines of: 'Well you don't sound like you're from the South.' To which I reply: 'What makes you think that people from the South are the only people who enjoy country music and can make country music?' I think that's doing a disservice to all the fans and potential new stars out there who are into country."
Last year Victoria followed in the footsteps of her friend Faith Hill by securing a record deal with Warner-Reprise. "Faith is one of my best friends. She was the secretary at my publishers when I started writing for them. She lived with me for six months a couple of years back. It's been so much fun to watch what's happened for her. She's eight months ahead of me in putting her album out, so I call her up and get a little advice."
Very much a part of the new young Nashville set, Shaw's music owes more to Linda Ronstadt than Loretta Lynn. It's a pop-flavoured country that she like to call 'countrypolitan'. Her recently-released debut album, IN FULL VIEW, reflects her musical past. It's the graceful craftmanship of a music that sounds so immediate, so effortlessly communicative.   
There's little doubt that Victoria's record deal came about because of her success as a writer. Having knocked around Nashville for six or seven years, she suddenly found the likes of Suzy Bogguss, Gary Morris, Garth Brooks, Doug Stone and Tanya Tucker recording her songs.
"Garth and I wrote The River six years ago," she explains. "We were both starting out as big dreamers and we were very passionate about what we were doing. It really sums up what we were feeling at the time, and still do."
"He was going to put the song on the NO FENCES album," she continues. "Then he called up and said: 'I'm sorry Vic, it just doesn't feel like the rest of the album,' so I figured that my chance to be on the Garth Brooks record was over. Then he called up six months later and said: 'We're gonna do it on the new album (ROPIN' THE WIND), because ti feels right.' It's been one of the biggest albums he's had. It's been on the charts for what seems like forever."
Brooks has a reputation for remembering those who befriended him in his early days, so it came as no surprise to discover that he invited Victoria to accompany him as a backing vocalist on part of his 1993 American tour. "I wasn't nervous in front of all those people," she insists. "it was a great time. It was a very stressful time for Garth, but for me it was just like a summer
vacation!"
"What's really good is that in the same month Garth recorded that song, several more of my songs also got recorded. It seemed as if all of a udden it was my time. As one record was coming off the charts, the next one was there. This all helped me to get my recording deal. It was a whirlwind two years."
Several of those songs have made a bigger impact than the average country hit. John Michael Montgomery's I Love The Way You Love Me, has become one of the most requested songs on American radio in recent years. A beautiful, laid-back love ballad, it has been picked up by newly-weds as a wedding song, while those in lengthy relationships are said to have turned to the simple, romantic sentiments to emphasise their own feelings towards their partner.
Yet on Victoria's own album there's a more upbeat, power-pop approach with hook-laden songs sweetened with layers of vocals, flourishes of rolling keyboards, soaring steel guitar lines and guitar reverb. Ultimately, this is one newcomer who comes across as an assured performer who knows just where she's taking her music. "I was able to come in, not as a meek, shy new artist, but as an established songwriter. Y'know, I write these songs for other people, and I can do that for myself. I think that I can sing better than I write songs. Now that's a good combination."