JR Vol.3: A Tribute to Johnny Cash
Hillgrass Bluebilly Records
***1/2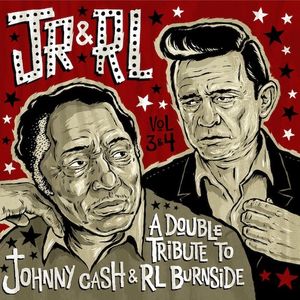 Millions of albums sold, classic songs and a voice and image recognised around the world, Johnny Cash helped shape a generation of country stars. He is one of those artists that people continue to gravitate to. He was authentic and true, which remains admirable in today's world of trends and gimmicks. This is not simply a tribute to the man in Black's musical history, nor even a continuation of his legacy. With this collection of performances, it helps new and younger music fans to appreciate the bonds that tie all music lovers together anywhere: past, present, and future. The advantage—or disadvantage, depending on your perspective—of a tribute album is that by glancing at the track listing you already have an idea in your head of how it will sound.  Right? But that's definitely not the case here. Like the great man himself, the artists featured here are 'mavericks' and colour outside the box. In the main, the treatments offered are different, unique and very much one-of-a-kind. Not all work, but with 16 tracks and such a diverse line-up of performers, that was to be expected.
Cover songs provide artists with an invigorating challenge: How to use something old and familiar to say something current and new? How to pay tribute but be true to your own spirit? For listeners, cover songs are just plain fun. And they can be comforting, too, for reasons far more meaningful than nostalgia. When times are tough, they can transport us back to better times—even a sad song from a past era can provide comfort by reminding us of how far we've come, and how this too, shall pass. The album opens strongly with There You Go, an early Cash song from his Sun years. Portraying the turmoil of a free-roaming partner, by colouring outside of the lines a bit, Darren Hoff and the Hard Times transmit the tension between a classic and modern sound, a tension that pays off with a song that feels fresh and timeless. Tennessee Stud, the folk-leaning brainchild of songsmith Jimmie Driftwood and initially made famous by Eddy Arnold, is revived by Austin Lucas, whose acoustic guitar steers the track, working well with his vocal to create a gritty, lonesome feel. Suffice it to say, he corrals the captivating yarn exceptionally well.
The late James Hand tackles Get Rhythm, another of Cash's Sun tracks. It's not necessarily innovative or especially extraordinary in playing and performance, but, is a toe-tapping mid-tempo number powered by Hand's rich twang, and filled with memories of 1950s rockabilly. From the same era is Big River, this rendition by Ten Foot Polecats, is a scorching rock'n'roll record that sounds like it could have been recorded in the 1950s without seeming retro. Rawer and more hard-hitting than the original, this is produced to restore your faith in rock'n'roll; it'll have you involuntarily snapping your fingers and bobbing your head. Taken at an even more frenetic pace is the old-timey classic Wreck Of Old 97 by Left Lane Cruiser. First made famous by Vernon Dalhart in 1924, it's one of the most recorded train songs of all time. A burning-down-the-barn jam, this version somehow combines cow-punk and Americana with a near country twang, and just the slightest hints of mid-1950s British skiffle thrown in there for good measure.
Willy Tea Taylor slows things down to a funereal walk on the sombre Give My Love To Rose. As is the case in any good folk tale or murder ballad, the purest love declarations come from the lips of the dying and are passed along secondhand by a stranger who happens to be at the scene—and this is one of the best-ever written. Karen Jonas turns in a deliciously country-fried version of Understand Your Man; Restavrant offer a bright rendition of Ballad Of A Teenage Queen, with an infectious country groove celebrating young love joyously; Charlie Parr closes the album with the  obligatory gospel tune—Were You There When They Crucified My Lord. Rather special, this one, highlighting not just that voice, which gently frowns at its corners, trailing off into unspoken sadness, but also the exquisite harmony vocals of his wife, Emily Parr, that drape this song in a different kind of light.
November 2022