For more years than I care to remember, country music in the UK has been treated shabbily, both within and outside of the entertainment industry. Homegrown talent has rarely gained the kind of support that all too often it has so richly deserved. Many of those behind the scene, whether they be promoters, agents, managers, club/festival organisers, radio presenters or journalists,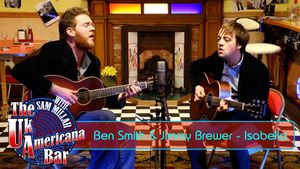 have faced an uphill struggle to gain any kind of respect, let alone credibility or financial reward for their efforts.
I write this from many personal experiences, dating back to the 1960s, but not with any kind of bitterness. I have enjoyed some amazing experiences over my fifty-plus years of involvement in country music and have come out the other side unscathed and more than happy with what I've achieved. But it could have been so much easier with a leg-up or the occasional financial support to smooth the way.
I recall with clarity the brick walls I came up against 30 years ago when, with a couple of like-minded music lovers, we decided to organise a charity country music festival. We spent months working out the costings and produced an excellent business plan. The response we received from the bank and local businesses was very negative with a handful suggesting that they'd love to be involved if it was classical or jazz music, but country music was a definite 'no-no.'
Regardless of this, we went ahead and staged the Good'n'Country Festival featuring a mix of major American and British acts at the Whitbread Hop Farm (later to be the home of massive rock festivals, starring the likes of Prince, Bob Dylan, etc). Without any kind of financial support or sponsorship, we made it work for six years. Even the giant Whitbread organisation refused to inject any kind of capital or sponsorship money into the event.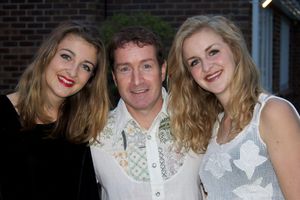 I encountered a similar negative response in 2002 when I decided to launch Maverick magazine. I had meetings with various publishing companies large and small, even individual entrepreneurs. It was exactly the same negativity, despite presenting a flawless business plan and mock-ups of a quality, coffee-table styled magazine. Given little choice, I took the bull by the horns and published independently. I'm pleased to say that Maverick magazine is still thriving, despite the fact that my original Mission Statement to cover all strands of country music from the 1920s through to today, has been discarded by the current publishers. In its place is a magazine that concentrates solely on modern country music designed for blatant commercial gain.
Both of my ventures would have benefitted considerably with financial support from the outset and almost certainly achieved their goals sooner and without much of the needless worry that can hamper creative endeavours.
That brings me to the saga of the innovative The UK Americana Bar TV Show. You've not heard of it? That's not too surprising. Since its inception, some four years ago, it's received scant publicity and even less support from the British media or the entertainment business. It's not because of lack of trying. The brainchild of singer-songwriter Sam Millar, the poor guy has spent every waking moment of the last four years virtually bashing his head against so many doors and brick walls to get the right people to not only listen, but to actually get off their backsides and help him establish his dream as a thriving reality.     
The premise of the UK American Bar TV Show is to bring back family viewing with light-hearted and fun-packed entertainment with everything Americana at its core. The show is designed to feature I invite you on this journey where we showcase everything Americana! It's TV content show will bring back family viewing, light hearted and fun packed entertainment with top artists. Each week filled with great music, comedy, and finger licking good cooking!top class country and Americana artists with a mix of comedy, music and finger-licking good cooking. It's a simple formula, but one which I believe will work, not just in the UK, but around the world.
"Americana music in itself houses lots of other music genres such as country, blues, jazz, swing, folk, bluegrass," explains Sam. "My concept was just waiting for me to mould, create and find the right path to success. In my heart I can truly say that I was the first to recognise such a branded concept as Americana for a new music TV show: The UK Americana Bar TV show with music, cooking and comedy. The 'UK' in the show's title represents a TV show created in the UK; 'Americana' represents the overall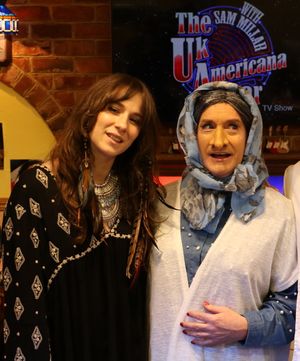 concept of Americana; the 'Bar' represents the good ole UK pub, club or café."
It seems a simple enough idea, and with the current trend in the UK for TV cookery shows and the growing popularity for country and American music, Sam's concept sounds like a definite winner. He has invested tens of thousands of pounds of his own money creating a purpose built studio and has filmed numerous interviews and live sessions with such diverse performers as Robbie McIntosh, Barbara Nesbitt, Ward Thomas, Ben Smith & Jimmy Brewer, Anne McCue, Earl Okin, Peter Donegan, Malaya Blue and Jade Williams, either in the studio or out and about at venues like the Dancing Dog Saloon, the Troubadour, the Hard Rock Cafe and the Little Rabbit Barn.
You'll find many of these interviews and sessions posted on YouTube and The UK Americana Bar TV Show website. Sam and his small team of helpers have worked tirelessly at promoting these videos via social media, but it's a tough battle when your resources are, to put it mildly, almost non-existent.
Sam, assisted by his son, Danny, has also produced short shows in preparation for showcasing to executives at the BBC, Sky, Channel Four and other media organisations without any kind of positive feedback forthcoming. Being continually rejected by investors, corporate TV stations, advertising agencies and sponsors can be soul-destroying, but Sam Millar comes across as a resilient guy, who is prepared to make his dream TV show come to reality without in any way compromising his integrity.
"For me, it's a little embarrassing to be honest that someone from outside of the UK has reached out to help me fulfil my dream of a UK American TV show," Sam reflects. "Early on I predicted the popularity of Americana here in the UK and abroad. You just have to look at all the festivals and concerts that are being held around the UK this year to see what I mean"
"I so wanted to
be part of the evolution from the start. I was one of the first to start promoting it here in the UK. I am not bitter about the excitement and revolution of Americana. I am absolutely thrilled Americana is starting to be so popular over here in the UK. It's just that I wish that certain people whom I approached so early on, would give me a little credit for the promotion of Americana here in the UK."
This leads me again to ask the question: 'Why is it that no one in the UK is prepared to, at least, look at the potential of Sam Millar's proposed TV show? Is it because of the dreaded 'country' tag? Despite the fact that for the past six years country music in the UK has seen the biggest growth of any music genre, especially with younger music fans aged between 16-30, investors and media executives still fight shy of it. The timing is perfect right now for someone to take The UK Americana Bar TV Show idea and run with it.