Ty Herndon - Returning To The Faith
First Published in Country Music International, December 1996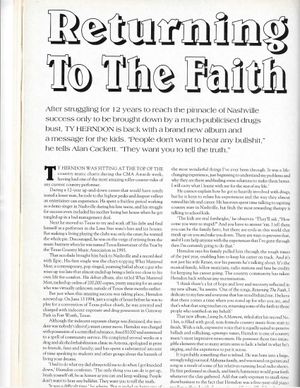 After struggling for 12 years to reach the pinnacle of Nashville success only to be brought down by a much-publicised drugs bust. Ty Herndon is back with a brand new album and a message for the kids. "People don't want to hear any bullshit," he tells Alan Cackett. "They want you to tell the truth."
Ty Herndon was sitting at the top of the country music charts during the CMA Awards week, having had one of the most amazing roller coaster rides of any current country performer.
During a 12-year-up-and-down career that would have sorely tested a lesser man, he rode to the highest peaks and deepest valleys an entertainer can experience. He spent a fruitless period working as a demo singer in Nashville during his late teens, and his struggle for success even included his mother losing her house when he got tangled up in a bad management deal.
Next he moved to Texas to try and work off his debt and find himself as a performer in the Lone Star state's bar and ice houses. But making a living playing in clubs was only the crust; he wanted the whole pie. Discouraged, he was on the verge of retiring from the whole music business when he was named Texas Entertainer of the Year by the Texas Country Music Association in 1993.
That accolade brought him back to Nashville and a record deal with Epic. His first single was the chart-topping What Mattered Most, a contemporary, pop-tinged, yearning ballad about a guy who wises up too late that almost ended up being a little too close to his own life for comfort. His debut album, also titled WHAT MATTERED MOST, racked up orders of 200,000 copies, pretty amazing for an artist who was virtually unknown outside of Texas three months earlier.
But just when this amazing success was taking place, Herndon screwed up. On June 13, 1994, just a couple of hours before he was to play for a convention of Texas police chiefs, he was arrested and charged with indecent exposure and drug possession in Gateway Park in Fort Worth, Texas.
"I had to do what my dad always told me to do when I got knocked down," Herndon confesses. "The only thing you can do is get up, brush yourself off, be as honest as you can and keep walking. People don't want to hear any bullshit. They want you to tell the truth."
"It was a difficult time," he admits. "But it ended up being one of the most wonderful things I've ever been through. It was a lifechanging experience, just beginning to understand my problem and why they are there and finding some solution to make them better. I will carry what I learnt with me for the rest of my life."
He cannot explain how he got so heavily involved with drugs, but he is keen to relate his experience and the way they almost ruined his life and career. He has even spent time talking to aspiring country stars in Nashville, but finds the most rewarding therapy in talking to school kids.
"The kids are real forthright," he observes. "They'll ask: 'How come you were so stupid?' And you have to answer 'em. I tell them you can be the family hero, but there are evils in this world that sneak up on you and take you down. There are always ways to prevent that, and if I can help anyone with the experiences that I've gone through then I'm certainly going to do that."
Herndon says his family pulled him through the rough times of the past year, enabling him to keep his career on track. And it's not just his wife Renee, nor his parents he's talking about. It's the musical family, fellow musicians, radio stations and fans he credits for keeping his career going. The country community has taken Herndon back without any recrimination.
"I think there's a lot of hope and love and recovery reflected in my new album," he asserts. "One of the songs, Returning The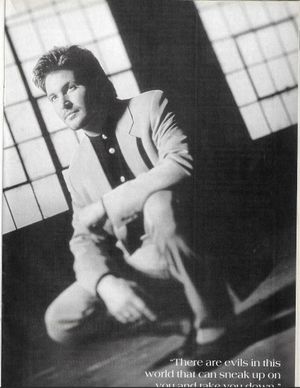 Faith, I dedicate to my fans and everyone that has stood behind me. I believe that there comes a time when you stand up for who you are, and that's what the song touches on, returning some of the faith to those people who testified on my behalf."
That new album, LIVING IN A MOMENT, titled after his second No. 1 hit, is filled with good, non-formula country music from start to finish. With a rich, expressive voice that is equally suited to pensive ballads and rollicking, up-tempo tunes, Herndon is one of the country music's most impressive newcomers. He possesses those two intangible elements that so many artists seem to lack: a belief in what he's singing, and the experience to put it across.
It is probably something that is inbred. He was born into a large, strongly religious rural Alabama family, and was reared on guitars and song as a result of some of his relatives running local radio shows. He first performed in church, and family harmonies would pour forth whenever the clan gathered. Add that early exposure to small-time showbusiness to the fact that Herndon was a five-year-old piano prodigy suffused with the emotions of Spirit-filled Southern religious sects and you have dynamite under the buggy seat.
Herndon's musical family not only includes two aunts and his mother, who had a Saturday night radio show, but his 83-year-old grandmother, Myrtle, who has a Tuesday morning radio show on WPRN in Butler, Alabama. "It's cool," says Herndon. "She still picks a mean flat-top guitar. Society has put no limitations on the women."
Heavily influenced by diverse artists such as Connie Smith and Sonny James, he was seriously bitten by the music bug in his youth. Before he was out of his teens, he'd headed to Nashville, where he sang on demo records and jingles for years without making any progress. Like so many young people, his dream was side-lined by bad business dealings, and he spent eight years in Nashville, floundering with empty promises from label bosses and development deals that came to nothing.
Throughout that period he received both moral and financial support from his family, especially his mother, who had only recently been widowed.
"She always believed in my talent," he says admiringly. "She knows that I have a hard drive, that I'm determined to do this, and she's always known that. She lost the house without telling me what she was doing, so we were somewhat angry with each other. She got me out of a very bad contract situation, but during my years in Texas I paid her back for all that and got her a brand new home. I take good care of her now."
His early years in Nashville were frustrating but he had fun working on some of the demos. He remembers singing on the demos of Doug Stone's In A Different Light, alongside a couple of songs that George Strait turned into hits. In retrospect, he is perfectly clear in his own mind why he didn't make it in Nashville first time around.
"I don't think I was ready," he says bluntly. "I think I was a really good demo singer and jingle singer and could sound like anybody that I wanted to. But I wasn't an entertainer. I hadn't had the stage experience that I have now. So I moved to Texas and worked in night clubs and honky-tonks to make myself a better entertainer. Eventually I won the 1993 Texas Entertainer of the Year Award."
He launched his nightclub act in Texas to pay back his mother, which took him about eight years. He was the front man for Ty Herndon and Ride The West, playing clubs like Cowboys, Crystal Chandelier, and Billy Bob's, gradually becoming one of the top touring acts on the circuit. It was the ultimate honky-tonk education and Herndon graduated with honours. His energetic live performance is a high-energy, power vocal-packed show that has him strutting across the stage and swivelling and grinding his hips to the delight of female fans.
Tall and ruggedly handsome, Herndon not only has looks; the man can sing, and he also knows how to make a song throb with emotion. He never transcends the narrow soap opera concerns of mainstream Nashville, but has a great honky-tonk voice, full of throaty purrs and hard-bitten personality. He also takes meticulous care in his choice of song material, working hand-in-hand with his producer Doug Johnson, who co-wrote Living In A Moment.
"There are days when it goes real easy in the studio," he admits. "Then there are other days we want to kill each other. I'm extremely hard to please, let's put it that way. I'm not a fan of sitting down and listening to a whole lot of well-produced demos. I like to get writers together that I know and trust, get them to send me some songs that I haven't heard before. Then we get back together and I sit down and let them play me the songs the way they were written. It gives me a better idea of what the songwriter was going through when the song was written."
Herndon has the ability to wrench honest emotion out of a ballad and still spice up amusing toe-tappers. His voice is at once familiar and different, and he has a feel for honest lyrics about characters who drop everything to gamble on first tries, second chances or complete failures. One of the strongest performances on his second album is Don't Tell Mama, an old-fashioned country tear-jerker about the evils of drink.
"I love that song," he smiles. "I like the message in it. It's about forgiveness, plus the fact that I lost a family member to a driving accident this last year. A lot of times it doesn't matter whose fault it is, it's about forgiveness and moving on in life."
"A goal of mine when I record a song is that the song has to be something I lived or can really relate to," he continues. "If it wasn't, how in the world would people believe what I'm singing about?"
He is not a songwriter, and prefers to leave that side of the business to the professionals. "I certainly like to have fun with it, and I do try to get in there with the songwriters at my publishing company and toss some ideas around," he says. "But I'm not the kind of guy who's ever going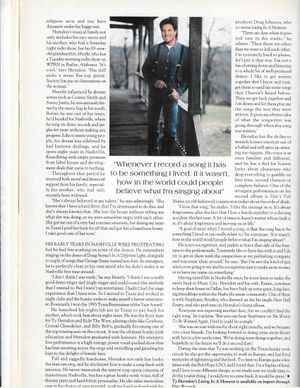 to try and be a songwriter just to make more money or to have my name on something."
Having tasted life in Nashville once, he is not keen to make the move to Music City. Herndon and his wife, Renee, continue to keep their home in Dallas, but have built up some great, long-lasting friendships within the Nashville music community. One of these is with Stephanie Bentley, who duetted on the hit single Heart Half Empty, and also performs on Herndon's latest album.
"Everyone was expecting another duet, but we couldn't find the right song," he explains. "But you can hear Stephanie on She Wants To Be Wanted Again. I feel it could be a single."
"She was on tour with me for about eight months, and we became very close friends. I'm looking forward to doing some more shows with her in a few weeks time. We're doing some things together, and hopefully in the future we'll do a second duet."
During the time that Ty was working on the Texas honky-tonk circuit he also got the opportunity to work in Europe, and has fond memories of sightseeing and the food. "I've been to Europe quite a few times with the Bob Hope USO, and I loved that. I'm a big fan of food, and I do love to see different things, so we made sure we made time to do the tourist thing. I would love to come back. It would be great."