First published in Country Music People, December 1975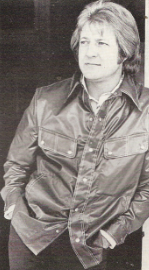 At times Nashville and country music are a little unreal for their own good. The fancy, ultra-modern buildings in Music City have influenced the music to an extent that often the music is as contrived and fanciful as the buildings. Listening to some of the country productions that come out of Nashville is about as authentic as watching a bullfight in Peterborough, and the whole place comes on rather too strong to be true.
But mainly that's the older generation. The younger element, say those below thirty, are interested in something else altogether—and that something is as natural to Nashville as stone country. Like Troy Seals. A young guitarist, singer and writer who has spent about ten or twelve years on the road singing rock'n'roll, country and r&b before settling in Hendersonville just outside the Nashville city limits four or five years back.
This tall, sandy-haired fellow has lived a full life on the road and he's put it all down into his songs. Songs lke
We Had It All,
recorded by Waylon Jennings, Brenda Lee, Dobie Gray and dozens of others, or
You Almost Slipped My Mind,
a bar-room saga successfully taken into the charts by Kenny Price and
Girl In New Orleans
a superb soul ballad that was ideal for Sammi Smith.
Born in Big Hill, Kentucky right in the middle of the hillbilly country, Troy was raised on country music and was playing guitar before he reached his teens. Soon he was in a band playing a unique version of country and rock, which went down well in the local clubs.
Like so many others in the late 1950s and early 1960s, Troy Seals drifted from country to rock to blues and back again. He resisted the temptation to become involved in plastic-product pop music, concentrating on more earthy musical styles. He began writing songs as a means of expression so important to a person who believed so fully in music and ideals.
It was through his continuous touring that Troy met his wife, former pop star Jo Ann Campbell. She had enjoyed a number of minor hits and was becoming disenchanted with the false life of being a pop star. Together Jo Ann and Troy formed a new act, recorded for Atlantic and concentrated on a kind of white r&b, which never gave them any commercial success, but brought in regular work and a degree of disinterest through not being able to do musically what they felt.
Troy and Jo Ann decided to leave the music business. For over a year Troy worked for a construction firm in Indianapolis, building up a home for his family with Jo Ann expecting their first child. With a healthy bank balance, Troy decided again to try for a career in music, this time concentrating on his songwriting. He contacted Ray Pennington, a budding producer for Monument whom Troy knew in Cincinnati a few years earlier as a young singer and writer.
His songs began to be picked up and soon he was writing with several partners including Will Jennings, a former University of Wisconsin literature professor turned lyricist, Don Goodman who usually provided the music and pianist Donnie Fritts, who has become a legend in contemporary music circles. While hanging around Nashville, Troy became friendly with David Briggs of Area Code 615 fame. The meeting was a fruitful one as Briggs got Troy on to many sessions as a guitarist. For the next two years he worked sessions with Ray Stevens, Waylon Jennings, Dobie Gray, Brenda Lee and a host of other singers in Nashville. Around three years ago he recorded an aborted session for Monument under the direction of Ray Pennington, which produced some good demos of his songs, and then plans were made for a session for Polydor, but this was scrapped, and Troy followed Willie Nelson to Atlantic. This seemed a really good move, but a year later, due to a policy change, Troy found himself without a recording contract.
During that year he cut one of the finest albums to emerge from Nashville studios. The blend of barroom sagas and earthy country sounds with other musical elements was close to perfect. He possessed a real knocked-out sound, sort of country barroom blues, I suppose, with Troy's voice and Hawaiian guitar consistently perfect.
Seals is probably at his best when painting a picture of desolation and despair—threnodies from which there is no hope. His
World's Most Broken Heart
is living hell. The songs with their erratic rhythmic structures, loose swinging feel and Seal's growl of a voice with unusually sympathetic musicians is an experience not to be missed.
Only the best turned out for Seals' debut – Dave Kirby, Dale Sellers, Chip Young, Lloyd Green, Weldon Myrick, Bobby Thompson, Johnny Gimble, Vassar Clements, Kenny Buttrey, Buddy Spicher, Charlie McCoy and a handful of others. They were allowed to play in a free and earthy manner, creating one of the best 'real' country sounds you're likely to hear from Nashville in the 1970s.
On Willie Dixon's blue calssic,
You Can't Judge A Book By The Cover,
the musicians give out a western swing treatment with superb fiddle work, almost a jazzy feel, whereas Tony Joe White's
I Got A Thing About You Baby
is a good up-tempo number sandwiched between Seals' introspection barroom themes of lost love.
Among Troy's hit songs on the album are
There's A Honky Tonk Angel,
which gave Conway Twitty a number one country hit,
Sweet Country Red
which Gary Stewart's since recorded and
A Drink, A Dance And An Old Love Song,
a typical Seals number, and probably his best.
Recently Troy Seals signed with Columbia, his first single,
Easy
hovering around the bottom rungs of the country charts. The problem with people like Seals is that he is too 'country' with his vocal inflections to appeal to many country fans. It's a sad fact that nowadays country fans don't actually like country singers.
Seals' broken, down-trodden voice cuts through you like a lance. You can't help but be taken by his sad love ballads and with superb fiddle and steel guitar sounds augmented by tinkling piano and standard guitar sounds. Sadly, I feel that Troy Seals will be overlooked by the myopic country fan, probably fade into oblivion, emerging once in a while with a classic country ballad for some Nashville puppet to storm the country charts. It's happened so often in the past, and I cannot see any change emerging on the horizon.