Trisha Yearwood - Georgia On My Mind
First Published in Country Music International, April 1995
She was raised in rural America, but her latest albums has more to do with plunge pools that bust bowls. A self-confessed 'control freak,' she'll be boarding a plane from Nashville to Dublin any day now …
Trisha Yearwood has some passionate views. "There is a real hunger for country music in Europe," she declares. "The audiences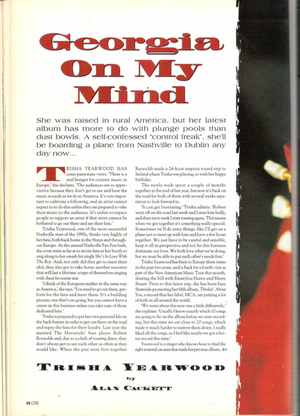 are so appreciative because they don't get to see and hear the music as easily as we do in America. It's very important to cultivate a following, and an artist cannot expect to do this unless they are prepared to take their music to the audience. It's unfair to expect people to support an artist if that artist cannot be bothered to go out there and see their fans"' Trisha Yearwood, one of the most successful Nashville stars of the 1990s, thinks very highly of her fans, both back home in the States and throughout Europe. At the annual Nashville Fan Fair bash, she even went as far as to invite fans at her booth to sing along to her smash hit single She's In Love With The Boy. And, not only did they get to meet their idol, they also got to take home another souvenir that will last a lifetime: a tape of themselves singing with their favourite star
"I think of the European market in the same way as America," she says. "You need to go out there, perform for the fans and meet them. It's a building process, one that's on-going, but you cannot have a career in this business unless you take care of those dedicated fans."
Trisha is prepared to put her own personal life on the back-burner in order to get out there on the road and repay the fans for their loyalty. Last year she married The Mavericks' bass player Robert Reynolds and, due to a clash of touring dates, they don't always Mget to see each other as often as they would like. When the pair were first together Reynolds made a 24-hour surprise round-trip to Ireland where Trisha was playing, to wish her happy birthday.
The newly-weds spent a couple of months together at the end of last year, but now it's back on the road for both of them with several weeks separation to look forward to.
"It can get frustrating," Trisha admits. "Robert went off on the road last week and I miss him badly, and then next week I start touring again. This means when we get together it's something really special Sometimes we'll do crazy things, like I'll get on a plane just to meet up with him and have a few hours together. We just have to be careful and sensible, keep it all in perspective and not let this business dominate our lives. We both love what we're doing, but we must be able to put each other's needs first."
Trisha Yearwood has been to Europe three times in the past two years, and is back for a fourth visit as part of the New American Music Tour this month, sharing the bill with Emrnvlou Harris and Marty Stuart. Prior to this latest trip, she has been busy Stateside promoting her fifth album, THINKIN' ABOUT YOU, a record that her label, MCA, are putting a lot of faith in all around the world.
"'We went about this new one a little differently," she explains. "Usually I know exactly which 10 songs are going to be on the album before we start recording, but this time we cut close to 20 songs, which made it much harder to narrow them down. I really liked all the songs, so I feel like maybe we got a better record this time"'
Yearwood is a singer who knows how to find the right material, an asset that made her previous album, THE SONG REMEMBERS WHEN, so memorable. The sensitive song choice perfectly captured her many moods, and this latest effort is equally as good, if not better, a fact that will undoubtedly please Yearwood aficionados no end, bent on the notion-that she is the great female country singer of the 1990s.
As a whole, THINKIN' ABOUT YOU represents a bold step forward for the singer. This being the 1990s, it has more to do with plunge pools than dust bowls, and is more evocative of snarled-up freeways than parched highways. It's reflected most strongly in the sounds: cool, clear arrangements which leave the routine yeehaw dust-up between guitar and fiddle to the Nashville Tourist Board. Trisha's like a Cadillac with four-wheel drive—smooth and classy, yet down-home and powerful. She serves up an assertive quality, while also revealing softer colours as she moves effortlessly through this mix of melodic country and pop songs delivered with a great deal of confidence and cool vocals.
"There's nothing really new about the new album," reckons her producer Garth Fundis. "We just found the best possible songs that moved us at the moment and went in and tried to make the best record we could. She continues to amaze me with her power and expertise. It seems the more she tours, the stronger she gets."
It was just four years ago that Trisha first took to the road. After spending three years working as one of Nashville's most respected demo singers, she was catapulted to fame with her debut single, She's In Love With The Boy. She became the first female artist to send her debut single to the top of the country charts, and continued to set new records when her self-titled debut album sold a million copies in eight months, a record time for a debut female artist in country music. Appearing as the opening act in 44 cities for her old demo singing pal Garth Brooks certainly didn't hurt those sales, and it seems that everything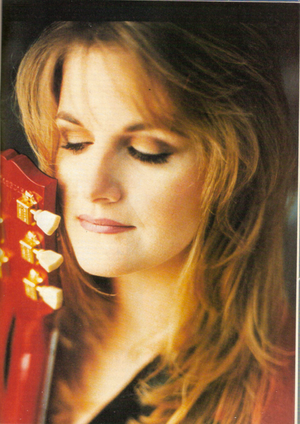 Trisha touches will either turn silver, gold or platinum. But thankfully she realises that complacency has no place in the cut-throat world of music.
"There's pressure all the time to do better than the last time. You're balancing trying to please the critics, keeping the record label guys happy and making it all radio friendly. But for me the most important thing is artistic integrity. Sales and awards are good, they make it all worthwhile, but I have to be happy with what I've recorded, and I don't want to have to apologise to anyone because I've not made a good record."
Like so many of the new young 1990s country stars, Trisha's musical roots are closer to 1970s soft rock than traditional country. She grew up in the small rural town of Monticello, Georgia, and can remember country music by Tammy Wynette, Patsy Cline, George Jones and Merle Haggard being played around the house. But those important adolescent teenage years were spent listening to Linda Ronstadt, The Eagles, James Taylor and Carole King. She still counts Ronstadt as a major influence and a role model for her own career.
There's more to singing than just singing; there's feeling and sincerity, choice of material and audience appeal. Trisha has inherited all of these qualities from Ronstadt, even to the point of originally shaping her first album in a similar fashion to the way that her role model used to shape her albums some 20 years ago.
"Linda Ronstadt is probably the biggest single influence on my singing," confesses Trisha. "When I went in to record my first album I consciously aimed to produce a record that had that same quality as her classic albums, HASTEN DOWN THE WIND and PRISONER IN DISGUISE. I grew up with those records from around 1975 and '76, and I just felt that I had to duplicate that kind of musical integrity and quality."
"I really admire the power and emotion in Linda's voice. When she sings, it just grabs you and I tried to emulate her so much, because I want to make people feel the way she made me feel. I just hoped that she might respect me for that, the way I always respected her."
Like Ronstadt, Trisha relies on others to provide her with material. She has written . songs in the past, with Kenny Rogers cutting her How Do I Break It To My Heart and Michelle Wright scoring with If I'm Ever Over You, but generally Trisha feels that if she can find a better song, she'd rather go with that than her own material. "The song is the most important thing," she agrees. "I'm always looking for songs that lyrically are very strong, a song that touches me in a way that I can identify with. A lot of the songs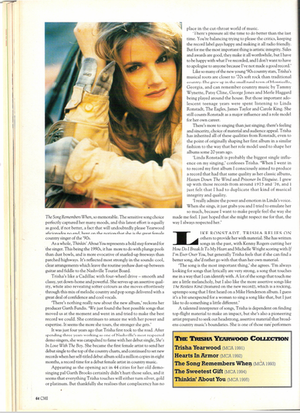 that touch me are a little melancholy, but I also like the more assertive songs like The Restless Kind (featured on the new record), which is a rocking, up-tempo song that I first heard on a Mike Henderson album. I guess it's a bit unexpected for a woman to sing a song like that, but I just like to do something a little different."
A talented interpreter of songs, Trisha is dependent on finding top-flight material to make an impact, but she's also a pioneering artist prepared to seek out headstrong, assertive material that broadens country music's boundaries. She is one of those rare' performers that can leave you feeling emotionally soothed and exhilarated at the same time.
Trisha is very much an integral member of the 'new' woman's movement that has hit Nashville in the past few years. It has seen talented female stars like Pam Tillis, Mary Chapin Carpenter, Reba McEntire and Carlene Carter make major breakthroughs in a musical idiom that down through the years has always been traditionally male-dominated.
"I don't know if things were harder for women in the past, because I'm a relative newcomer," she says. "Certainly I've not personally encountered any problems, but I can well imagine that some of the females might have had a problems in the past."
"here are fewer of us ladies around Nashville than the guys, so we do tend to stick together. We have a kind of camaraderie and there is definitely no cat-like back-stabbing. What we have going for us is that we don't look or sound alike, and we tend to be more supportive of each other."
With the continuous search for good, original song material, you can well imagine that some of these singers would be fighting tooth and nail to get hold of a great song, but the exact opposite is the norm. One of Trisha's biggest hits, The Song Remembers When, was originally cut by Kathy Mattea, who decided at the last moment not to include it on her LONESOME STANDARD TIME album.
"I didn't know about that until I came to sing the song at the 1993 CMA Awards," explains Trisha. "Kathy came up to me after I'd completed the run-through, said that she just loved the song and was so pleased that it had finally found a home." Kathy Mattea has been quietly kicking herself ever since for passing on such a great song.
"I had The Song Remembers When recorded for-the album with live strings, and the album turned out to be too ballad-heavy," she recently said. "We had to decide which one to drop off it, and against my gut-level judgement I let someone talk me into believing that it didn't have a chorus and I let go of it. It's good, though, to have that happen 'cause it teaches you to trust your own instincts."
Trisha seems to spend any spare time screening new material or seeking out old songs that might be ready for a revival. She always carries a bag full of cassettes around so that she can listen whenever time allows, and she also spends time digging for songs that people may have forgotten. Occasionally, however, a song will reach her due to pure luck or chance. This happened with Till I Get It Right, an old Tammy Wynette hit that Trisha recently included on THINKIN' A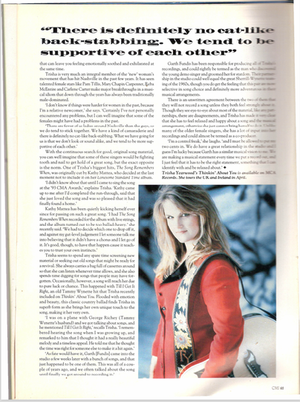 BOUT YOU. Flooded with emotion and beauty, this classic country ballad finds Trisha in superb form as she brings her own unique touch to the song, making it her very own.
"I was on a plane with George Richey (Tammy Wynette's husband) and we got talking about songs, and he mentioned Till I Get It Right," recalls Trisha. "I remembered hearing the song when I was growing up, and remarked to him that I thought it had a really beautiful melody and a timeless appeal. He told me that he thought the time was right for someone else to make it a hit again."
"As fate would have it, Garth [Fundis] came into the studio a few weeks later with a bunch of songs, and that just happened to be one of them. This was all of a couple of years ago, and we often talked about the song until finally we got around to recording it"
Garth Fundis has been responsible for producing all of Trisha's recordings, and could rightly be termed as the man who discovered the young demo singer and groomed her for stardom. Their partnership in the studio could well equal the great Sherrill-Wynette teaming of the 1960s, though you do get the feeling that this pair are more selective in song choice and definitely more adventurous in their musical arrangements.
There is an unwritten agreement between the two of them that they will not record a song unless they both feel strongly about it. Though they see eye-to-eye about most of the material, like any partnerships, there are disagreements, and Trisha has made it very clear that she has to feel relaxed and happy about a song and the musical arrangement, otherwise she just cannot bring herself to do it. Unlike many of the older female singers, she has a lot of input into her recordings and could almost be termed as a co-producer.
"I'm a control freak," she laughs. "and I must be allowed to put my two cents in. We do have a great relationship in the studio and I guess I'm lucky because Garth has a similar musical vision to me. We are making a musical statement every time we put a record out and I just feel that it has to be the right statement, something I can identify with and be relaxed about."