Travis Tritt - Proud Of The Country
Copperhill Records/Painted Desert Music
***1/2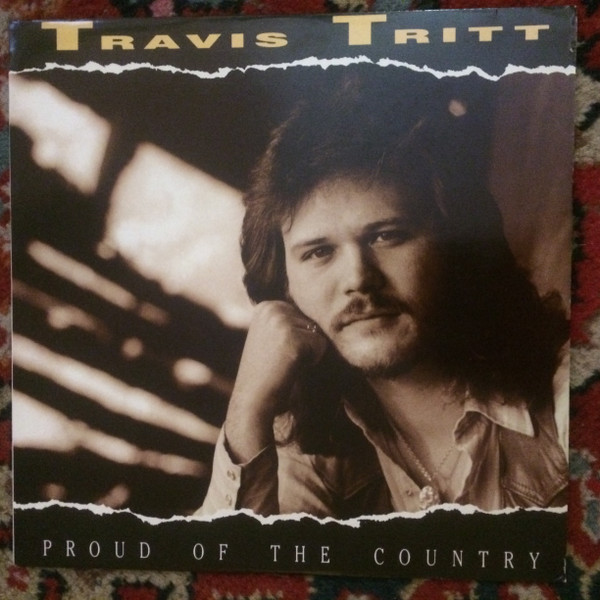 Travis Tritt emerged in the 1990s as a modern-day Nashville outlaw, with a repertoire that melded outlaw, southern rock, stone-cold honky-tonk and rhythm and blues into a distinctive sound that was his very own. Signed to Warner Bros Records, he accumulated a string of chart-topping hits and gold and platinum discs. Prior to signing his major label deal in 1988, Travis recorded PROUD OF THE COUNTRY, a demo album in Marietta, Georgia. At the time, just 1,000 vinyl LPs were pressed, and a few hundred cassettes produced. For the first time the ten tracks have been digitalized, and with the addition of I'm Not Laughing Now, a bonus track, are now readily available worldwide. The collection is mainly classic Travis Tritt, like an escapee from a neglected family vault, unearthed and still vibrant. Twangy country with a nod to the music he loves, Travis is one of those rare artists that can merge genres, sounds, and styles seamlessly and organically. In other words, it isn't weird to sing a country song like it's a smooth r&b classic when Travis does it. This debut is so assured and mature in its themes—the vibe is very 1970s country flirting with both barroom honky-tonk and a few soulful touches—warm, lo-fi and lyrically innocent, one might feel as they make their way through the eleven tracks, the felt impression of a VHS tape pressed into a TV set during the 1980s. A feeling made somewhat emotional, only through its distance, through the act of remembering it.
Travis shows himself to be a fine songwriter, and he's contributed several good ones here. He had a hand in writing all of these, and there are a couple of songs that could use a bit more polish lyrically—you can kind of see the hammer marks around the phrases—especially in comparison to the ones here that really shine. But that's often the case on projects that are exclusively or mostly the work of one writer, especially early in one's career. The Georgia production is a little murky, but then these were only demo recordings, and not intended for commercial release.  The smooth, fiddle driven Don't Put Us Down opens the album with a combination of barroom swagger and warm analogue production. The sun goes down, the neon comes on, and the beers begin to slosh as Travis and the studio group show off their bar band chops with the rollicking Get A Little Rowdy with its tinkling honky-tonk piano and the more intense Gambler's Blues. He turns down the rock edge and cranks up the swelling strings to better emphasise an increasingly important point in Talkin' Bout Love. His tasteful earnestness as a singer comes to the fore as he taps into the beauty of caring enough to be hurt by loss, but it also feels like a quiet celebration of resilience.
The autobiographical title song tells the story of his life the way he lived it in rural Georgia, as he travels through backwoods lyrical allusions to family relationships, his musical aspirations and religious roots. It's all dressed in a bluegrass arrangement of acoustic guitars, fiddles and harmonica with a toe-tapping rhythm and catchy old-style chorus. Sleepless Nights finds him singing this classic drown-in-your-tears heartacher, in a very simple arrangement of acoustic guitar pickin', a mournful harmonica and weeping steel guitar. He showcases a rare lyrical story in Dreams, another slow ballad with lashings of smooth strings, a yarn of a pair of distanced lovers reflecting on what might have been. His Georgia baritone drawl will grab you hard as the realisation dawns that this just might be about Travis' own quest for singing stardom and the girl he left behind in the pursuit.  
March 2023