Travis Tritt, Confederate Railroad & Victoria Shaw - London, Shepherd's Bush Empire
First published in Country Music International, June 1996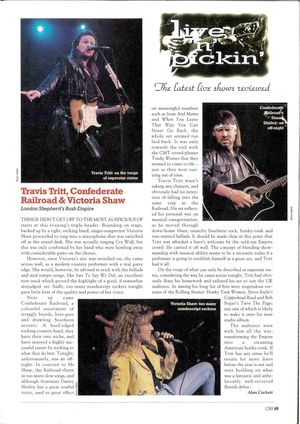 Things didn't get off to the most auspicious of starts at this evening's triple-header. Bounding on stage, backed up by a tight, rocking band, singer-songwriter Victoria Shaw proceeded to sing into a microphone that was switched off at the sound desk. She was actually singing Cry Wolf, but this was only confirmed by her band who were howling away with considerable gusto on the chorus.
However, once Victoria's mic was switched on, she came across well, as a modern country performer with a real gutsy edge. She would, however, be advised to stick with the ballads and mid-tempo songs, like Just To Say We Did, an excellent new track which proved the highlight of a good, if somewhat misjudged, set. Sadly, too many nondescript rockers tonight gave little hint of the quality and power of her voice.
Next up came Confederate Railroad, a colourful assortment of straggly beards, beer-guts and drawling Southern accents. A hard-edged rocking country band, they have their own niche, and have enjoyed a highly successful career by sticking to what they do best. Tonight, unfortunately, was an off-night. In contrast to Ms Shaw, the Railroad threw in too many slow songs, and although frontman Danny Shirley has a great soulful voice, used to great effect on meaningful numbers such as Jesus And Mama and When You Leave That Way You Can Never Go Back, the whole set seemed too laid-back. It was only towards the end with the CMT crowd-pleaser Trashy Women that they seemed to come to life just as they were running out of time.
Travis Tritt wasn't taking any chances, and obviously had no intention of falling into the same trap as the Railroad. His set reflected his personal war on musical categorisation, as he moved through down-home blues, raunchy Southern rock, honky-tonk and tear-stained ballads. It should be made clear at this point that Tritt was afforded a hero's welcome by the sold-out Empire crowd. He carried it off well. The concept of blending showmanship with musical ability seems to be a necessity today if a performer is going to establish himself as a great act, and Tritt had it all.
On the verge of what can only be described as superstar status, considering the way he came across tonight, Tritt had obviously done his homework and tailored his set to suit the UK audience. In among his long list of hits were stupendous versions of the Rolling Stones' Honky Tonk Women, Steve Earle's Copperhead Road and Bob Seger's Turn The Page; anyone of which is likely to make it onto his next studio album.
The audience were with him all the way, transforming the Empire into a steaming American honky-tonk. If Tritt has any sense he'll return for more dates before the year is out and start building on what was a fantastic and unbelievably well-received British debut.