Tracy Nelson - Whatever Happened To......
First Published in Country Music International, December 1996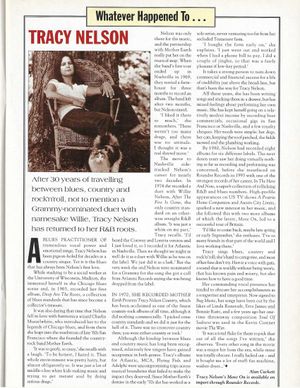 After 30 years of travelling between blues, country and rock'n'roll, not to mention a Grammy-nominated duet with namesake Willie, Tracy Nelson has returned to her r&b roots.
A blues practitioner of tremendous vocal power and emotional range, Tracy Nelson has been pigeon-holed for decades as a country singer. Yet it is the blues that has always been Nelson's first love.
While studying to be a social worker at the University of Wisconsin, Madison, she immersed herself in the Chicago blues scene and, in 1965, recorded her first album, DEEP ARE THE ROOTS, a collection of blues standards that has since become a collector's treasure.
It was also during that time that Nelson fell in love with harmonica wizard Charlie Musselwhite, who introduced her to the legends of Chicago blues, and from there she leapt into the maelstrom of late 1960s San Francisco where she founded the country-rock band Mother Earth.
"It was so goofy, so crazy," she recalls with a laugh. "To be honest, I hated it. That whole environment was pretty hairy, but almost obligatorily so. It was just a lot of middle-class white kids making music and trying to get instant soul by doing serious drugs."
Nelson was only there for the music, and the partnership with Mother Earth really put her on the musical map. When the band's first tour ended up in Nashville in 1969, they rented a farmhouse for three months to record an album. The band left after two months, but Nelson stayed.
"I liked it there so much," she remembers. "There weren't too many drugs and there was no attitude. I thought it was a real shrewd move."
The move to Nashville side-tracked Nelson's career for nearly two decades. In 1974 she recorded a duet with Willie Nelson, After The Fire Is Gone, the only country standard on an otherwise straight r&b album. "It was just a whim on my part," Tracy recalls. "I'd heard the Conway and Loretta version and I just loved it, so I recorded it for Atlantic in Nashville. Then we thought we might as well do it as a duet with Willie as he was on the label. We just did it as a lark." But the very week she and Nelson were nominated for a Grammy for the song she got a call from Atlantic Records saying she was being dropped from the label.
In 1970, she recorded MOTHER EARTH PRESENTS TRACY NELSON COUNTRY, which has been acclaimed as one of the finest country-rock albums of all time, although it did nothing commercially. "I picked some country standards nd we did it just for the hell of it. There was no crossover country then; you were either country or rock."
Although the kinship between blues and country music has been long recognised, relatively few singers have gained acceptance in both genres. Tracy's albums for Atlantic, MCA, Flying Fish and Adelphi were uncompromising trips across musical boundaries that failed to make the impact they deserved. Since Mother Earth's demise in the early 1970s she has worked as a solo artist, never venturing too far from her secluded Tennessee farm.
"I bought the farm early on," she explains. "I just went out and worked when I had a phone bill to pay. I did a couple of jingles, so that was a fairly pleasant if low-key period."
It takes a strong person to turn down commercial and financial success for a life of credibility just above the bread-line, but that's been the way for Tracy Nelson.
All these years, she has been writing songs and sticking them in a drawer, but has mixed feelings about performing her own music. She has kept herself going on a relatively modest income by recording beer commercials, occasional gigs in San Francisco or Nashville, and a few royalty cheques. Her needs were simple: her dogs, her cats, keeping the roof patched, the fields mowed and the plumbing working.
By 1980, Nelson had recorded eight albums for six different labels. The next dozen years saw her doing virtually nothing as far as recording and performing was concerned, before she resurfaced on Rounder Records in 1993 with one of the strongest records of her career, IN THE HERE AND NOW, a superb collection of rollicking r&b and blues numbers. High-profile appearances on the US TV shows A Prairie Home Companion and Austin City Limits, sparked a new interest in her music, and she followed this with two more albums of which the latest, MOVE ON, led to a successful tour of Britain.
"I'd like to come back, maybe later spring or early September," she enthuses. "I've so many friends in that part of the world and I love working there."
Tracy sings blues, country and rock'n'roll; she's hard to categorise, and most of her fans don't try. Hers is a voice with guts, a sound that is worldly without being weary, that has known pain and misery, but also knows how to have a good time.
Her commanding vocal presence has tended to obscure her accomplishments as a songwriter and interpreter. Now signed to Bug Music, her songs have been cut by the likes of Linda Ronstadt, Etta James and Bonnie Raitt, and a few years ago her one-time throwaway composition Soul Of Sadness was used in the Kevin Costner movie The War.
"It was a total fluke for them to pick that out of all the songs I've written," she observes. "Every other song in the movie was a major hit from the era, while mine was totally obscure. I really lucked out—and it bought me a lot of stuff: fax machine, washer-dryer ..."