Tracy Lawrence - Six Feet Tall & Bulletproof
First published in Country Music International, May 1995
With platinum album sales and sold-out arena shows to his name, why does trouble still follows this Arkansas country boy around? "I'm kinda hard-headed," he admits. But that's all going to change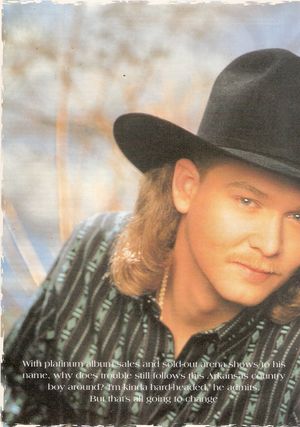 Tracy Lawrence has certainly packed a lot into his life. With his third platinum album on its way, one of country music's most successful stars of the 1990s has found himself facing bad luck and adversity on more than one occasion. He's been the hero of an armed robbery, suffered a near-nervous breakdown when he discovered that he was being cheated by trusted business associates, and been involved in a shooting incident that could have resulted in the headstrong singer serving a lengthy prison sentence.
One of the leading names of the Young Country movement, Lawrence was just 22 when he hit Nashville five years ago. It only took him seven months to land his major label record contract with Atlantic, and he immediately hit paydirt when his first single, Sticks And Stones, raced to the top of the charts. Lawrence has since hit the top a further eight times whilst notching up gold and platinum album awards.
But it hasn't been a smooth ride. Lawrence spent his teens singing George Jones classics in the bars and night-clubs around southwest Arkansas and witnessing some wild barroom brawls. When he first arrived in Nashville he worked a variety of jobs including hanging steel girders while 200 feet up in the air. Meanwhile he was entering talent contests around Music City, often picking up $100 a night if he was lucky enough to win and performing at such working-class country bars as the Broken Spoke, Gabe's Lounge and the Rose Room.    
Lawrence received his first taste of publicity after a robber pumped four bullets into him outside a Nashville motel. He had just completed the final sessions for his debut album and was walking Sonja Wilkinson, a childhood friend, back to her motel when the couple were accosted by a trio of young thugs who robbed the pair and seemed intent on assaulting the woman. Lawrence fought back, allowing Sonja the opportunity to escape and raise the alarm, while ending up with bullets lodged in his knee and pelvic bone.
Despite the incident, Lawrence spent most of 1992 on the road performing songs from his debut album, STICK AND STONES, with a pin in his hip, struggling not to let the pain show. He performed almost 300 concerts in one of the most gruelling schedules imaginable. Eventually the strain proved too much. "I got to a point where I really started burning out. I just had to take a little time off. It was getting real hard for me to deal with all the changes that were taking place in my life."
Something of a teenage rebel, Lawrence left home immediately after graduating from high school. He drifted in and out of college for a couple of years, partied hard and chased rich girls—even coming close to marrying a couple of them. He was restless, had no real purpose in his life and admits to being "kinda hard-headed." The rigours of being on the road and having his life planned out for him came as quite a culture shock. "For the past few years I've been on tour so much it's hard for me to sleep in a bed that's not moving," he laughs.
Winning fans as a singer, writer and performer, Lawrence has the kind of wide-reaching talent that long-lasting country stars are made of. When Sticks And Stones took off he could easily have played the major stadiums and fairs and opening for the big stars of the day. Instead he opted for starting out at ground level and learning the ropes of being an entertainer on the cut-and-thrust honky-tonk and barroom circuit.
"People didn't always take me seriously because of my age," he shrugs. "But I learned fast. They wanted to put me out on all those big shows, but I wasn't ready for that, so I stuck with it, and opted to go the smaller route and play the nightclubs."
"It can be tough and sometimes the crowds can be a little rowdy," he continues. "There's more fights and not nearly enough security or facilities for the band."
Lawrence's distinctive blend of a backwoods twang with a rich, honey-toned tenor produced a debut album of good modern country. It also showcased Lawrence as an inventive and sensitive songwriter. The runaway success of Sticks And Stones, meant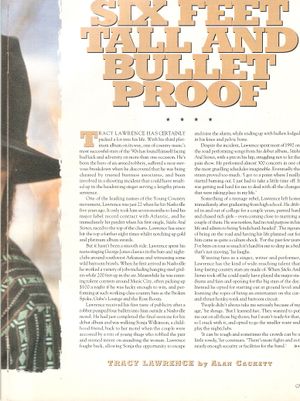 that he was under pressure to deliver an equally successful follow-up. The second album, ALIBIS, was one of the fastest-selling country albums of 1993, certified gold just 17 days after release before going on to sell in excess of a million copies. Nowadays Lawrence hits the road with an eight-piece band, two tour buses and a crew of 17. His T-shirts, hats and other merchandise have become so popular at concerts that half of one bus is a warehouse and there are full-time salesman on board. Lawrence has learned how to look after his career, but it's not always been easy.
While enjoying the phenomenal success of ALIBIS Lawrence discovered that he was being cheated by business associates he trusted. His singles were racing to the top of the charts, he was performing sell-out concerts and appearing on the top-rated US TV shows, but he was left virtually broke. The legal mess that followed plunged him into a deep depression.
"There was a time during this past year when I almost completely withdrew and shut down," he admits ruefully. "I was going through lawsuits and almost had to declare bankruptcy. I walked around with my head down, thinking that everyone I met on Music Row was someone negative. I really think I had some kind of nervous breakdown."
Lawrence has managed to drag himself back to sanity, but it has been a long haul an not without some personal problems. A year ago he had a brush with the law when he had to answer charges of aggravated assault, possession of a prohibited weapon and criminal impersonation because he had an ID card that listed him as an officer of the law.
These charges arose from a run-in that the singer and his brother Stewart had with three teenagers a few miles outside of Nashville. The youths had been making obscene gestures towards the Lawrences and the singer allegedly fired his handgun and followed the youngsters where further arguments and a physical confrontation took place with Lawrence showing them an ID card listing him as a captain in the Stantonville, Tennessee police department. The ID card was given to the singer as an honorary gesture. Stantonville has no police department. It was an incident that got completely out of hand.
"I was under a lot of mental pressure, most of it self-induced," he confesses. "I can't really excuse what happened. It just did and it's something I want to put it behind me and get on with what I really enjoy: the music."
Lawrence has now taken complete control of his career. He now handles all of his own management decisions, has started producing his own recordings and has attempted to get off the roller-coaster ride of continuous working that was needed to get him to the top. "I think I learned an invaluable lesson. You can get so caught up in this business and try to be so successful, that sometimes you lose sight of why you got into it in the first place."
Lawrence has now developed a fast-moving, electrifying show that not only brings wild applause from the fans, but also has the media falling ove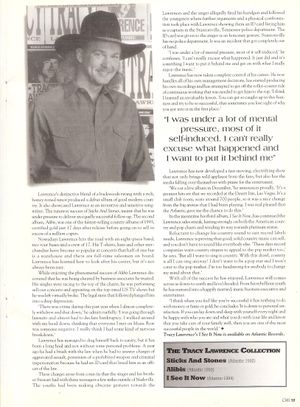 r themselves with praise for the entertainer.
"We cut a live album in December," he announces proudly. "It's a greatest hits set that we recorded at the Desert Inn, Las Vegas. It's a small club room, seats around 700 people, so it was a nice change from the big arenas that I had been playing. I was real pleased that the Atlantic people gave me the chance to do this."        
In the meantime his third album, I SEE IT NOW, has continued the Lawrence sales streak, hitting strongly on both the American country and pop charts and winding its way towards platinum status.
Reluctant to change his country sound to suit record labels' needs, Lawrence is proving that good, solid country music can sell, and you don't have to sound like everybody else. "These days record companies want country singers to appeal to the pop market too," he says. "But all I want to sing is country. With this drawl, country is all I can sing anyway! I don't want to be a pop star and I won't cater to the pop market. I'm too headstrong for anybody to change my mind about that."
With all of the success he has enjoyed, Lawrence still comes across as down-to-earth and level-headed/ From his rebellious youth he has matured into a happily married, music business executive and entertainer.
"I think when you feel like you're successful it has nothing to do with money or fame or gold," he concludes. "It is down to personal satisfaction. If you can lay down and sleep with yourself every night and be happy with who you are and what you do with your life and know that you take care of your family well, then you are one of the most successful people in the world."