Trace Adkins - Under The Spotlight
First Published in Country Music International, January 1997
Despite the distractions of college football and the study of petrol (yes, really), Louisiana 'Combat Country' singer Trace Adkins clung to his dream of music stardom.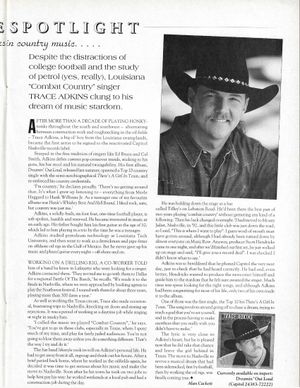 After more than a decade of playing honky-tonks throughout the south and southwest—alternating between construction work and roughnecking in the oil fields—Trace Adkins, a big ol' boy from the Louisiana swamplands, became the first artist to be signed to the reactivated Capitol Nashville Record label.
Steeped in the fine tradition of singers like Ed Bruce and Cal Smith, Adkins defies current pop-crossover trends, sticking to his guns, his bar stool and his natural twangability. His first album, DREAMIN' OUT LOUD, released last summer, spawned a Top 10 country single with the semi-autobiographical There's A Girl In Texas, and re-enforced his country credentials.
"I'm country," he declares proudly. "There's no getting around that. It's what I grew up listening to—everything from Merle Haggard and Hank William Jr. As a teenager one of my favourite albums was Hank's WHISKEY BENT AND HELL BOUND. I liked rock, sure, but country was just me."
Adkins, a solidly-built, six foot four, one-time football player, is soft-spoken, humble and reserved. He became interested in music at an early age. His father bought him his first guitar at the age of 10, which led to him playing in a trio by the time he was a teenager.
Adkins studied petroleum technology at Louisiana Tech University, and then went to work as a derrickman and pipe-fitter on offshore oil rigs in the Gulf of Mexico. But he never gave up his music and played guitar every night—off-shore and on.
Working on a drilling rig, a co-worker told him of a band he knew in Lafayette who were looking for a singer. Adkins contacted them. "They invited me to go with them to Dallas for a regional Battle Of The Bands," he recalls. "We made it to the finals in Nashville, where we were approached by booking agents to play the Soutwest festival. I toured with them for about three years, playing more than 300 dates a year."
As well as working the Texas circuit, Trace also made occasional, frustrating trips to Nashville, knocking on doors and storing up rejections. It was a period of working at a daytime job while singing at night in smoky bars.
"I called the music we played 'Combat Country'," he says. "You've got to go in those clubs, especially in Texas, where I spent much of my time, and play for fairly jaded audiences. You're not going to blow them away unless you do something different. That's the way I try and do it."
The bar band lifestyle took its toll on Adkins's personal life. He had to get away from it all, regroup and think out his future. After a brief period back home, where he worked in the oilfields again, he decided it was time to get serious about his music and make the move to Nashville. Soon after he hit town he took on two jobs to help him pay his way: he worked weekends at a local pub and had a construction job during the day.
He was holding down the stage at a bar called Tilley's on Lebanon Road. He'd been there the best part of two years playing 'Combat Country' without garnering any kind of a following. Then his luck changed overnight. "I had moved to Mount Juliet, Nashville, in 1992, and this little club was just down the road, so I said 'This is where I want to play.' I guess word-of-mouth must have gotten around, although I had already been turned down by almost everyone on Music Row. Anyways, producer Scott Hendricks came in one night, and after we'd finished our set, he just walked up on stage and said, 'I'll give you a record deal'. I was shocked I didn't know what to say."
Adkins was so bewildered that he phoned Capitol the very next day, just to check that he had heard correctly. He had and, even better, Hendricks wanted to produce the newcomer himself and guide him to the stardom that he felt sure awaited the singer. Much time was spent looking for the right songs, and although Adkins had been songwriting for most of his life, only two of his own made it to the album.
One of those was the first single, the Top 10 hit There's A Girl In Texas. "The song revolves around going off to chase a dream, trying to reach a goal that you've set yourself, and in the process having to make sacrifices that you wish you didn't have to make."
The lyric is very close to Adkins' heart, but he is pleased now that he did take that chance and leave the girl behind in Texas. The move to Nashville to revive a musical dream that had been sidetracked, first by football, then by working the oil rigs, was finally coming true.