Tony Toliver - Under The Spotlight
First Published Country Music International, March 1997
Tony Toliver was wowing them out front at the Nashville Palace when Randy Travis was still washing the dishes out back. But things changed. Now the one-time Dottie West sideman is back in the public eye.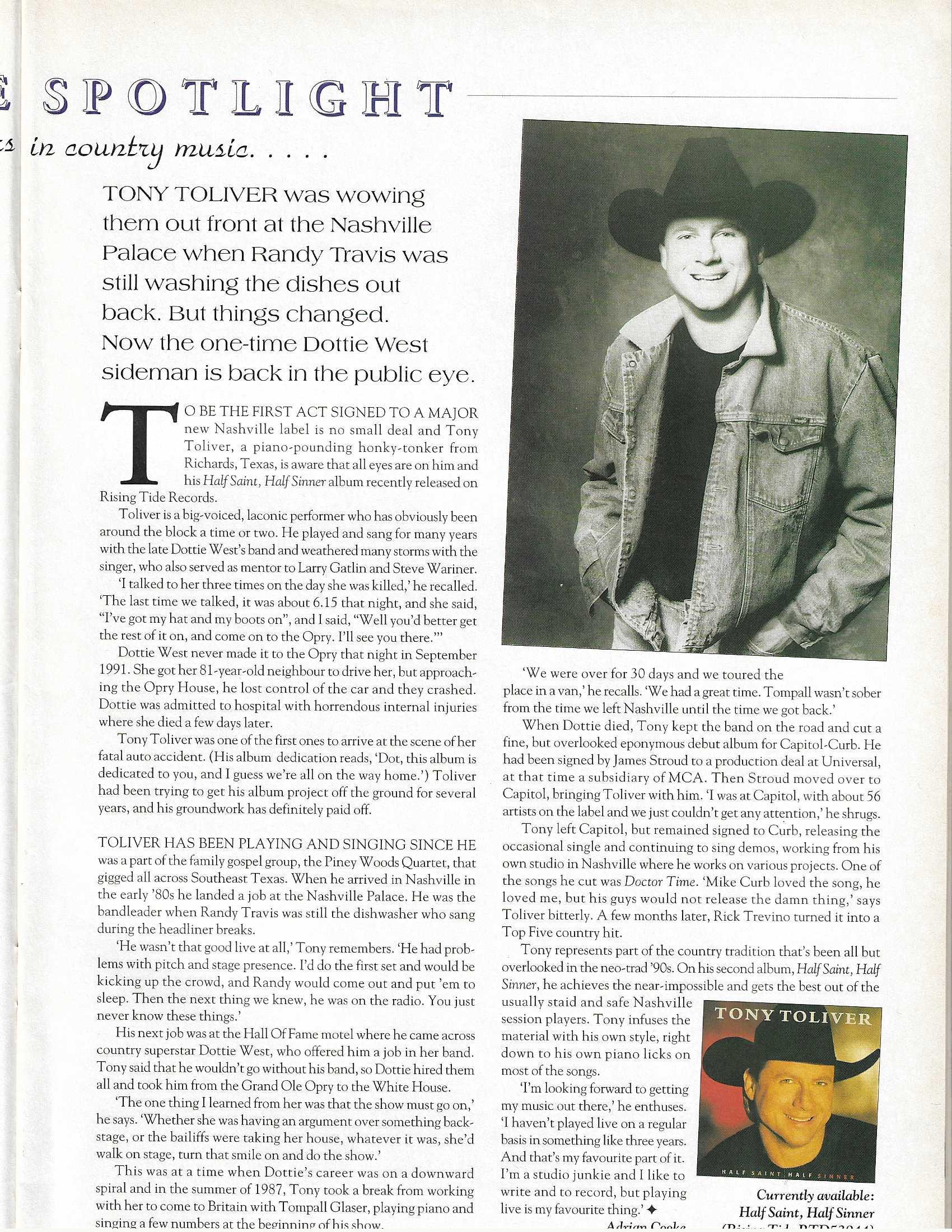 To be the first act signed to a major new Nashville label is no small deal and Tony Toliver, a piano-pounding honky-tonker from Richards, Texas, is aware that all eyes are on him and his HALF SAINT, HALF SINNER album recently released on Rising Tide Records.
Toliver is a big-voiced, laconic performer who has obviously been around the block a time or two. He played and sang for many years with the late Dottie West's band and weathered many storms with the singer, who also served as mentor to Larry Gatlin and Steve Wariner. 
"I talked to her three times on the day she was killed," he recalled. "The last time we talked, it was about 6:15 that night, and she said: 'I've got my hat and boots on,' and I said: 'Well you'd better get the rest of it on, and come to the Opry, I'll see you there.'"
Dottie West never made it to the Opry that night in September 1991. She got her 81-year-old neighbour to driver her, but approaching the Opry House, he lost control of the car and they crashed. Dottie was admitted to the hospital with horrendous internal injuries where she died a few days later.
Tony Toliver was one of the first ones to arrive at the scene of her fatal auto accident. (His album dedication reads: 'Dot this album is dedicated to you, and I guess we're all on the way home.') Toliver had been trying to get his album project off the ground for several years, and his groundwork has definitely paid off.
Toliver has been playing and singing since he was part of the family gospel group, the Piney Woods Quartet, that gigged all across Southeast Texas. When he arrived in Nashville in the early 1980s he landed a job at the Nashville Palace. He was the bandleader when Randy Travis was still the dishwasher who sang during the headliner breaks.
"He wasn't that good live at all," Tony remembers. "He had problems with pitch and stage presence. I'd do the first set and would be kicking up the crowd, and Randy would come out and put 'em to sleep. Then the next thing we knew, he was on the radio. You just never know these things."
His next job was at the Hall Of Fame motel where he came across country superstar Dottie West, who offered him a job in her band. Tony said that he wouldn't go without his band, so Dottie hired them all and took him from the Grand Ole Opry to the White House.
"The one thing I learned from her was that the show must go on," he says. "Whether she was having an argument over something backstage, or the bailiffs were taking her house, whatever it was, she'd walk on stage, turn that smile on and do the show." 
This was at the time when Dottie's career was on a downward spiral and in summer of 1987, Tony took a break from working with her to come to Britain with Tompall Glaser, playing piano and singing a few numbers at the beginning of his show.
"We were over for 30 days and we toured he place in a van," he recalls. "We had a great time. Tompall wasn't sober from the time we left Nashville until the time we got back."
When Dottie died, Tony kept the band on the road and cut a fine, but overlooked eponymous debut album for Capitol-Curb. He had been signed by James Stroud to a production deal at Universal, at the time a subsidiary of MCA. Then Stroud moved over to Capitol, bringing Toliver with him. "I was at Capitol, with about 56 artists on the label and we couldn't get any attention," he shrugs. 
Tony left Capitol, but remained signed to Curb, releasing the occasional single and continuing to sing demos, working from his own studio in Nashville where he worked on various projects. One of the songs he cut was Doctor Time. "Mike Curb loved the song, he loved me, but his guys would not release the damn thing," says Toliver bitterly. A few months later, Rick Trevino turned it into a Top 5 country hit.
Tony represents part of the country tradition that's been all but overlooked in the neo-trad 1990s. On his second album, HALF SAINT, HALF SINNER, he achieves the near-impossible and gets the best out of the usually staid and safe Nashville sessions players. Tony infuses the material with his own style, right down to his own piano licks on most of the songs. 
"I'm looking forward to getting my music out there," he enthuses. "I haven't played live on a regular basis in something like three years. And that's my favourite part of it. I'm a studio junkie and I like to write and to record, but playing live is my favourite thing."