Tompall Glaser - Whatever Happened To......
First Published in Country Music International, April 1997
Having bowed out of music nearly ten years ago, the pioneer of the Outlaw Movement is back with a UK tour and a new show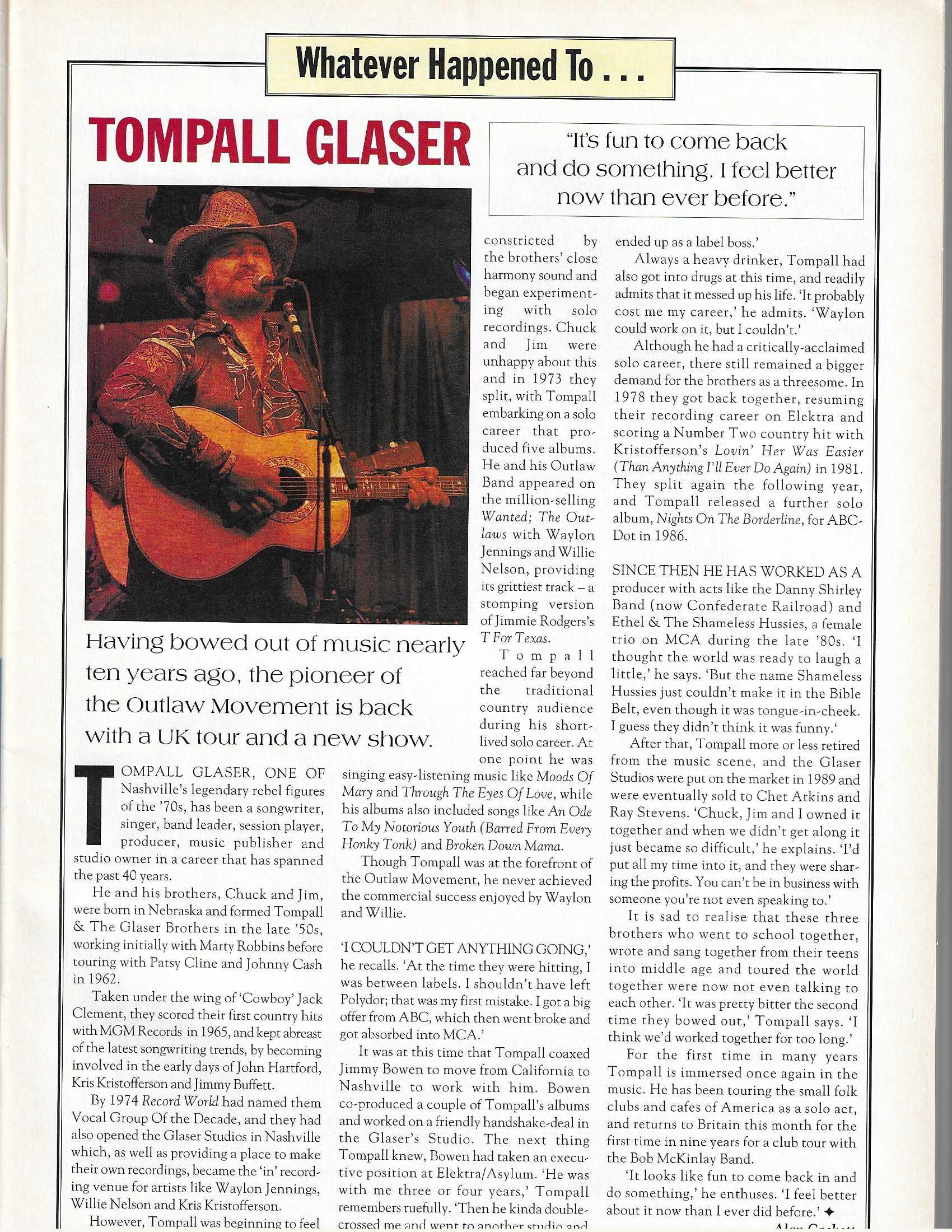 Tompall Glaser, one of Nashville's legendary rebel figures of the 1970s, has been a songwriter, singer, band leader, session player, producer, music publisher and studio owner in a career that has spanned the past 40 years.
He and his brothers, Chuck and Jim, were born in Nebraska and formed Tompall & The Glaser Brothers in the late 1950s, working initially with Marty Robbins before touring with Patsy Cline and Johnny Cash in 1962.
Taken under the wing of 'Cowboy' Jack Clement, they scored their first country hits with MGM Records in 1965, and kept abreast of the latest songwriting trends, by becoming involved in the early days of John Hartford, Kris Kristofferson and Jimmy Buffet.
By 1974 Record World had named them Vocal Group Of the Decade, and they had also opened the Glaser Studios in Nashville which, as well as providing a place to make their own recordings, became the 'in' recording venue for artists like Waylon Jennings, Willie Nelson and Kris Kristofferson.
However, Tompall was beginning to feel constricted by the brothers' close harmony sound and began experimenting with solo recordings. Chuck and Jim were unhappy about this and in 1974 they split, with Tompall embarking on a solo career that produced five albums. He and his Outlaw Band appeared on the million-selling WANTED; THE OUTLAWS with Waylon Jennings and Willie Nelson, providing its grittiest track—a stomping version of Jimmie Rodgers' T For Texas.
Tompall reached far beyond the traditional country audience during his short-lived solo career. At one point he was singing easy-listening music like Moods Of Mary and Through The Eyes Of Love, while his albums also included songs like An Ode To My Notorious Youth (Barred From Every Honky Tonk) and Broken Down Mama.
Though Tompall was at the forefront of the Outlaw Movement, he never achieved the commercial success enjoyed by Waylon and Willie.
"I couldn't get anything going," he recalls. "At the time they were hitting, I was between labels. I shouldn't have left Polydor; that was my first mistake. I got a big offer from ABC, which then went broke and got absorbed by MCA."
It was at this time that Tompall coaxed Jimmy Bowen to move from California to Nashville to work with him. Bowen co-produced a couple of Tompall's albums and worked on a friendly handshake-deal in the Glaser Studio. The next thing Tompall knew, Bowen had taken an executive position at Elektra/Asylum. "He was with me three or four years," Tompall remembers ruefully. "Then he kinda double crossed me and went to another studio and ended up as a label boss."
Always a heavy drinker, Tompall had also got into drugs at this time, and readily admits that he messed up his life. "It probably cost me my career," he admits. "Waylon could work on it, but I couldn't."
Although he had a critically-acclaimed solo career, there still remained a bigger demand for the brothers as a threesome. In 1978 they got back together, resuming their recording career on Elektra and scoring a number two country hit with Kristofferson's Lovin' Her Was Easier (Than Anything I'll Ever Do Again) in 1981. They split again in the following year, and Tompall released a further solo album, NIGHTS ON THE BORDERLINE, for ABC-Dot in 1986.
Since then he has worked as a producer with acts like the Danny Shirley Band (now Confederate Railroad) and Ethel & The Shameless Hussies, a female trio on MCA during the 1980s. "I thought the world was ready to laugh a little," he says. "But the name Shameless Hussies just couldn't make it in the Bible Belt, even though it was tongue-in-cheek. I guess they didn't think it was funny."
After that, Tompall more or less retired from the music scene, and the Glaser Studios were put on the market in 1989 and were eventually sold to Chet Atkins and Ray Stevens. "Chuck, Jim and I owned it together and when we didn't get along it just became so difficult," he explains. "I'd put all my time into it, and they were sharing the profits. You can't be in business with someone you're not even speaking to."
It is sad to realise that these three brothers who went to school together, wrote and sang together from their teens into middle age and toured the world together were now not even talking to each other. "It was pretty bitter the second time they bowed out," Tompall says. "I think we'd worked together for too long."
For the first time in many years Tompall is immersed once again in the music. He has been touring the small folk clubs and cafes of America as a solo act, and returns to Britain this month for the first time in nine years for a club tour with the Bob McKinlay Band.
"It looks like fun to come back in and do something," he enthuses. "I feel better about it now than I ever did before."