First published in Country Music Review, October 1973
Tompall Glaser
After years of being a part of the most successful vocal acts in country music, Tompall Glaser has been out on his own, as a solo performer, for almost a year. He is now realising just how difficult it is to create your very own identity whilst staying within the tight musical confines of country music.
Many fans still identify him too closely with the pop leanings of the Glaser Brothers. The reason is that the country fan in Britain is enslaved to a constant repetition of an imagined past. Certainly there is a resistance to change and a firmly rooted dislike for any music other than that that they consider to be their very own. Tompall appeared at the Wembley Festival at Easter with his new band, a tightly knit country/rock unit, that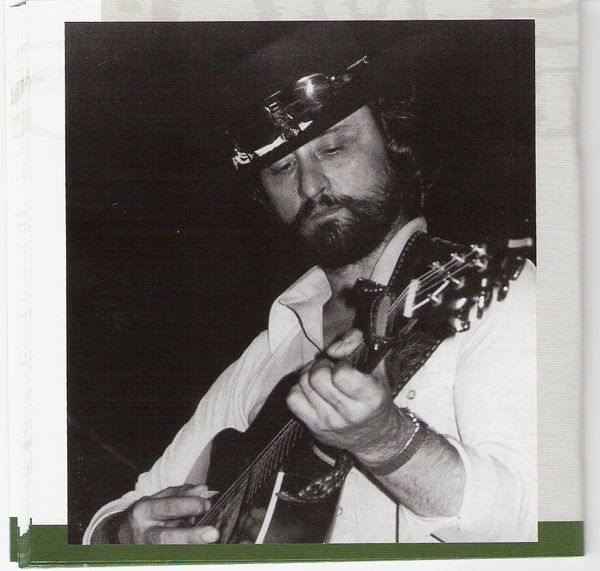 laid down the best music of the show, but the country fans just kept their minds firmly closed to his meaningful music.
The previous year, Tompall along with his two brothers, received tumultuous applause from the audience, with a seemingly never-ending run of encores, this year it was just a very polite welcome, the scattering of applause more in recognition of what had gone before, rather than for the music he had been performing at the time. To fully understand the problem and obstacles Tompall has to overcome before he is fully accepted as a solo country performer, it is best to know a little of the background to this determined Nashville rebel.
He was born and raised on a farm in Nebraska, the eldest of three boys. The other two, Chuck and Jim pleaded with him to be allowed to go to Nashville with him in 1956 to become big stars in country music, but the three boys were so close, he could hardly leave them behind.
Harmony in country music is as much a part of the traditions as fiddles and banjos. During the past fifty years there have been few as exciting, nor as successful as Tompall and the Glaser Brothers. Their polished harmony work was first employed by Marty Robbins, who was quick to appreciate the talent that these three possessed. They backed Robbins on his many live shows and were also featured on several of his famous cowboy ballads. Their unique voices blended perfectly with Robbins and created an excitement on recordings that is hard to describe.
The Glaser Brothers first recordings were supervised by Marty Robbins and released on his own Robbins label and also subsequently put out on several other small Nashville labels. These initial recordings led to a contract with Decca Records. Unfortunately, the Glasers' recordings suffered for many years, mainly because Decca never really understood in which direction the group should be pushed.
The three boys have always been capable songwriters and from the beginning of their career they were writing some outstanding country songs. Yet with this background Decca tried to push them as a folk group. This association with Decca never produced the kind of records that appealed to country fans, though the Glasers themselves were very popular with country audiences, due to their incredible stage act.
Having worked with Marty Robbins for almost four years and then touring as members of the Johnny Cash Show for eighteen months, The Glasers had worked with two professionals who were demanding and always striving for perfection. This rubbed off on the Glasers. They also became perfectionists. Not perfectionists just for being perfect, they still retained their great feel for the music and lyrics they were singing.
It was with their change of record labels in 1966 when they signed a long-term contract with MGM, that the brothers began to achieve the success on records they so richly deserved. The harmony work they had perfected for their stage act was at last transferred to long lasting plastic. The Glaser Brothers' sound could at last be captured and listened to anytime you cared to turn your record player on. But the sheer magnetism and excitement they created at stage shows never quite came across the same on their recordings.
MGM perhaps tried too hard. The songs, mainly self-written tunes, were brilliantly constructed, the arrangements by Jack Clement were complimentary to the boys' vocals, but there was that extra something missing. It was that special magic the Glasers were able to conjure up on stage. There are no words that can really paint a picture of the sensation that the Glaser Brothers could create during one of their electrifying stage shows.
Their songs were mainly about love. The lyrics brilliantly constructed and woven into the melodies so that when all three brothers came together at the mic, it could make one's hair stand on end, and with either Jim with his soaring, clear, tenor voice, or Tompall with his gentle, soothing vocals were singing lead, it took one's breath away with the sheer feeling discharged.
I believe that the Glaser Brothers had the most outstanding act in country music. It's possible that to achieve that perfection the boys overlooked the importance of recordings. Certainly, there was nothing drastically wrong with their recordings, but how many ideas did the Glasers themselves put forward at their sessions? I think it was more of a case of quickly in and out of the studio, leaving the production and arrangements to others. This is where they suffered. They had the very cream of the Nashville backroom boys on their sessions, but the ideas, techniques, they were all wrong. This was proved by the subsequent albums produced in the famous 'Glaser Sound Studios'.
Working with people who had common musical interests, with no limit on studios time, the Glasers for the first time ever were able to experiment in the studios. The outcome of this was, to begin with, rather ragged. THE AWARD WINNERS album didn't quite come off. The good parts were brilliant—I See His Love All Over You, a typical Glaser Brothers song employed a sensitive production which transformed it into a masterpiece. If similar ideas had been used on the studio version of Woman, Woman, I'm positive the group would have enjoyed a monster hit a few years earlier.
The main asset to the album though, was that the group had been caught 'live'. Instead of going into the studio with the arrangements all ready, they had to work on them. Nothing was pre-planned, ideas were actually thrown about on the studio floor. Tompall, Jim and Chuck really put more feeling into this album, you can tell everytime you play it back. This way of working in the studio continued and RINGS AND THINGS, the best album ever from the trio was the ultimate result. It was a complete album. For the first time everything the Glasers had ever stood for was captured on this one album. Somehow the songs complimented each other without sounding alike. The arrangements had a freshness lacking on their previous recordings, the use of fiddles and horns working surprisingly well behind the harmonies.
The album featured a strong lead-voiced Tompall, with immense harmonies, beautifully voiced in the background. He has a very confident air as he handles the positive lyrics and optimistic melody of Lovin' You Again, with The Nashville Studio Band working busily, but in a very tight fashion, holding it together masterfully. Not wishing to take any credit away from the contributions of Chuck and Jim to this album, overall there is an indication that album is clearly a showcase for Tompall's uniquely warm vocal style.
This album is just so rich with many different styles and sounds. It's a beautiful assortment of tunes with Tompall's vocalising holding them all together like a cord. It has a commercial feel because it is tastefully and meticulously assembled from pieces, each and every one a gem, with melodies and hook lines you could actually remember. The depth of emotion in everything the Glaser Brothers do is inescapable. There's a sense of clarity and straightforwardness that few of their contemporaries will ever manage to master. It's precisely this simplicity that has perhaps been their most endearing quality.
From the outset Tompall has been the driving force behind the Glaser Brothers. He was the one who wanted to make it big in Nashville, needed to be the star. He's always enjoyed a drink, but luckily Chuck has always been there lurking in background, a quiet man, but a steadying influence. If it came down to it, the most talented of the three brothers is Jim. It's probably the conflict between Tompall and Jim which finally opened up the cracks in the group and sent Tompall stumbling on a solo career for which he was neither ready, nor particularly wanted.
His debut album, CHARLIE, showed great promise for the future. The songs were a lot different than those usually associated with the Glasers. He included six of his own songs, of which only two would have successfully fitted into the usual framework of the group. Lyrically Tompall's writing just gets better and better. His songs sum up his attitude to life, and you know that battered, tired looking face on the cover sure has seen some life in the last thirty-odd years.
While his songwriting is strong, his interpretative powers are even more subject to praise. The long, sinewy vocal lines are delivered with supreme feeling and skill. Damn the man, after listening to Mr. Lonesome and Loneliest Man I was feeling really sorry for him. This is what music is all about for me. Emotion. Being able to touch my responsive chords, whether it be happy or sad, I want music to have feelings. Tompall Glaser gives the songs on this album a feeling that makes them real.
The backing from the Nashville Studio Band is exemplary, and it would be unfair to single any one musician out for praise above the others. The songs have been chosen to fit into the prevailing mood of the album, and none are out of place. They deal with wider themes than the Glaser Brothers usually covered with an honesty that cuts deep. The futility of a broken marriage is miraged perfectly in Cowboys and Daddies. The decadence of the sick American society is even more cuttingly portrayed in Sold American, probably the finest cut on the album, Tompall turning in just about the finest vocal performance of his life.
Following his tour of Britain last November, Tompall broke away from the Nashville Studio Band, and I was just a little apprehensive as to what his new line-up would be like. His showing at Wembley gave the answer. He now has a tightly functioning country-rock group that's likely in time to take him into the contemporary country field in the footsteps of pioneers like Waylon Jennings and Willie Nelson.
His new band were used on his second solo album, TAKE THE SINGER WITH THE SONG, which lacked the immediate impact of its predecessor. It seems to grow on you, like an early discovery of alcohol. To begin with you find it slightly enjoyable, then this rather pleasant sensation dissolves into a joyful intoxication.
The whole album has an honesty that seems lacking on so many of the pseudo-country recordings being churned out. His voice has a bitterness that bites hard. The songs are about newer, more liberal dealings than the traditional country songs, but the moralistic approach is just the same. Texas Law Sez, dealing with extra-marital relationship is wickedly accurate. Then he comes on with a superb country ballad like Pass Me On By, showing that he's lost none of his old flair for singing tasteful country lyrics.
This album has Tompall moving towards his own identity and away from interpretation to expression. Even more important is that expression without the proper grounding in interpretation is as difficult as art without technical expertise and craft. Tompall Glaser has had that necessary grounding. His phrasing on the melancholy Lay Down Beside Me is perfect, it's a lesson in relaxation.
All of the songs demonstrate their collective fixation with American customs and life styles, characterised by limping melodies and meandering lyrics. It's a beautifully laid-back piece of contemporary country music, but it's very much an acquired taste.
Regardless of Nashville, Tompall Glaser is determined to continue with his solo career as he has begun it. He needs to put down his own honest feelings. It means getting back to the roots, away from the Nashville conveyor belt and laying down music you can believe in. I hope he can stick with it, because though the many albums the Glaser Brothers produced mean a lot to me, the two solo albums by Tompall mean a whole lot more. Adrian Cooke