Tommy Townsend - Southern Man
BFD/Audium Nashville
****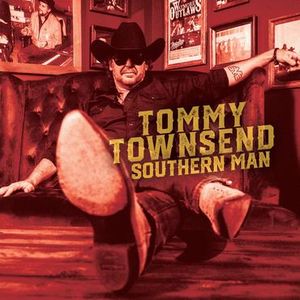 Georgia-born Tommy Townsend certainly lives up to the title track of this reissued album. Originally self-released on Home Records back in 2003, it's now been picked up by a much larger label and is deservedly being given a major promotional push. It's Tommy's passion for Waylon Jennings, classic outlaw country and the juncture where rock, soul and country music meet that drives his music. He grew up in a household full of country music. He met his idol as a young teenager and so began a long friendship and musical relationship with Waylon and his long-time bassist Jerry 'Jigger' Bridges. They both mentored Tommy over the years and worked with him on recordings and even invited him to get up on stage with them. The ten tracks on SOUTHERN MAN were co-produced by Waylon and Jerry and recorded over a number of years. They pulled in some of Nashville's top musicians Marty Stuart, Jeff Hale, Rick Lonow and longtime members of the Waylors Ralph Mooney, Fred Newell, and Barny and Carter Robertson. Waylon's signature guitar sound and distinctive vocals can also be heard on many of the tracks. Tommy's association with Waylon and his music has continued after the singer's death in 2002. For the past 15 years he has been lead singer with Waymore's Outlaws, comprised of several of Waylon's touring and studio musicians such as Bridges, the late Richie Albright and Fred Newell.
It's Tommy's blue-eyed soul voice that takes centre stage and carries this album from start to finish, equally at home on the up-tempo numbers as it is on the record's softer, more intimate tracks. His spin on classic country will scratch your itch for music that's authentic and relevant to what country music has traditionally stood for through the ages. The jangly drive of the opening Southern Man rocks the listener into the energy and passion of the rest of the album with its trademark Waylon groove. A celebration of personal freedom, the song features Waylon on guitar and vocals, as it boldly proclaims the benefits and pride of being from the southern states. Roger Murrah's A Good Love Died Tonight, previously recorded by Leon Everette, is an atmospheric number about a couple who've reached the end of the line. Led by Tommy's well-controlled voice, haunting harmonica, Ralph Mooney's unique steel guitar and Waylon's lead guitar and vocal harmonies, the emotion is convincingly resigned. Murrah had a hand in co-writing If You Can't Stand The Heat, this time with John Schweers. The song's 1980s country-rock tempo, smooth guitar licks, and Tommy's prominent vocal blended with vocal harmonies bring to mind Alabama at their peak.
There's a southern rock vibe to Stomping Ground, with an appropriately bluesy, medium tempo rendition with loads of drive that is nigh on impossible to ignore. He is left red-faced and wondering what went wrong in Holes In My Boots, a blindsiding break-up song. Persuasively catchy, twangy guitar and keyboards underscore his confusion about what the heck happened for his woman to suddenly get up and leave—and how he should proceed. He becomes even more reflective on The Picker, an eerie slice of cosmic country with a gentle sweetness, reminiscent of the Burritos at their twangiest. The pedal steel follows the loping melody with an ambient touch, as if to smooth out the skyline. The song is an excellent fit for Tommy's voice and style—dark, with a bit of a sense of doom hanging over everything. It's not the album's only textbook example of Tommy Townsend's past-honoring yet forward-leaning creed, which is why this album sounds so good.
April 2022