First published in Country Music People, May 1974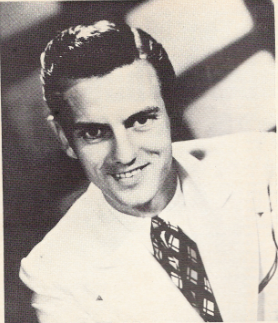 We often read all about the famous 'Bakersfield Sound' of country music, yet sadly one of the earliest innovators of this style, Tommy Collins, is overlooked in an effort to present to the public the commercial success and the modern sounds that California has to offer country music. Ever since the Okie migrations of the 1930s and the boom period of the late 1940s, California has been a thriving centre for country music.
Many of the entertainment night-spots that sprung up in the late 1940s were specially catered for and run by the Oklahoma people who had settled out west. They brought with them their own musical styles, and though a form of country music had always been evident in California, the blending of the two areas brought together a richer and more vibrant style. This style was a product of several performers, both instrumentalists and vocalists, and was essentially a modification of older country styles. The style grew out of the famous Town Hall Party, California's only major radio barn dance that nurtured and launched such talents as Tex Williams, Joe and Rose Maphis, Wesley Tuttle, Johnny Bond, Buck Owens, Tommy Collins and Freddie Hart.
The singers sang in a more dynamic way than those in Nashville, they were basically dance-hall entertainers and they used pedal steel guitar and electric guitars to good effect as a backing to their heart-rending songs of unsuccessful love and bar-room romances.
Tommy Collins was not a leader of the West Coast sound, he was more important because of his influences. The main names were Wynn Stewart, Merle Haggard and Buck Owens, and they were all inspired by the success of Collins, a native of Oklahoma who had settled in Bakersfield,
California back in the early 1950s. It was as a lead guitarist for Tommy Collins that Buck Owens first gained invaluable show business experience. All of the Bakersfield performers hung about together in the days prior to their national acceptance and unwittingly formulated an entirely new style of music that successfully blended the excitement of 1950s rock'n'roll with the basic qualities of country music, yet still appealed to so many of the staunch country music fans.
It was 1952 when Tommy Collins set out for California and a career in country music. He had recently been discharged from the army as unfit due to a childhood injury and was determined to establish himself in music. He became acquainted with an up-and-coming singer by the name of Ferlin Husky who introduced Tommy to Cliffie Stone. Stone recognised the Collins talent for songwriting and signed him to a contract with Central Songs, a publishing subsidiary of Capitol Records. At this time Cliffie Stone was a regular on the Town Hall Party and he managed to fix Tommy up with a guest appearance that turned into a regular spot.
Although Tommy Collins' recorded work was very country, his songs often stretched over in the fast-growing rock'n'roll scene. He was writing about youth, those all important years before the young man gets hitched, and so Faron Young's recording of
If You Ain't Lovin' (You Ain't Livin')
and his own of
I Always Get A Souvenir
and
Watcha Gonna Do Now
had an appeal outside of the country music market.
Perhaps the biggest shock in the 1950s was when Tommy Collins forsook country music when he was at the very top and entered the church. Throughout his great success Tommy had always been dedicated to his family. For him the music always came second. At all possible times he returned home to be with his wife Wanda and three children. They regularly attended the Baptist Church in Bakersfield and though Tommy was deeply religious, he felt he ought to be doing something of more importance than just attending church regularly.
Ferlin Husky was the first artist to record one of Collins' songs,
Are You Afraid
, recorded in late 1952. It was through the demonstration tapes of his songs that led Tommy into the recording studio himself in the early part of 1953. Ken Nelson the a&r manager of Capitol Records was impressed by both the songs and the voice of Tommy Collins. His debut record was the novelty song,
You Gotta Have A Licence
, the first of a long line of hit records. His gay and infectious vocal style soon established him on the country music scene, but Tommy Collins proved from the start that he could also catch the helplessness of a broken romance. His sad ballads like
High On A Hilltop
and
There'll Be No Other
were in a class of their own. Even now in the 1970s, twenty years on, these songs are being recorded by the top stars in country music.
His songs have always been marked by the unique knack of getting things in perspective. If he wrote a happy and gay song, it wasn't ridiculous, he caught the mood just right, and perhaps the masterpiece was
You Better Not Do That
his big hit of 1954. This song had been taken up by many pop groups in the 1950s who realised that it fitted in nicely into their own life-style; a young innocent lad out on his first date, it was the perfect vehicle for the teenage orientated groups. But in fact the song was about an inexperienced farm lad, he'd never seen the world beyond his farm gate, and certainly didn't know how to behave with the fairer sex. Collins got it just right, and soon he was a major star.
In 1957 he entered the Golden Gate Seminary at Oakland, California, where he studied for a Bachelor of Divinity Degree. He was ordained in 1961 and spent the next four years engaged in the work of the church. Throughout this period Tommy maintained an interest in country music and whenever time permitted he would cut a few recordings for Capitol. Unfortunately none of these discs were promoted, and only those faithful fans who remembered the past glories continued to buy Tommy's records.
His writing was still of a very high quality and his songs of love gone wrong and cheating around were amongst the finest country ballads of the late 1950s and early 1960s. Eventually Tommy Collins felt he had to try and make a comeback into the entertainment world and in the early months of 1965 he undertook a long tour of the Far East to entertain U.S troops in Korea and Vietnam. Later in the year he visited Europe and fitted in a few shows in Britain.
On his return to the States he signed a recording contract with Columbia Records, and it appeared at first that Tommy Collins was going to make it back into country music in a big way. His first release at the end of 1965 was
If You Can't Bite, Don't Growl
and although this was a much more up-to-date sound than on his early Capitol records, the sound was good country and Tommy had a hit on his hands. For some reason though the recordings on Columbia never fulfilled the promise that was shown at the beginning. Two albums were released and though the material and overall style was good, it never really presented the real Tommy Collins. Columbia made the mistake of forcing Tommy to record too many 'covers' of the big country hits. If he'd been allowed to concentrate on his own material he could eventually have made it. The one consolation of the Columbia years was the excellent recording of
I Made The Prison Band
. 
Tommy Collins has now settled down nicely as a country writer who quite often comes up with a contemporary country ballad that smacks of real genius. He works closely with Merle Haggard and I've often wondered why Haggard hasn't pushed Tommy's career as a country singer. Haggard is an artist who is deeply indebted to Collins, who allowed the nucleus of his own group to join Merle to form the Strangers, and also assisted in starting him to climb to the top. Tommy Collins stood in the wings, he offered Merle advice, gave him some outstanding songs and was one of the major influences on the Merle Haggard style.
The quality of Tommy's songs never ceases to amaze me. His lyrics, usually quite simple, always manage to get to the heart of the listener.
Carolyn
I would rate as one of the finest country ballads of recent times. Collins understands the situation of a rift in marriage, he lays it down perfectly, and Haggard's vocal style is sheer perfection. The two go hand in hand. Collins' songs and Haggard's unique phrasing, that makes a song like
Goodbye Comes Hard For Me
a masterpiece.
It's a great pity that Tommy Collins is not a recognised talent in country music today, but it's good to see that his songs are finding acceptance. Although many country fans don't take a lot of interest in the songwriter, anyone who follows the recording of Merle Haggard cannot help but notice the songs of Tommy Collins that invariably crop up on the Hag's album.
I was personally disappointed with the album that Tommy cut for Starday last year. If he wanted to have another go at recording why wasn't there more care taken? The album was disjointed and totally unacceptable to country music in the 1970s. Tommy Collins has the talent to make another successful stab at a country music career, but he must have it handled right. He cannot rest on the success of yester-year, but must come up with a sound that's acceptable today. With Merle Haggard's help he could make it, and he could be a major artist again.