Tom T Hall - The Nashville Cats
First Published in Country Music International – January 1998
Storyteller, poet, philosopher... Tom T Hall has been writing hit songs for more than 30 years and even retirement has failed to stem his creative flow.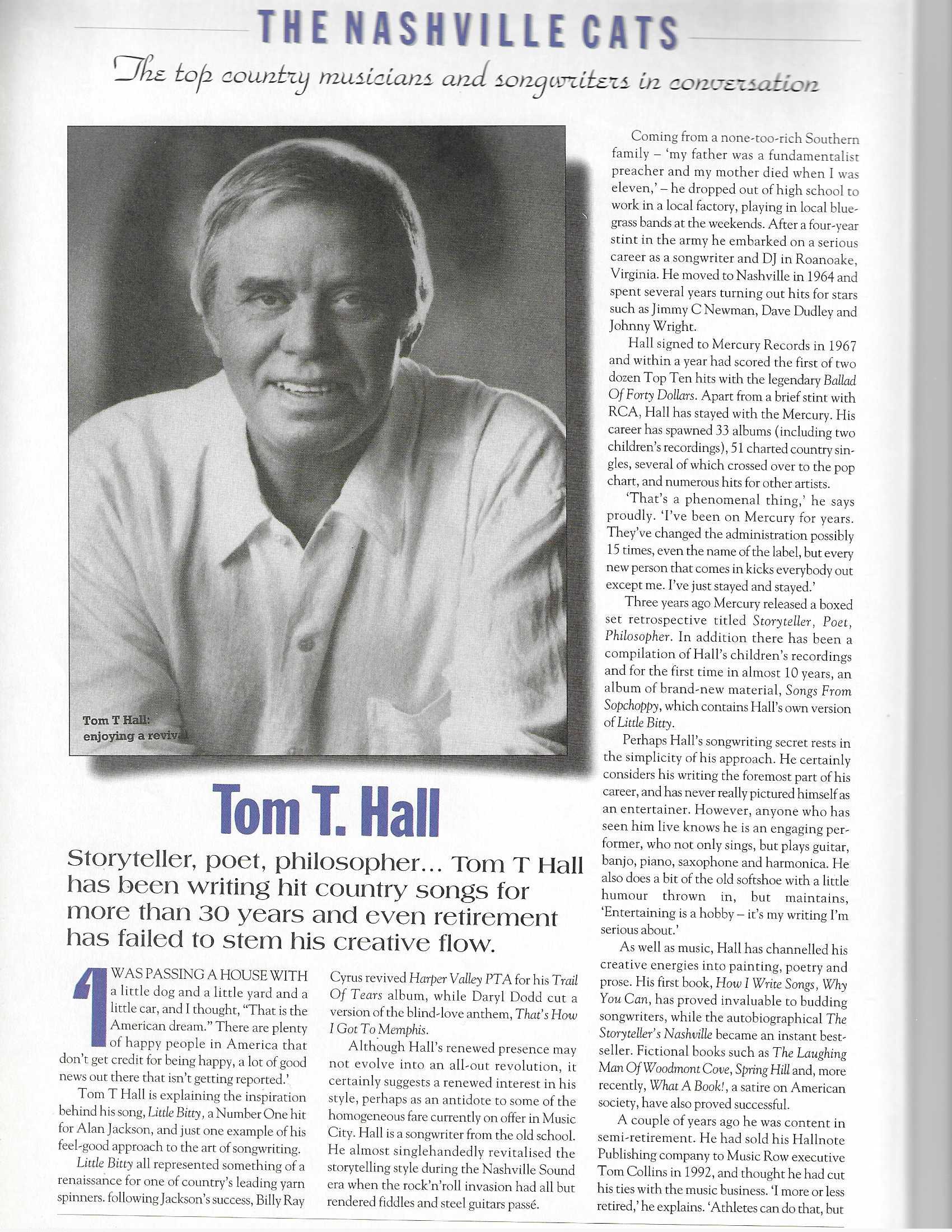 "I was passing a house with a little dog and a little yard and a little car, and I thought: 'That is the American dream.' There are plenty of happy people in America that don't get credit for being happy, a lot of good news out there that isn't getting reported."
Tom T Hall is explaining the inspiration behind his song, Little Bitty, a number one hit for Alan Jackson, and just one example of his feel-good approach to the art of songwriting.
Little Bitty represented something of a renaissance for one of country's leading yarn spinners. Following Jackson's success, Billy Ray Cyrus revived Harper Valley PTA for his TRAIL OF TEARS album, while Deryl Dodd cut a version of the blind-love anthem, That's How I Got To Memphis.
Although Hall's renewed presence may not evolve into an all-out revolution, it certainly suggests a renewed interest in his style, perhaps as an antidote to some of the homogenous fare currently on offer in Music City. Hall is a songwriter from the old school. He almost singlehandedly revitalised the storytelling style during the Nashville Sound era when the rock'n'roll invasion had all but rendered fiddles and steel guitar passe. 
Coming from a none-too-rich Southern family—"my father was a fundamentalist preacher and my mother died when I was eleven,"—he dropped out of high school to work in a local factory, playing in local bluegrass bands at the weekends. After a four-year stint in the army he embarked on a serious career as a songwriter and DJ in Roanoake, Virginia. He moved to Nashville in 1964 and spent several years turning out hits for stars such as Jimmy C Newman, Dave Dudley and Johnny Wright.
Hall signed to Mercury Records in 1967 and within a year had scored the first of two dozen top ten hits with the legendary Ballad Of Forty Dollars. Apart from a brief stint with RCA, Hall has stayed with the Mercury label His career has spawned 33 albums (including two children's recordings), 51 charted country singles, several of which crossed over to the pop charts, and numerous hits for other artists.
"That's a phenomenal thing," he says proudly. "I've been on Mercury for years. They've changed the administration possibly 15 times, even the name of the label, but every new person that comes in kicks everybody out except me. I've just stayed and stayed."
Three years ago Mercury released a boxed set retrospective titled Storyteller, Poet, Philosopher. In addition there has been a compilation of Hall's children's recordings and for the first time in almost 10 years, an album of brand-new material. SONGS FROM SOPCHOPPY, which contains Hall's own version of Little Bitty.
Perhaps Hall's songwriting secret rests in the simplicity of his approach. He certainly considers his writing the foremost part of his career, and has never really pictured himself as an entertainer. However, anyone who has seen him live knows he is an engaging performer, who not only sings, but plays guitar, banjo, piano, saxophone and harmonica. He also does a bit of the old softshoe with a little humour thrown in, but maintains: "Entertaining is a hobby—its's my writing I'm serious about."
As well as music, Hall has channeled his creative energies into painting, poetry and prose. His first book, How I Write Songs, Why You Can, has proved invaluable to budding songwriters, while the autobiographical The Storyteller's Nashville became an instant bestseller. Fictional books such as The Laughing Man Of Woodmont Cove, Spring Hill and, more recently, What A Book!, a satire on American society, have also proved successful.
A couple of years ago he was content in semi-retirement. He had sold his Hallnote Publishing company to Music Row executive Tom Collins in 1992, and thought he had cut his ties with the music business. "I more or less retired," he explains. "Athletes can do that, but entertainers can't. I found after retirement it was just an excuse to play golf three days a week and not feel guilty about it. Retirement doesn't mean that you can't do something, it means that you don't have to do it. So it kind of gave me a great sense of freedom."
Collins, a shrewd businessman, wasted no time in getting Hall's song catalogue back out on the street. He also suggested to the veteran writer that he write some new material. Around the same time, Luke Lewis, president of Mercury-Nashville, asked Hall if he would like to record a new album. Like Collins, Lewis was tapping into a growing awareness of Hall's old songs and recordings that was showing up in the sales of long-forgotten albums.
"I had an album called TOM T HALL'S GREATEST HITS VOL 2," Hall says. "It sold 80,000 copies when it came out, a phenomenal number for a country album in the early 1970s. Four or five years ago, Mercury reissued it on CD. Since then it has sold another 420,000 albums, and I've just got a gold album. That's my only gold album. You have to sell half-a-million to go gold, and none of us were selling that number of albums back then."
Unlike many of the veteran country stars who have been shunned by radio, Hall is very positive about the young acts now dominating the country scene. He believes that they are more dedicated to a music career than many of the acts that came to the fore in the mid-1960s and is thankful that they have revitalised country music.
"John Kennedy said: 'The rising tide lifts all the boats.'" he reflects. "There are so many people going into the record shops that I've sold 420,000 albums because they just happen to be sitting there, not because they've been promoted. People walk in and say: 'Oh, my uncle and aunt would love this' or 'I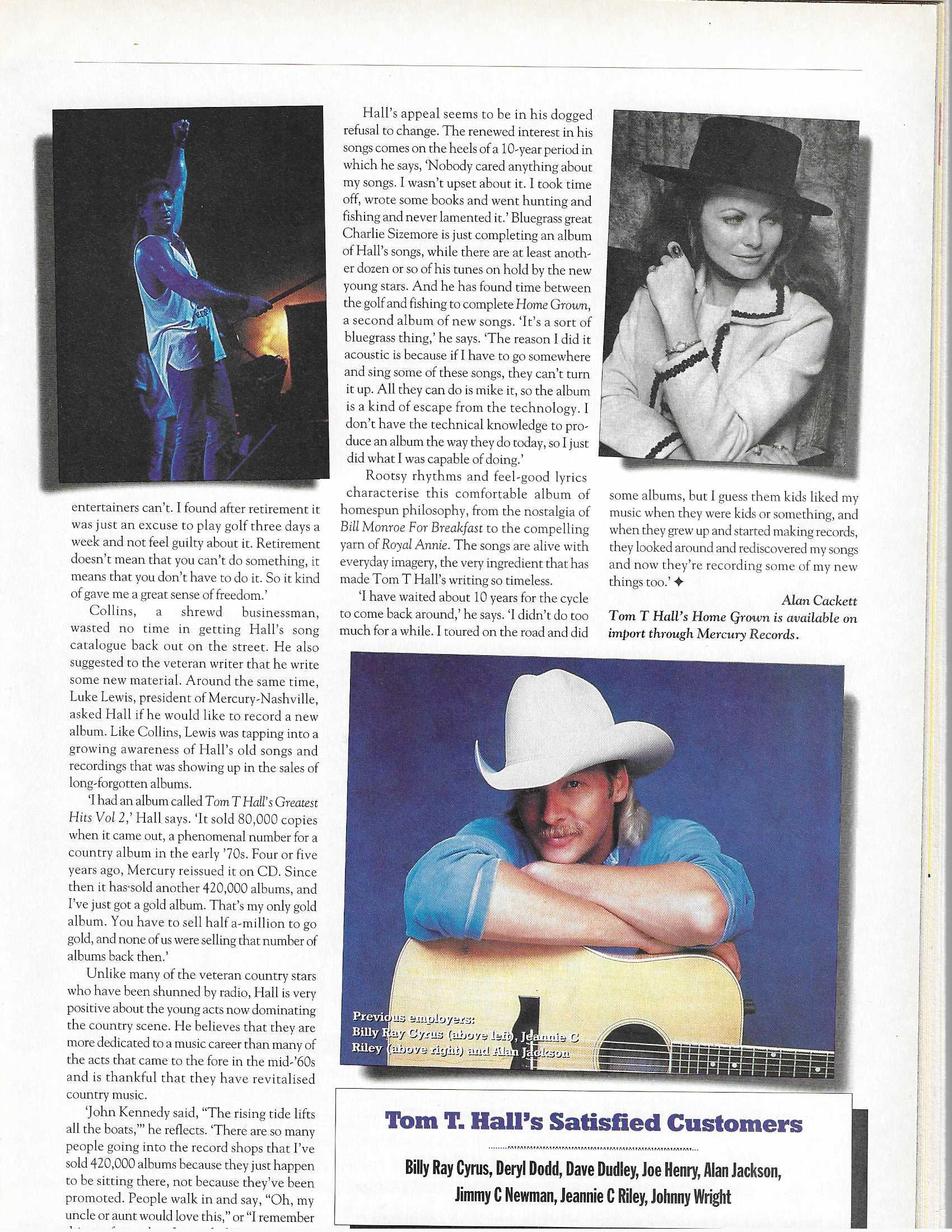 remember this guy from when I was a kid.'"
Hall's appeal seems to be in his dogged refusal to change. The renewed interest in his songs comes on the heels of a 10-year period in which he says, "Nobody cared anything about my songs. I wasn't upset about it. I took time off, wrote some books and went hunting and fishing and never lamented it." Bluegrass great Charlie Sizemore is just completing an album of Hall's songs, while there are at least another dozen or so of his tunes on hold by the new younger stars. And he has found time between the golf and fishing to complete HOME GROWN, a second album of new songs. "It's a sort of bluegrass thing," he says. "The reason I did it acoustic is because if I have to go somewhere and sing some of these songs, they can't turn it up. All they can do is mike it, so the album is a kind of escape from the technology. I don't have the technical knowledge to produce an album the way they do today, so I just did what I was capable of doing."
Rootsy rhythms and feel-good lyrics characterise this comfortable album of homespun philosophy, from the nostalgia of Bill Monroe For Breakfast to the compelling yarn of Royal Annie. The songs are alive with everyday imagery, the very ingredient that has made Tom T Hall's writing so timeless.
"I have waited about 10 years for the cycle to come back around," he says. "I didn't do too much for a while. I toured on the road and did some albums, but I guess them kids liked my music when they were kids or something, and when they grew up and started making records, they looked around and rediscovered my songs and now they're recording some of my new things too."