First published in Country Music People, December 1979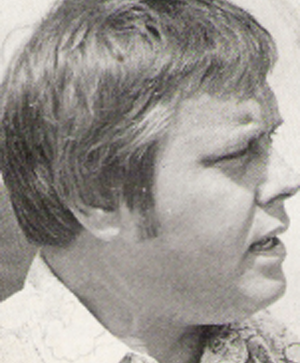 Tom T. Hall is recognised as one of the most unique and talented songwriters in country music. More to the point he is a 'storyteller' who has that special ability to take simple, everyday happenings and make them into something special.
He was born in Kentucky some forty-odd years ago and began writing in the mid-1960s, providing hits for country artists like Dave Dudley, Jimmy C. Newman and Johnny Wright. It wasn't until 1968 that he found real success and the kind of recognition that makes songwriters famous. His song
Harper Valley PTA
was a world-wide hit for Jeannie C. Riley. It would be true to say that Tom T. Hall was responsible for turning many people on to country music.
That song sold several millions all around the world and Jeannie C. Riley with her mini-skirt and husky vocals perfectly suited the image of a hip young mother and housewife struggling to make ends meet in the liberated late 1960s.
Afterwards Hall started a dual career as a singer-songwriter and was an immediate success in the American country charts with songs like
Ballad Of Forty Dollars, Homecoming
and
Salute To A Switchblade
, a humorous story based on an incident from his army service days in Germany.
Personal Experiences
He describes the experience of the sudden success of
Harper Valley PTA
like: "Walking down the street and finding a ten thousand dollar bill on the sidewalk." Certainly it gave his initial entry into a singing career a healthy boost.
Hall's songs all come from experience.
Ballad Of Forty Dollars
comes from the days he worked in a cemetery.
The Day That Layton Delaney Died
was inspired by the life of Lonnie Easterling, a local musician he had known in Kentucky. That song was also a hit in the American pop charts, establishing Hall's reputation with a wider audience. Even something as far out (especially for Hall) as
George (And The North Woods)
has some basis in fact.
"That was a hit for Dave Dudley," he explains. "He has a cabin somewhere out in the wilds. He called me up one day and asked me for a song, so I put it together for him."
In case you've never heard it, the tale is a grim piece about a man who goes hiking out in the North Woods with his good friend George. The narrator tells George about his various personal problems and how he's lost his wife and his fortune. The ending is a clever little twist that makes it one of my all time favourites.
Hall comes from a none-too-rich Southern family. "My father was a fundamentalist preacher and my mother died when I was eleven." He dropped out of high school to join the service and then completed his high schooling in there. After his discharge he took part-time courses in English and writing in order to fulfil his ambition of becoming a novelist. Whilst working as a disc-jockey at Radio WRON in Roncerverte, Virginia, he started writing lyrics and melodies. His work came to the notice of Jimmy Key, the owner of Newkeys Music in Nashville and by the beginning of 1964 Hall was beginning to receive royalty cheques for songs recorded by a number of established country artists.
There is a thing called song formula. Someone hits upon a cliché, joins it with a melodic punch-line and presto! Once this someone hits the jackpot with his formula, he tries it again and again, using slight variations to make it sound as though it's actually a different song. And then there's a thing called the downright, honest-to-goodness song. Tom T. Hall isn't a chemist, he's a songwriter.
"My songs tell stories," Tom says. "A lot of them are based on personal experiences of mine. I'm not very good at contriving things. I don't write love songs. I'm not really very romantic."
Tom T. Hall puts his art before his business, and although artists are inclined towards the romantic and abstract, he's no fool when it comes to the harsh reality of making a dollar to stay alive. His writing and singing seems to have kept him on firm ground and he's managed to do it while writing what he wants to.
Unlike many country songwriters, Hall's work covers a diversity of themes, from the comic (
St. Louis Named A Shoe After Me
) to the nostalgic (
Pinto The Wonder Horse Is Dead
), taking in politics, religion and country-boy-in-the city themes along the way. His story telling skills completely outweigh the fact that his songs sound alike. A capable vocalist, he has also enjoyed the services of a sensitive producer, Jerry Kennedy, who has embellished Hall's work without overpowering it.
The Storyteller
The typical machine-gun Dobro and snappy rhythm marks so many of Hall's earlier hits. His melodies are always nicely matched to what he's trying to say, but it's always that way around. Not for nothing is he known as The Storyteller. He displays a flair for writing tragi-comic songs.
Turn It On, Turn It On, Turn It On
epitomises that quality and it's further distinguished by the instrumental arrangement, which complements the dry tone of the lyric and Hall's vocal with great clarity.
Ten years ago everybody wanted to listen to what Tom T. Hall had to say. His best songs are amongst the finest Nashville has to offer. His material based on perceptive observations of life and attitudes; his themes essentially mini-dramas. Although his songs are rooted within the conventions of mainstream Nashville, Hall writes with a realism which has an appeal far beyond the Nashville mythology.
His songs mean something. Sounds simple, but it's a characteristic you don't find too often. He has wit and imagination, and he rarely reaches for the obvious. But then Tom T. Hall discovered that he was a poet and bona-fide intellectuals started writing his liner notes. The number of good songs on an album started to decrease dramatically. Sometimes he would use songs from outside of his sphere, turning to writers like Rod McKuen and Marvin Hamlisch. There have been children's albums, a bluegrass set, and then there was a gooey hit,
I Love
, which begged for parody and got it.
Why should Tom T. Hall have slipped so badly? And why are the country fans of today almost completely oblivious to the great talent that this man once possessed? I think perhaps the answer lies very much in the time and place syndrome. Between 1968 and 1974 Tom T. Hall said in the words of his songs exactly what the American people wanted to hear. Now many of those songs are irrelevant and unfortunately Hall has been unable to come to terms with what people want to hear.
He is a clever musical storyteller everyone wanted to hear what he had to say when his guitar and voice wove their colourful yarn into anything from a woman's shawl to a child's blanket. He didn't have to worry too much about the superficial realities of staying alive because he had control over a much deeper reality around which everything else fell into place. He knew how to keep his mind and heart open through his music, and if you took a listen then he would also open your heart and mind.
Universal Subjects
His skill is in the ability to pinpoint. He can choose a universal subject like Vietnam and make all his points in a miniaturist fashion.
Girls In Saigon City
never speaks of ideology, killing, the mentality of the warmonger or even the enemy. It tells the story of one soldier who gets a Dear John letter and responds by going out and doing the town. All the bigger themes are merely implied. Most of these themes support a consistent liberal position and it is only the narrative skill with which they are unfolded that makes them acceptable to a stone country audience.
Perhaps
America The Ugly
, from the same year, contained the answer. Hall retales the most glaring inequalities and injustices he sees about him, but he cannot feed his audience's patriotism, he cannot offer an acceptable alternative.
Compare these two songs from 1971 with the crass
The Great East Broadway Onion Championship of 1978
and you can see just how far Hall has sunk in the last eight years. I regret to say that I find his recent albums a little disappointing in comparison to his early work, and I think at least one reason is that he misses the grand themes that those earlier works afforded him.
Oh, Tom T., whatever happened to that clever, imaginative songwriter you once were? He seems to have been lost in his own musical world over the past few years with the resulting LPs often seeming contrived and somewhat pretentious. Perhaps he has run out of good ideas; his own songs seem to indicate that.
It must have been late 1973 or early 1974 that I began to have doubts about his continuing ability. He had recently scored on the country charts with
I Love
, one of the poorest songs he had ever come up with. Then there were some duets with Patti Page and slowly his albums were becoming more string-laden and Hall felt the need to write songs that would suit a more grandiose setting.
The first album that really disappointed me was FOR THE PEOPLE IN THE LAST HARD TOWN. There were mere traces on this one of Hall's great talent.
The Last Hard Town
is a song with an interesting theme, but it chokes on its own garbled arrangement. As it is this album is cursed with fifty per cent dead material. But an album of tracks as strong as
Joe. Don't Let Your Music Kill You
and
Pay No Attention To Alice
still sounded tempting.
Magnificent Music Machine
Since then there's only been one 'classic' Tom T. Hall album, and that was THE MAGNIFICENT MUSIC MACHINE, which scores more because of the quality of music rather than the quality of Hall's songs. This is an excellent modern bluegrass album with Hall being joined by such noted musicians as Kenny Baker, Bill Monroe, Jimmy Martin, Bobby Thompson, Donna Stoneman, J.D. Crowe, Charlie Collins and Johnny Gimble.
Naturally enough Hall's simple melodies are tailor-made for a bluegrass treatment and it seems odd that this approach had not been tried earlier. Then again bluegrass music is not exactly 'commercial,' and I would imagine that this album, excellent as it turned out, was almost certainly shunned by the country audience.
As if to demonstrate his versatility, Hall's next album, ABOUT LOVE, turned him full circle as he went straight for the middle-of-the-road and turned out an album of sloppy pop ballads. He attempts to perform such classic pop tunes as
The Way We Were, It's All In The Game
and
And I Love Her So,
but fails miserably, and even his own songs show that Hall is sadly out of his depth. At the beginning of his career he had stated that he didn't write love songs, and I agree with him. He doesn't write love songs, but lately he has been trying to!
OL' T'S IN TOWN being a typical example, shows that Hall is still trying desperately to be a romantic. Romantic songs are fine, if handled in the right way, but Hall doesn't have the voice for such a delicate approach.
A storyteller needs to keep the listener hooked with his words, and in recent years Tom T. has been failing. His songs have become too introspective, as if nothing seems to have been happening around him. When one of the most creative writers in country music cannot come up with anything better than
You Show Me Your Heart
or
Gimme Peace
then times are indeed getting tougher than tough.