Toby Keith - Every Picture Tells A Story
First published in Country Music International, June 1996
Writing a song is just like an artist painting a picture. Or so they say. TOBY KEITH painted a number one single for himself in 1993 and he's never looked back since. "I know what works for me," he tells Alan Cackett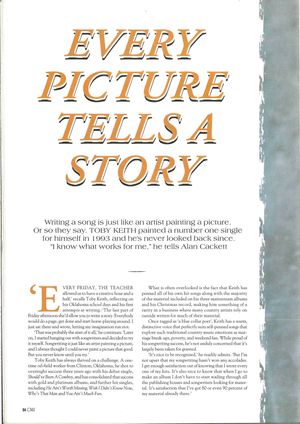 "Every Friday, the teacher allowed us to have a creative hour and a half," recalls Toby Keith, reflecting on his Oklahoma school days and his first attempts at writing.  "The last part of Friday afternoon she'd allow you to write a story. Everybody would do a page, get done and start horse-playing around. I just sat there and wrote, letting my imagination run riot.
"That was probably the start of it all," he continues. "Later on, I started hanging out with songwriters and decided to try it myself. Songwriting is just like an artist painting a picture, and I always thought I could never paint a picture that good. But you never know until you try."
Toby Keith has always thrived on a challenge. A onetime oil-field worker from Clinton, Oklahoma, he shot to overnight success three years ago with his debut single, Should've Been A Cowboy, and has consolidated that success with gold and platinum albums, and further hit singles, including He Ain't Worth Missing, Wish I Didn't Know Now, Who's That Man and You Ain't Much Fun.
What is often overlooked is the fact that Keith has penned all of his own hit songs along with the majority of the material included on his three mainstream albums and his Christmas record, making him something of a rarity in a business where many country artists rely on outside writers for much of their material.
Once tagged as 'a blue collar poet,' Keith has a warm, distinctive voice that perfectly suits self-penned songs that explore such traditional country music emotions as marriage break-ups, poverty, and weekend fun. While proud of his songwriting success, he's not unduly concerned that it's largely been taken for granted.
"It's nice to be recognised," he readily admits. "But I'm not upset that my songwriting hasn't won any accolades. I get enough satisfaction out of knowing that I wrote every one of my hits. It's also nice to know that when I go to make an album I don't have to start wading through all the publishing houses and songwriters looking for material. It's satisfaction that I've got 80 or even 90 percent of my material already there."
Before breaking through into the charts in the summer of 1993, Toby had spent 10 years playing the Southwest club circuit. To supplement his sometimes meagre earnings from playing music, he also rode bulls and broncos, worked his way up from a roughneck to operational manager on an Oklahoma oil rig, and even played a couple of seasons with a semi-pro football team, coming close to securing a linebacker spot with the United States Football League.
Ultimately, music intervened. But while Keith was out playing covers of material by everyone from Elton John through to the Eagles and Earl Thomas Conley, performing his own songs brought him the biggest buzz. His latest album, the just-released BLUE MOON (currently available on import on A&M Records), even includes a song, the single Does That Blue Moon Ever Shine On You, which Keith wrote some 10 years ago, back in the days when he was still juggling a regular job during the day and club dates at night.
"I originally released that song on a tiny independent label in Texas," Keith explains. "I've been playing it in my shows for years and it always received a tremendous response from the audience. We'd planned to include it on my previous two albums (TOBY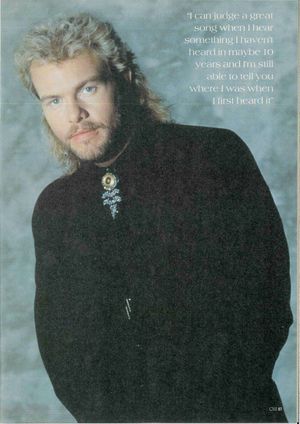 KEITH and BOOMTOWN), but each time it was put aside for some other song. I even dropped it from the live shows, then last summer I decided to bring it back. Now we get a standing ovation for it every night."
Like so many of today's country music artists, Toby had grown up on a rich diet of 1970s music, all of which is reflected in both his songwriting and the musical arrangements on his albums.
"I listened to everything," he shrugs. "I never consciously noticed the difference between, say, Merle Haggard and Eddy Raven and, say, Bob Seger and Elton John. I didn't think, oh, Elton John's pop and Merle Haggard's country. It all sounded the same when I played it. I see myself as an American music artist with a country feel."
Keith is an astute businessman who has masterminded his own career ever since 1987 when he decided to concentrate all his energies on music. By that time, he had broken out of the Texas-Oklahoma dance club circuit to play more lucrative gigs at bigger clubs. With his band, Easy Money, Keith purchased a Silver Eagle bus, recorded several of his original songs on an independent label, and started making regular trips to Nashville, handing out tapes to everyone he met in the business.
Keith's perseverance paid off when he met Harold Shedd, a Nashville record company executive who had made a name for himself producing Alabama. Impressed by Toby's songs and his writing ability, he flew out to Oklahoma City and offered him a recording contract. That same year, Keith found himself playing live as part of Mercury Records' Triple Play Tour, alongside new label-mates Shania Twain and John Brannen. Then came Keith's first single, Should've Have Been A Cowboy, which went straight to number one. Adopted as an anthem by the Dallas Cowboys football team, Keith still counts it as the most important song he's ever written.
"It remains my favourite because it still has the biggest meaning for me," he says. "You go to any songwriters' show in Nashville and you find yourself wondering why these guys don't have record deals and why are they're not big stars, because they're that good. But it has so much to do with being lucky and being in the right place at the right time. If you're a new artist and your first couple of singles haven't been successful and you're out on the road, the record companies can hear so many great things back in Nashville that you can be forgotten about. Having my first single Should've Been A Cowboy hitting number one opened all the doors for me."
Keith isn't the first country act to hit the top with his debut single. But while others have enjoyed similar success, many have fallen by the wayside because they don't have the staying power or they have to rely on the Nashville song factory to provide them with the right material. Keith is in the enviable position of being able to write for himself, while still having Nashville's best writers pitch their songs to him.
"I just stay with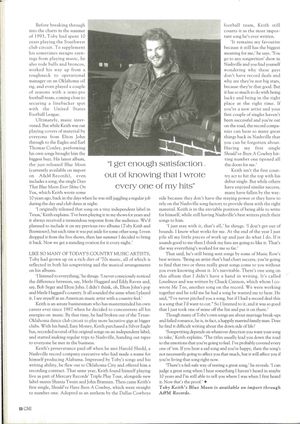 it, that's all," he shrugs. "I don't get out of bounds. I know what works for me. At the end of the year I just pile all my little pieces of work up and just do what I do. If it sounds good to me then I think my fans are going to like it. That's the way everything's worked for me so far."
That said, he's still being sent songs by some of Music Row's best writers. "Being an artist that's had chart success, you''re going to find that two or three really great songs come to you without you even knowing about it. It's inevitable. There's one song on this album that I didn't have a hand in writing. It's called Loneliness and was written by Chuck Cannon, with whom I co-wrote Me Too, another song on the record. We were working together and he told me he had a song he wanted me to hear. He said: 'I've never pitched you a song, but if I had a record deal this is a song that I'd want to cut.' So I listened to it, and it was so good that I just took one of mine off the list and put it on there."
Though many of Toby's own songs are about marriage break-ups and failed romance, he is, in fact, a happily married family man. Does he find it difficult writing about the down side of life?
"Songwriting depends on whatever direction you want your song to take," Keith explains. "The titles usually lead you down the road to the emotions that you're going to feel. I've probably covered every one of 'em. If you hear a sad song and you're happy, then the song's not necessarily going to affect you that much, but it will affect you if you're living that song right now."
"There's a fail-safe way of testing a great song," he reveals. "I can judge a great song when I hear something I haven't heard in maybe 10 years and I'm still able to tell you where I was when I first heard it. Now that's the proof."