Tin Pan South 2018 Preview
Following the popularity of the Nashville TV series and the phenomenal success of C2C, there's been a massive influx of new, mainly younger fans of country music across the UK. It has naturally led them to consider a pilgrimage to the home of country music. I've been asked over and over again: 'When's the best time to visit Nashville?' Should it be the CMA Festival in June, or maybe the CMA Awards in November or perhaps the more rootsy side of the music, so maybe the Americana Awards and Convention in September.
There is no simple answer to fit all. It really boils down to what kind of Nashville vacation will suit you and your travelling companions. Having attended all three of the above events on numerous occasions, I would plump for an event that will probably not be on most country music fans' radar.
Tin Pan South, the annual songwriter's festival, that takes place in late March or early April, has become my first choice over recent years. If you've ever been to one of the CMA's Songwriter Series concerts held as part of the C2C in London or the Bluebird Sessions, then you'll know just what to expect from Tin Pan South.
Over a five-day period more than 500 songwriters perform, mainly in-the-round, at ten venues across Nashville, including the famed Bluebird Café,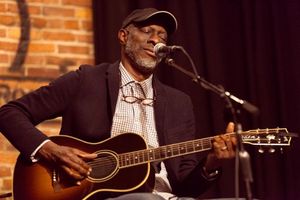 Hard Rock Café, Station Inn and 3rd and Lindsley. For me, it's a week in musical heaven, being pretty much up-close and personal with the writers of the hit songs that help to make the Nashville wheels turn. Not only do you get to see the established hit songwriters, but also legendary performers in their own right, alongside young up-and-coming singers and writers. The choice of shows makes it virtually impossible to know where to turn next.
I've always been something of a songwriter junkie. For years, I bought records as much for the person that had written a particular song, as for the act performing it. Even today, the first thing I look at when I get a physical album is to peruse the writer's credits. Songwriters are the life-blood not just of country music, but most genres of music. Without the writers creating the songs, there would be no recordings, no stars and no shows. For much too long, though, the songwriter has been the anonymous, almost forgotten part of the jigsaw puzzle that leads to highly successful music careers.
To give you an idea of what to expect at Tin Pan South, I was fortunate to attend the 25th Annual Tin Pan South Festival that took place from March 28 to April 1, 2017. It was an extra special event and I was especially pleased to see and meet some of my long-time favourite singer-songwriters. Sitting in the Bluebird Café just a few feet away from Sonny Curtis (More Than I Can Say), Dickey Lee (She Thinks I Still Care), Pat Alger (The Thunder Rolls), Wayland Holyfield (You're My Best Friend), Bob Morrison (Don't Call Him A Cowboy) and Sonny Throckmorton (The Cowboy Rides Away) still leaves me speechless. How could it be? The easy-going banter between the writers and the audience made for an even more special intimacy that you just don't get in a stadium or large concert hall and the magic of the audience quietly singing or humming along to the songs that had an extra special meaning to them was quite priceless.
As the week rolled along I go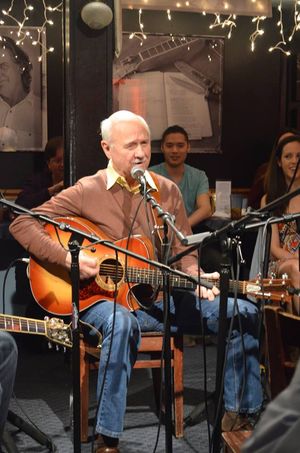 t to see and hear more and more fantastic music. At the Station Inn (Nashville's recognised home of Bluegrass) there was Award Winning Bluegrass featuring Becky Buller, Donna Ulisse, Jon Weisberger and Tim Stafford. Bluegrass in-the-round without a full band appears strange when you see it on paper, but in the flesh, it was just plain fantastic and demonstrated to me that some of the best 'country' songs are currently being written by 'bluegrass' writers.
I also got to see regular UK visitors Gretchen Peters, Beth Nielsen Chapman, Jim Lauderdale, Shantell Ogden, Ashley Campbell, Kim Richey, Sarah Darling and Matraca Berg; several promising newcomers including Kylie Sackley, Erin Enderlin and Kevin MaC; such classic hit-writers as Bob DiPiero, Al Anderson, Victoria Shaw, Leslie Satcher, Brad Crisler and Gary Burr plus major stars like Maddie & Tae, Mac Davis, Richie McDonald (Lonestar), Mo Pitney and Scotty Emerick.
Tin Pan South is organised by the Nashville Songwriters' Association International (NSAI). The non-profit NSAI was set up in 1967 and three years later the legacy of the great Nashville songwriters was celebrated and preserved by the formation of the Nashville Songwriters Hall of Fame. Each year a selected few are elected to this high honour, with more than 200 of the greatest writers from all genres of music ever to put words to music in Music City, having been enshrined in the Hall. A few years ago, a Hall of Fame Gallery was opened in Nashville's Music City Center, and it's well worth a visit.
If you decide to go along to Tin Pan South you need to plan ahead. Accommodation in Nashville is at a premium as the city has gone through an unprecedented boom over the past ten years. I've found that if there's more than two of you going, it's best to look at air b'n'b. I've found the best area to stay is around 12th Avenue South, with Hillsboro Village and its many cafes and restaurants within easy walking distance. Getting around via Uber is fairly cheap and generally reliable.
It is advisable to purchase Fast Access Passes before you depart for Nashville. These generally go on sale approximately a month before Tin Pan South kicks off and coincides with the announcement of the Festival line-up. This past year (2017) the Passes cost $125 to non-NSAI Members and $115 to NSAI Members. Passes are not mailed out, you can usually pick up them up fro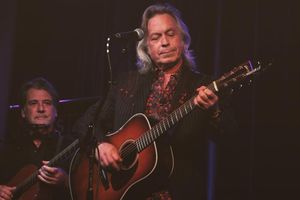 m the NSAI offices on Music Row during the day of the week of Tin Pan South.
The Fast Access Pass will admit you to all the shows during the five-day festival, but be warned it is very much on a first-come, first-served basis. You need to arrive at the venue at least 30 minutes prior to show time to join the line. There are no 'seat holds.' 'Holding a seat' for someone who has not yet been admitted to the venue does not guarantee their admission.
There are two exceptions to this—both shows at the Bluebird Cafe and at 3rd and Lindsley. You'll almost certainly need to pre-book seats at the Bluebird Café due to the high demand. It's best to do this whilst still in the UK, as the venue almost always is a sell-out. Some of venues (including the Bluebird) have a minimum food/beverage charge—it's prudent to check on this. Fast Access Passes are designed to satisfy a show's cover charge only. Pass holders are responsible for any required food/beverage minimum at the venue.
You don't have to purchase the Fast Access Pass. At-the-door Admissions are available for
Festival attendees without passes in the Cash Line at each venue. That line will be admitted into the venue as space permits after Fast Access Pass holders are admitted. Without a Fast Access Pass, festival admission is on a show-by-show, cash-at-the-door basis. But it's worth noting that most of the venues do sell out very quickly.
Very useful is the Tin Pan South Festival App for IOS and Android devices. The 2017 App featured real-time notifications sent straight to your phone on the status of show changes;
festival map and venue information; news and social media feeds to keep you informed on festival happenings and the ability to add individual events to your personal schedule; plus an Explore Music City with a list of landmark recommendations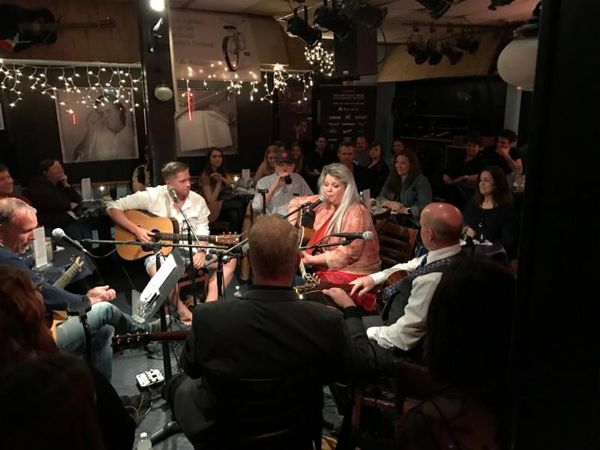 The Tin Pan South shows usually start at 6pm and 9pm at ten venues across Nashville. Personally, I found it more convenient to stick to the one venue per night, as switching venue meant that you were at risk of not gaining admission to the late show at a second venue by the time you've got across town.
In addition to the Tin Pan South shows, the Country Music Hall of Fame also host concerts featuring legendary songwriters during the Festival. It's well worth checking these out as often admission is free.
The 26th Annual Tin Pan South will take place from April 3 to April 7, 2018 in various Nashville venues. For more information visit www.tinpansouth.com but bear in mind there won't be anything posted until mid-January at the earliest.
Photos:
Keb' Mo' kept the Blues coming at The Listening Room Cafe.
Photo: Jason Delkou Photography
Sonny Curtis at The Bluebird Cafe.
Jim Lauderdale performs at a packed 3rd & Lindsley.
Photo: Libby Oellerich
Newcomer Kevin MaC (c.) enjoys Leslie Satcher's (r.) performance with Brad Crisler and Daily & Vincent at the Bluebird Cafe.
Photo: Craig Campbell