Tim O'Brien - Life Of O'Brien
First Published in Country Music International, October 1995
Tim O'Brien bridged the gap between old-style bluegrass and the hip, young banjo pickers of the 1970s. Now he's balancing a solo career, a duo and a group. Alan Cackett fits into his busy schedule.
"We present a wide variety of roots music. It's a kind of folk-variety show," Tim O'Brien, multi-talented leader of the O'Boys, is in Nashville for his first appearance at the annual Fan Fair bash and an evening concert at the Station Inn. It's breakfast time, but the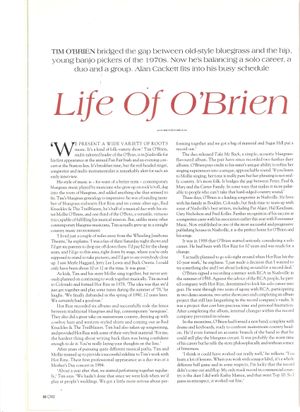 red-headed singer, songwriter and multi-instrumentalist is remarkably alert for such an early interview.
His style of music is—for want of a better term—contemporary bluegrass; music played by musicians who grew up on rock'n'roll, dug into the roots of bluegrass, and added anything else that seemed to fit. Tim's bluegrass genealogy is impressive: he was founding member of bluegrass stalwarts Hot Rize and its comic alter ego, Red Knuckles & The Trailblazers, he's half of a musical duo with his sister Mollie O'Brien, and one third of the O'Boys, a versatile, virtuoso trio capable of fulfilling his musical mission. But, unlike many other contemporary bluegrass musicians, Tim actually grew up in a straight country environment.
"I lived just a couple of miles away from the Wheeling Jamboree Theatre," he explains. "I was a fan of their Saturday night shows and I'd get my parents to drop me off down there. I'd pay $2 for the cheap seats, and I'd go to this area, right down by stage, where you're only supposed to stand to take pictures, and I'd get to see everybody close-up. I saw Merle Haggard, Jerry Lee Lewis and Buck Owens. I could only have been about 10 or 12 at the time. It was great."
As kids, Tim and his sister Mollie sang together, but never seriously planned on continuing to work together musically. Tim moved to Colorado and formed Hot Rize in 1978. "The idea was that we'd just get together and play some tunes during the summer of '78", he laughs. "We finally disbanded in the spring of 1990, 12 years later. We certainly had a good run."
Hot Rize recorded six albums and successfully rode the fence between traditional bluegrass and hip, contemporary 'newgrass'. They also did a great take on mainstream country, dressing up with cowboy hats and western-styled shirts and coming out as Red Knuckles & The Trailblazers. Tim had also taken up songwriting, and provided Hot Rize with some of their very best material. "For me, the hardest thing about writing back then was being confident enough to do it. You're really laying your thoughts on the line."
After years of pursuing quite different musicals paths, Tim and Mollie teamed up to provide a successful sideline to Tim's work with Hot Rize. Their first professional appearance as a duo was at a Mothers' Day concert in 1984.
"About a year after that, we started performing together regularly," Tim says. "We hadn't done that since we were kids when we'd play at people's weddings. We got a little more serious about performing together and we got a bag of material and Sugar Hill put a record out."
The duo released TAKE ME BACK, a simple, acoustic bluegrass-flavoured album. The pair have since recorded two further albums. O'Brien pays credit to his sister's unique ability to redefine her singing experiences into a unique, approachable sound. "If you listen to Mollie singing, her tone is really pure but her phrasing is not really country. It's more folk. It bridges the gap between Peter, Paul & Mary and the Carter Family. In some ways that makes it more palatable to people who can't take that hard-edged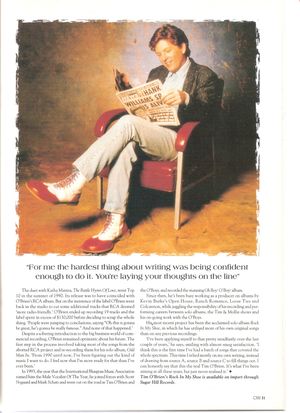 country sound."
These days O'Brien is a leading songwriter in Nashville. He lives with his family in Boulder, Colorado, but finds time to team up with some of Nashville's best writers, including Pat Alger, Hal Ketchum, Gary Nicholson and Fred Koller. Further recognition of his success as a songwriter came with his association earlier this year with Forerunner Music. Now established as one of the most successful and progressive publishing houses in Nashville, it is the perfect home for O'Brien and his songs.
It was in 1988 that O'Brien started seriously considering a solo career. He had been with Hot Rize for 10 years and was ready for a change.
"I actually planned to go solo right around when Hot Rize hit the 10 year mark," he explains. "I just made a decision that I wanted to try something else and I set about looking around for a record deal."
O'Brien signed a recording contract with RCA in Nashville in the summer of 1988. Against the advice of the RCA people, he parted company with Hot Rize, determined to kick his solo career into gear. He went through two years of agony with RCA, participating in two demo sessions, two artist showcases and completing an album project that still lays languishing in the record company's vaults. It was a project that cost him precious time and personal frustration. After completing the album, internal changes within the record company prevented its release.
In the meantime, O'Brien had formed a new band, complete with drums and keyboards, ready to confront mainstream country head-on. He'd even formed an acoustic branch of the band so that he could still play the bluegrass circuit. It was probably the worst time of his career, but he tells the story philosophically and without a trace of bitterness.
"I think it could have worked out really well," he reflects. "You learn a lot of lessons. When you work with a major label, it's a whole different ball game and in some respects, I'm lucky that the record didn't come out and flop. My only track record in commercial country is the duet I did with Kathy Mattea, and that went Top 10. So I guess in retrospect, it worked out fine."
The duet with Kathy Mattea, The Battle Hymn of Love, went Top 10 in the summer of 1990. Its release was to have coincided with O'Brien's RCA album. But on the insistence of the label, O'Brien went back in the studio to cut some additional tracks that RCA deemed 'more radio-friendly'. O'Brien ended up recording 19 tracks and the label spent in excess of $130,000 before deciding to scrap the whole thing. "People were jumping to conclusions, saying 'Oh this is gonna be great, he's really gonna be famous.' And none of that happened."
Despite a sobering introduction to the big business world of commercial recording, O'Brien remained optimistic about his future. The first step in the process involved taking most of the songs from the aborted RCA project and re-recording them for his solo-album, ODD MAN IN. "From 1990 until now, I've been figuring out the kind of music I want to do. I feel now that I'm more ready for that than I've ever been."
In 1993, the year that the International Bluegrass Music Association named him the Male Vocalist Of The Year, he joined forces with Scott Nygaard and Mark Schatz and went out on the road as Tim O'Brien and the O'Boys, and recorded the stunning OH BOY! O'BOY! album.
Since then, he's been busy working as a producer on albums by Kevin Burke's Open House, Ranch Romance, Loose Ties and Colcannon, while juggling the responsibilities of his recording and performing careers, between solo albums, the Tim & Mollie shows and his on-going work with the O'Boys.
His most recent project has been the acclaimed solo album ROCK IN MY SHOE, in which he has utilised more of his own original songs than on any previous recordings.
"I've been applying myself to that pretty steadfastly over the last couple of years," he says, smiling with almost smug satisfaction. "I think this is the first time I've had a batch of songs that covered the whole spectrum. This time I relied mostly on my own writing, instead of drawing from source A, source B and source C to fill things out. I can honestly say that this is the real Tim O'Brien. It's what I've been aiming at all these years but just never realised it."