Tim McGraw - Welcome To The Big League
First Published in Country Music International, August 1997
Since releasing the controversial Indian Outlaw single three years ago, Tim McGraw had ridden a whirlwind of success that has seen his latest album and single storming the mainstream pop charts. "I just don't feel like this is really happening to me," he confides to Alan Cackett
Tim McGraw, the latest country star on a red-hot roll, epitomises the American Dream of the poor-boy-made-good. His recent American single, the powerful and persuasive It's Your Love, featuring soulful duet harmonies by wife Faith Hill, has broken through to being the biggest country-pop smash since Billy Ray Cyrus' Achy Breaky Heart.
It's Your Love is the first country single in five years to crack the American pop top ten, after scorching to number one on the country charts in just five weeks. That led to McGraw's fourth album, EVERYWHERE, crashing into the pop album charts at number two and the country album charts at number one, proving conclusively that his runaway success with Indian Outlaw was no one-hit-wonder fluke.
Since that initial breakaway hit, Tim has become one of the members of that elite club of consistent multi-million-selling country acts. His A MOMENT TOO SOON album has now passed the five million sales mark, while his last album, ALL I WANT, is rapidly approaching three million.
Despite his success, he still remains very much a humble, down-to-earth country boy who finds it hard to deal with success. Jetting around the States, staying in plush hotels and having his own entourage is far removed from Tim's childhood days, growing up in a poor household that occasionally included food stamps and welfare. He was born in Delhi, Louisiana, the love-child of a summertime romance between his mother and a minor league baseball played named Tug McGraw, who went on to become a superstar pitcher. 
When his mother married, Tim took the last name of his stepfather, Horace Smith, and didn't know about his famous father until he was 11 years old. Tim is always quick to point out that it was his stepfather who instilled him a love of country music and set his course to Nashville at an early age.
Growing up in the Louisiana Delta, he listened to all kinds of music, absorbing a potpourri of musical styles that ranged from spicy Cajun two-steps to east-Texas honky-tonkin' of George Jones. Thrown into the mix were strains of Mississippi delta blues, some bluegrass, zydeco, New Orleans jazz and r&b.
"There were always a couple of good rock stations," he recalls. "I grew up loving any kind of music, but it was my stepfather's country tapes that made the biggest impression. I'd listen to Merle Haggard, Charlie Rich, Johnny Paycheck and Mel Street, as we rode up and down the road in the cab of his 18-wheeler."
After his mother and stepfather divorced, Tim and his two younger sisters grew up in Start, another Louisiana community not even big enough to qualify as a town. "It was a cotton community with a gin, a small school, flashing yellow light, and not much else."
It was at this time that Tim accidentally discovered that the star baseball pitcher whose card hung on his bedroom wall was actually his father. During the house move, he found his birth certificate, which listed his father's surname. Tug McGraw had readily agreed to have his name on the certificate, but Tim's mother had made the decision to raise her son on her own. Despite his real father's fame and fortune, young Tim had never benefited from it, and didn't begin a relationship with him until he was 18, although they've since become close.
Though music played an important role in his younger days, he had never considered it a career option. Sport figured high on his agenda. He was a keen athlete in both track events and baseball. When he was 13 he saw the movie And Justice For All and decided he wanted to be a lawyer. He coasted through high school and graduated with honours, but his first semester of pre-law was something of a disaster.
It was during that first semester that the music bug hit him. It was summer of 1987 and he had a part-time job, just three hours day, with plenty of time to kill. To keep himself occupied he started playing guitar. He built up a repertoire of songs and started playing for tips at a couple of local bars.
"Then I enrolled in school again so that I could say that I was going to school bur I was concentrating on music," he explains. "I would often sit in with James Pastell's band or just play solo gigs. About 18 months later I moved to Nashville and jumped in with both feet."
Surprisingly, his family gave McGraw their full support over his decision to quit college for a crack at a singing career. His toughest lesson in Music City, however, was learning who to trust as he made his way through the music business jungle.
"There are times," McGraw explains, "when you wonder, 'What am I doing here?'. You're down to your last two dollars and you haven't had a square meal for a couple of days. But you keep at it, because you're chasing that dream, and you just know that there must be better times around the corner."
Tim gave himself seven or eight years to try and get a record deal in Nashville. He played all the clubs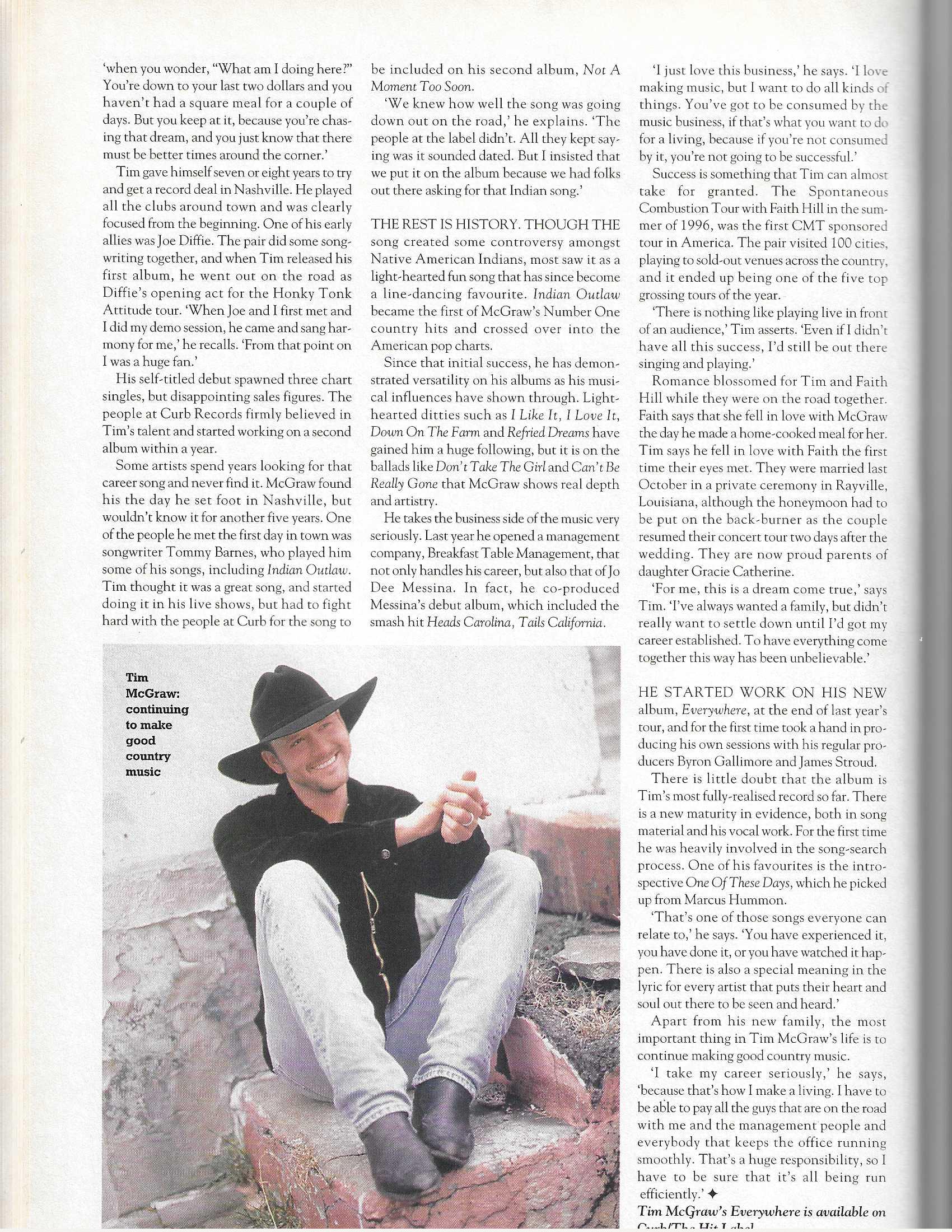 around town and was clearly focused from the beginning. One of his early allies was Joe Diffie. The pair did some songwriting together, and when Tim released his first album, he went out on the road as Diffie's opening act for the Honky Tonk Attitude tour. "When Joe and I first met and I did my demo session, he came and sang harmony for me," he recalls. "From that point on I was a huge fan."
His self-titled debut spawned three chart singles, but disappointing sales figures. The people at Curb Records firmly believed in Tim's talents and started working on a second album within a year.
Some artists spend years looking for that career song and never find it. McGraw found his the day he set foot in Nashville, but wouldn't know it for another five years. One of the people he met the first day in town was songwriter Tommy Barnes, who played him some of his songs, including Indian Outlaw. Tim thought it was a great song and started doing it at his live shows, but had to fight hard with the people at Curb for the song to be included on his second album, NOT A MOMENT TOO SOON.
"We knew how well the song was going down out on the road," he explains. "The people at the label didn't. All they kept saying was it sounded dated. But I insisted that we put it on the album because he had folks out there asking for that Indian song."
The rest is history. Though the song created some controversy amongst Native American Indians, most saw it as a light-hearted fun song that has since become a line-dancing favourite. Indian Outlaw became the first of McGraw's number one country hits and crossed over into the American pop charts.
Since that initial success, he has demonstrated versatility on his albums as his musical influences have shown through. Light-hearted ditties such as I Like It, I Love It, Down On The Farm and Refried Dreams have gained him a huge following, but it is on the ballads like Don't Take The Girl and Can't Be Really Gone that McGraw shows real depth and artistry.
He tales the business side of the music seriously. Last year he opened a management company, Breakfast Table Management, that not only handles his career, but also that of Jo Dee Messina. In fact, he co-produced Messina's debut album, which included the smash hit Heads Carolina, Tails California.
"I just love this business," he says. "I love making music, but I want to do all kinds of things. You've got to be consumed by the music business, if that's what you want to do for a living, because if you're not consumed by it, you're just not going to be successful."
Success is something that Tim can almost take for granted. The Spontaneous Combustion Tour with Faith Hill in the summer of 1996, was the first CMT sponsored tour in America. The pair visited 100 cities, playing to sold-out venues across the country, and it ended up being one of the five top grossing tours of the year.
"There is nothing like playing live in front of an audience," Tim asserts. "Even if I didn't have all this success, I'd still be out there singing and playing."
Romance blossomed for Tim and Faith Hill while they were on the road together. Faith says that she fell in love with McGraw the day he made a home-cooked meal for her. Tim says he fell in love with Faith the first time their eyes met. They were married last October in a private ceremony in Rayville, Louisiana, although the honeymoon had to be put on the back-burner as the couple resumed their concert tour two days after the wedding. They are now proud parents of daughter Gracie Catherine.
"For me, this is a dream come true," says Tim. "I've always wanted a family, but didn't really want to settle down until I'd got my career established. To have everything come together this way has been unbelievable."
He started work on his new album, EVERYWHERE, at the end of last year's tour, and for the first time took a hand in producing his own sessions with his regular producers Byron Gallimore and James Stroud.
There is a little doubt that the album is Tim's most fully-realised record so far. There is a new maturity in evidence, both in song material and his vocal work. For the first time he was heavily involved in the song-search process. One of his favourites is the introspective One Of These Days, which he picked up from Marcus Hummon.
"That's one of those songs everyone can relate to," he says. "You have experienced it, you have done it, or you have watched it happen. There is also a special meaning in the lyric for every artist that puts their heart and soul out there to be seen and heard."
Apart from his new family, the most important thing in Tim McGraw's life is to continue making good country music.
"I take my career seriously," he says, "because that's how I make a living. I have to be able to pay all the guys that are on the road with me and the management people and everybody that keeps the office running smoothly. That's a huge responsibility, so you have to be sure that it's all being run efficiently."