The Western Express - Lunatics, Lovers & Poets
Self-released
****1/2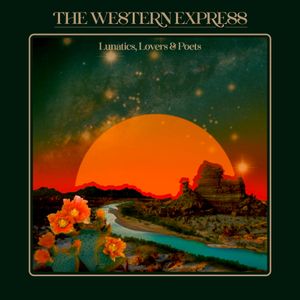 This Texas outfit delivers a succession of fresh songs, mostly from the pen of lead vocalist/guitarist Stephen Castillo. The result? An impeccable and highly original modern-traditional country record and a fine way to introduce the band to a wider audience. Basically a duo, comprising Stephen and long-time partner Phill Brush, they utilise a regular ensemble of skilled musicians giving them the flexibility of performing live in differing formats from a duo to a seven-piece country band. The songs have a lot of energy and extreme danceability as they sing about honky-tonks, drinking, and women. They are considerably more country than most new music that crosses my desk these days, mixing sweet country waltzes, lovelorn Tex-Mex balladry, bold outlaw themes and Texas two-steppers into classic beer-swilling saw-dust dancefloor fillers. Nodding to country's rich heritage and evoking Haggard, Strait, Jackson and even the Mavericks, they create their own  unique sound. Don't call the Western Express a throwback band. Sure, while listening to this album you'll feel like you've been transported to the old dancehalls of the Texas Hill Country where Bob Wills once commanded a crowd with his fiddle and a 'ah-ha!' holler and George Strait & His Ace In The Hole band cut their musical teeth. But they are every bit as modern as they are steeped in tradition.
Main vocalist Stephen Castillo has a voice with the depth of Raul Malo and the loneliness of country, while the rest of the band provide sweet, soulful background vocals. The nine tracks included on this debut album are carefully crafted, from the easy saunter of the Tex-Mex flavoured Lovin' You For A While to Honky Tonk Saints, the album's upbeat opener. Dedicated to the late James Hand and the other Texas singers that have played Austin's Broken Spoke, the latter is a honky-tonk stunner, with crunchy guitars, saintly reverent vocals and atmospheric organ textures. The band demonstrates both instrumental prowess and respect for their musical heritage as the sons of Texas music forebears. There's a hard-won bravado running through the Tex-Mex flavoured The Flower Of The Rio Grande. Recreating country music's long-lost story-telling heritage, this is a compelling yarn of unrequited love dressed in a passionate musical arrangement of mournful fiddle and reverb-heavy guitars that drifts gallantly across a desert landscape.
One of the finest barroom songs I've heard in quite some time, You And Me And The Neon is full of classic lines that Ol' Hag would've been proud to have pinned his name on, the best one being: 'kiss me on the lips with a mouthful of sin.' Stephen's voice skates into a supple higher register over a skittering country beat, as the band creates something glistening and majestic from simple, but highly effective twangy guitars and warm harmonies. They head down to the streets of Bakersfield with Trust Me, You Can't Trust Me, a kick-up-yer-heels Buckaroos toe-tapper with pedal steel very much to the fore. There's an air of regret to Last Apology, which has an uplifting melody amidst a sad break-up as a couple swirl around the kitchen prior to an intended final farewell. Emptying Me confronts country music's on-going battle with the bottle with some clever lyric writing and an inventive musical arrangement blending twanging guitars and a swirling organ. To close the album, they travel south of the border for Quesadilla Mamacita, a light–hearted romantic ode with a whirling musical arrangement that demonstrates The Western Express' willingness to be adventurous on an album that rises far above the run-of-the-mill country band records.
www.thewesternexpress.band.com
July 2022