The Three Hanks - The Generation Game
First Published in Country Music International, February 1997
Death is no longer an obstacle in the music industry. The legacy of the late Hank Williams has been revived with the release of an album featuring three generations of the Williams' clan singing together. Alan Cackett is invited to the family function.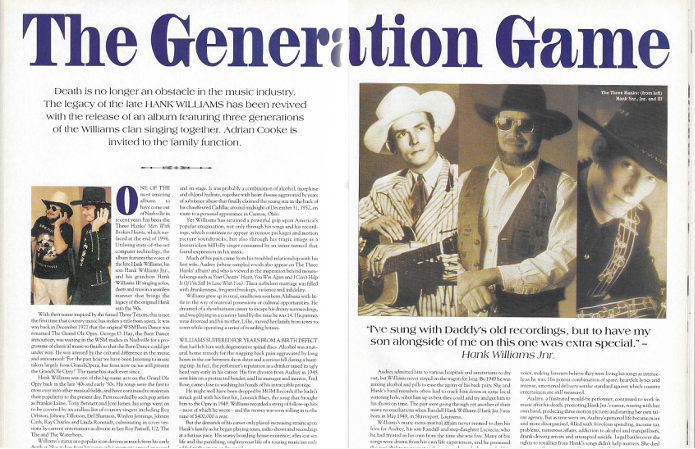 One of the most amazing albums to have come out of Nashville in recent years has been the Three Hanks' MEN WITH BROKEN HEARTS, which surfaced at the end of 1996. Utilising state-of-the-art computer technology, the album features the voice of the late Hank Williams, his son Hank Williams Jnr. and his grandson Hank Williams III singing solos, duets and trios in a seamless manner that brings the legacy of the original Hank into the 1990s.
With their name inspired by the famed Three Tenors, this is not the first time that country music has stolen a title from opera. It was back in December 1927 that the original WSM Barn Dance was renamed The Grand Ole Opry. George D Hay, the Barn Dance announcer, was waiting in the WSM studios in Nashville for a programme of classical music to finish so that the Barn Dance could get under way. He was amused by the cultural difference in the music and announced: "For the past hour we have been listening to music taken largely from Grand Opera, but from now on we will present the Grand Ole Opry!" The name has stuck ever since.
Hank Williams was one of the big-name acts on the Grand Ole Opry back in the late 1940s and early 1950s. His songs were the first to cross over into other musical fields, and have continued to maintain their popularity to the present day. First recorded by such pop artists as Frankie Laine, Tony Bennett and Joni James, his songs went on to be covered by an endless list of country singers including Roy Orbison, Johnny Tillotson, Del Shannon, Waylon Jennings, Johnny Cash, Ray Charles and Linda Ronstadt, culminating in cover versions by current entertainers as diverse as Lee Roy Parnell, U2, The The and The Waterboys.
Williams' status as a popular icon derives as much from his early death at 29 as it does from his songs or his magnetic appeal on record and on stage. It was probably a combination of alcohol, morphine and chloral hydrate, together with a heart disease aggravated by years of substance abuse that finally claimed the young star in the back of his chauffeured Cadillac around midnight of December 31, 1952, en route to his personal appearance in Canton, Ohio.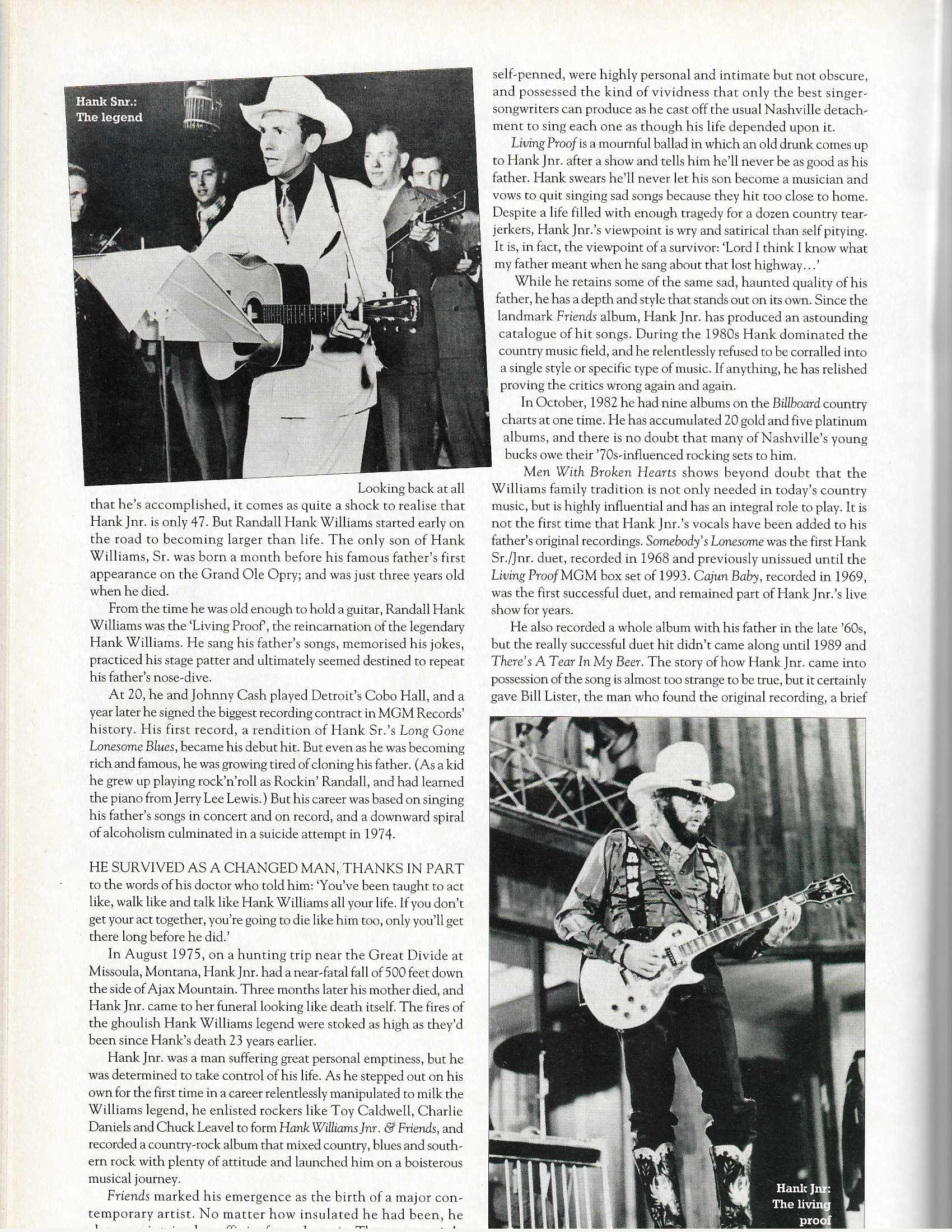 Yet Williams has retained a powerful grip upon America's popular imagination, not only through his songs and his recording, which continue to appear in reissue packages and motion picture soundtracks, but also through his tragic image as a love-stricken hillbilly singer consumed by an inner turmoil that found expression in his music.
Much of his pain came from his troubled relationship with his first wife, Audrey (whose sampled vocals also appear on the Three Hanks' album) and who is viewed as the inspiration behind mournful songs such as Your Cheatin' Heart, You Win Again and I Can't Help It (If I'm Still In Love With You). Their turbulent marriage was filled with drunkenness, frequent breakups, violence and infidelity.
Williams grew up in rural, smalltown southern Alabama with little in the way of material possessions or cultural opportunities. He dreamed of a showbusiness career to escape his dreary surroundings, and was playing in a country band by the time he was 14. His parents were divorced and his mother, Lillie, moved her family from town to town while operating a series of boarding houses.
Williams suffered for years from a birth defect that had left him with degenerative spinal discs. Alcohol was a natural home remedy for the nagging back pain aggravated by long hours in the car between show dates and a serious fall during a hunting trip. In fact, the performer's reputation as a drinker raised its ugly head very early in his career. His first divorce from Audrey in 1948 sent him on a protracted bender, and his manager and mentor, Fred Rose, came close to washing his hands of his intractable protégé.
He might well have been dropped by MGM Records if he hadn't struck gold with his first hit, Lovesick Blues, the song that brought him to the Opry in 1949. Williams recorded a string of follow-up hits—most of which he wrote—and the money was soon rolling in to the tune of $400,000 a year.
But the demand of his career only placed increasing strain upon Hank's family as he began playing tours, radio shows and recordings at a furious pace. His seamy boarding-house existence, alley-cat sex life and punishing, unglamorous life of a touring musician only added to the strain and turmoil.
Audrey admitted him to various hospitals and sanitariums to dry out, but Williams never stayed on the wagon for long. By 1949 he was mixing alcohol and pills to ease the agony of his back pain. She and Hank's band members often had to track him down at some local watering hole, sober him up as best they could and try and get him to his shows on time. The pair were going through yet another of their many reconciliations when Randy Hank Williams (Hank Jnr) was born in May 1949, in Shreveport, Louisiana.
Williams' many extra-marital affairs seemed to dim his love for Audrey, his son Randall and step-daughter Lycrecia, who he had treated as his own from the time she was five. Many of his songs were drawn from his own life experiences, and he possessed the rare ability to project real emotion through the sound of his voice, making listeners believe they were living his songs as intensely as he was. His potent combination of spare, heartfelt lyrics and intense, emotional delivery set the standard against which country entertainers are still measured.
Audrey, a frustrated would-be performer, continued to work in music after his death, promoting Hank Jnr's career, touring with her own band, producing three motion pictures and starting her own talent agency. But as time went on, Audrey's personal life became more and more disorganised, filled with frivolous spending, income tax problems and numerous affairs, addiction to alcohol and tranquillisers, drunk-driving arrests and attempted suicide. Legal battles over the rights to royalties from Hank's songs didn't help matters. She died from an epileptic seizure on November 4, 1975.
Looking back at all that he's accomplished, it comes as quite a shock to realise that Hank Jnr is only 47. But Randall Hank Williams started early on the road to becoming larger than life. The only son of Hank Williams, Sr was born a month before his famous father's first appearance on the Grand Ole Opry; and was just three years old when he died.
From the time he was old enough to hold a guitar, Randall Hank Williams was the 'Living Proof', the reincarnation of the legendary Hank Williams. He sang his father's songs, memorised his jokes, practiced his stage patter and ultimately seemed destined to repeat his father's nose-dive.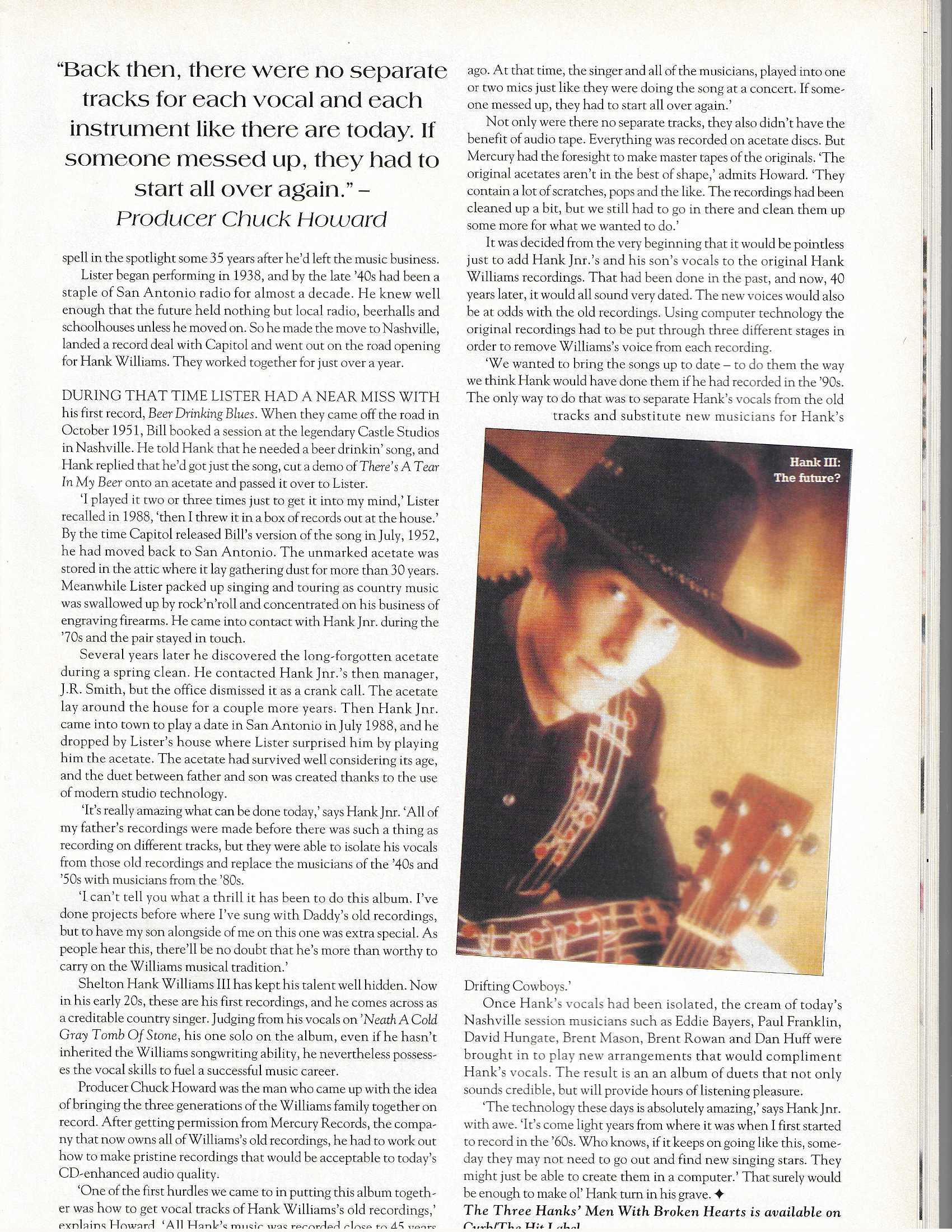 At 20, he and Johnny Cash played Detroit's Cobo Hall, and a year later he signed the biggest recording contract in MGM Record's history. His first record, a rendition of Hank Sr's Long Gone Lonesome Blues, became his debut hit. But even when he was becoming rich and famous, he was growing tired of cloning his father. (As a kid he grew up playing rock'n'roll as Rockin' Randall, and had learned the piano from Jerry Lee Lewis). But his career was based on singing his father's songs in concert and on record, and a downward spiral of alcoholism culminated in a suicide attempt in 1974.
He survived as a changed man, thanks in part to the words of his doctor who told him: 'You've been taught to act like, walk like and talk like Hank Williams all your life. If you don't get your act together, you're going to die like him too, only you'll get there long before he did.'
In August 1975, on a hunting trip near the Great Divide at Missoula, Montana, Hank Jnr had a near-fatal fall of 500 feet down the side of Ajax Mountain. Three months later his mother died, and the ghoulish Hank Williams' legend were stocked as high as they'd been since Hank's death 23 years earlier.
Hank Jnr was a man suffering great personal emptiness, but he was determined to take control of his life. As he stepped out on his own for the first time in a career relentlessly manipulated to milk the Williams' legend, he enlisted rockers like Toy Caldwell, Charlie Daniels and Chuck Leavel to form HANK WILLIAMS JNR & FRIENDS, and recorded a country-rock album that mixed country, blues and southern rock with plenty of attitude that launched him on a boisterous musical journey.
Friends marked his emergence as the birth of a major contemporary artist. No matter how insulated he had been, he always maintained an affinity to rock music. The songs, mainly self-penned, were highly personal and intimate but not obscure, and possessed the kind of vividness that only the best singer-songwriters can produce as he cast off the usual Nashville detachment to sing each one as though his life depended upon it.
Living Proof is a mournful ballad in which an old drunk comes up to Hank Jnr after a show and tells him he'll never be as good as his father. Hank swears he'll never let his son become a musician and vows to quit singing sad songs because they hit too close to home. Despite a life filled with enough tragedy for a dozen country tear-jerkers, Hank Jnr's viewpoint is wry and satirical more than self-pitying. It is, in fact, the viewpoint of a survivor: 'Lord I think I know what my father meant when he sang about the lost highway...'
While he retains some of the sad, haunted quality of his father, he has a depth and style that stands out on its own. Since the landmark FRIENDS album, Hank Jnr has produced an astounding catalogue of hit songs. During the 1980s Hank dominated the country music field, and he relentlessly refused to be corralled into a single style or specific type of music. If anything, he has relished proving the critics wrong again and again.
In October, 1982 he had nine albums on the Billboard country charts at one time. He has accumulated 20 gold and five platinum albums, and there is no doubt that many of Nashville's young bucks owe their 1970s-influenced rocking sets to him.
MEN WITH BROKEN HEARTSshows beyond doubt that the Williams' family tradition is not only needed in today's country music, but is highly influential and has an integral role to play. It is not the first time that Hank Jnr's vocals have been added to his father's original recordings. Somebody's Lonesome was the first Hank Sr/Jnr duet recorded in 1968 and previously unissued until the LIVING PROOF MGM box set of 1993. Cajun Baby, recorded in 1969, was the first successful duet, and remained part of Hank Jnr's live show for years.
He also recorded a whole album with his father in the late 1960s, but the really successful duet hit didn't come along until 1989 and There's A Tear In My Beer. The story of how Hank Jnr came into possession of the song is almost too strange to be true, but it certainly gave Bill Lister, the man who found the original record, a brief spell in the spotlight some 35 years after he'd left the music business.
Lister began performing in 1938, and by the late 1940s had been a staple of San Antonio radio for almost a decade. He knew well enough that the future held nothing but local radio, beerhalls and schoolhouses unless he moved on. So he made the move to Nashville, landed a record deal with Capitol and went out on the road opening for Hank Williams. They worked together for just over a year.
During that time Lister had a near miss with his first record, Beer Drinking Blues. When they came off the road in October 1951, Bill booked a session at the legendary Castle Studios in Nashville. He told Hank that he needed a beer drinkin' song, and Hank replied that he'd got just the song, he cut a demo of There's A Tear In My Beer onto an acetate and passed it over to Lister.
"I played it two or three times just to get it in my mind," Lister recalled in 1988, "then I threw it in a box of records out at the house." By the time Capitol released Bill's version of the song in July, 1952, he had moved back to San Antonio. The unmarked acetate was stored in the attic where it lay gathering dust for more than 30 years. Meanwhile Lister packed up singing and touring as country music was swallowed up by rock'n'roll and concentrated on his business of engraving firearms. He came into contact with Hank Jnr during the 1970s and the pair stayed in touch.
Several years later he discovered the long-forgotten acetate during a spring clean. He contacted Hank Jnr's then manager, J.R. Smith, but the office dismissed it as a crank call. The acetate lay around the house for a couple more years. Then Hank Jnr came into town to play a date in San Antonio in July 1988, and he dropped by Lister's house where Lister surprised him by playing him the acetate. The acetate had survived well considering its age, and the duet between father and son was created thanks to the use of modern-day technology.
"It's really amazing what can be done today," says Hank Jnr. "All of my father's recordings were made before there was such a thing as recording on different tracks, but they were able to isolate his vocals from those old recordings and replace the musicians of the 1940s and 1950s with the musicians from the 1980s."
"I can't tell you what a thrill it has been to do this album. I've done projects before where I've sung Daddy's old recordings, but to have my son alongside of me on this one was extra special. As people hear this, there'll be no doubt that he's more than worthy to carry on the Williams' musical tradition."
Shelton Hank Williams III has kept his talent well hidden. Now in his early 20s, these are his first recordings, and he comes across as a creditable country singer. Judging from his vocals on 'Neath A Cold Grey Tomb Of Stone, his one solo on the album, even if he hasn't inherited the Williams' songwriting ability, he nevertheless possesses the vocal skills to fuel a successful music career.
Producer Chuck Howard was the man who came up with the idea of bringing the three generations of the Williams' family together on record. After getting permission from Mercury Records, the company that owns all of Williams' old recordings, he had to work out how to make pristine recordings that would be acceptable to today's CD-enhanced audio quality.
"One of the first hurdles we came to in putting this album together was how to get the vocal tracks of Hank Williams' old recordings," explains Howard. "All Hank's music was recorded close to 45 years ago. At the time, the singer and all the musicians, played into one or two mics just like they were doing the song at a concert. If someone messed up, they had to start all over again."
Not only were there no separate tracks, they also didn't have the benefit of audio tape. Everything was recorded on acetate discs. But Mercury had the foresight to make master tapes of the originals. "The original acetates aren't in the best of shape," admits Howard. "They contain a lot of scratches, pops and the like. The recordings have been cleaned up a bit, but we still had to get in there and clean them up some more for what we wanted to do."
It was decided from the very beginning that it would be pointless just to add Hank Jnr's and his son's vocals to the original Hank Williams' recordings. That had been done in the past, and now, 40 years later, it would all sound very dated. The new voices would also be at odds with the old recordings. Using computer technology the original recordings had to be put through three different stages in order to remove Williams' voice from each recording. 
"We wanted to bring the songs up to date—to do them the way we think Hank would have done them if he had recorded them in the 1990s. The only way to do that was to separate Hank's vocals from the old tracks and substitute new musicians for Hank's Drifting Cowboys."
Once Hank's vocals had been isolated, the cream of today's Nashville session musicians such as Eddie Bayers, Paul Franklin, David Hungate, Brent Mason, Brent Rowan and Dan Huff were brought in to play new arrangements that would complement Hank's vocals. The result is an album of duets that not only sound credible, but will provide hours of listening pleasure.
"The technology these days is absolutely amazing," says Hank Jnr with awe. "It's come light years from where it was when I first started to record in the 1960s. Who knows, if it keeps on going like this, someday they may not need to go out and find new singing stars. They might be able to create them in a computer." That surely would be enough to make ol' Hank turn in his grave.