The Tennessee Bluegrass Band - The Future Of The Past
Billy Blue Records
****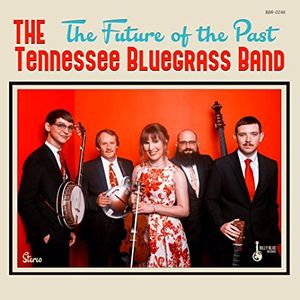 There really isn't anything much more exciting than watching talented young people grow into professional musicians. Not only do we get to enjoy what they can already do but contemplating what they will do in the future gives great hope for the ongoing development of bluegrass music. The newly formed Tennessee Bluegrass Band comprises mainly twenty-something singers and musicians who have already gained much experience by individually working with such premier outfits as Lynn Morris Band, Bobby Osborne's Rocky Top X-Press, McPeake Brothers, Carolina Blue, Michael Cleveland & Flamekeepers and alongside Larry Sparks, Dale Ann Bradley, Marty Raybon, Jeanette Williams and more. The quintet—Lincoln Mash (lead vocals, guitar), Aynsley Porchak (fiddle, vocals), Lincoln Hensley (banjo), Tim Laughlin (mandolin, vocals) and Tyler Griffith (bass, vocals)—play pure bluegrass (what they at one time called) Newgrass, the kind of stuff on which Tony Rice and Ricky Skaggs based their reputations. Whatever label you want to pin on this music, in the end, most lovers of bluegrass music simply enjoy what appeals to them and skip what doesn't, as they would in any other genre. But the passion for defending one's own camp is a fascinating aspect of bluegrass, perhaps indicating the degree to which its devotees identify with and deeply embrace the music. So it is with these young musicians, who bring a fresh enthusiasm, vitality, and rare musical skill to the rich bluegrass canon.
Beyond honoring the bluegrass tradition, the band briefly turns its attention to an old Ernest Tubb country music standard. The 1940s honky-tonk classic Letters Have No Arms suits the band's harmonies thanks in part to fiddle accompaniment that's as sad and longing as Mash's vocal delivery. There is a definite country feel apparent in Hillbilly Blues, but there is nothing negative in that connotation. Hensley's banjo is pure drive, all forward roll, all the time, and nobody can out-lonesome Lincoln Mash when it comes to delivering a sad and tragic song of loss and heartbreak. The Tim Raybon penned I'm Warming Up To An Old Flame is aglow with vibrant, old-timey buoyancy. The pickers are really smoking the strings on this one and Aynsley's fiddle is on fire, not to mention on-the-mark vocal harmonies. A spirited, up-tempo Far From You rolls on like a big train, powered by feverish locomotive energy. The ringing refrain and precise picking shared in this track might just prove potent enough to seal the deal for those still unsure of the credentials of this band that's been together for barely a year.
Like most bluegrass outfits, they also take a sideward step into gospel realms with Angels Watching Me. Unlike many bands, though, this is not in the tradition of Southern Gospel, being more sublime with Aynsley's sweet tones and the guys adding deep-throated call and response harmonies for pure-toned reverence. Full credit to producer Jerry Salley for the crystal-clear sound and the undoubted deep bench skill of the band members to create a superb debut album that longtime bluegrass fans will find much to dig within the ten tracks. 
July 2022