The Storm Windows - Second Album
Self-released
****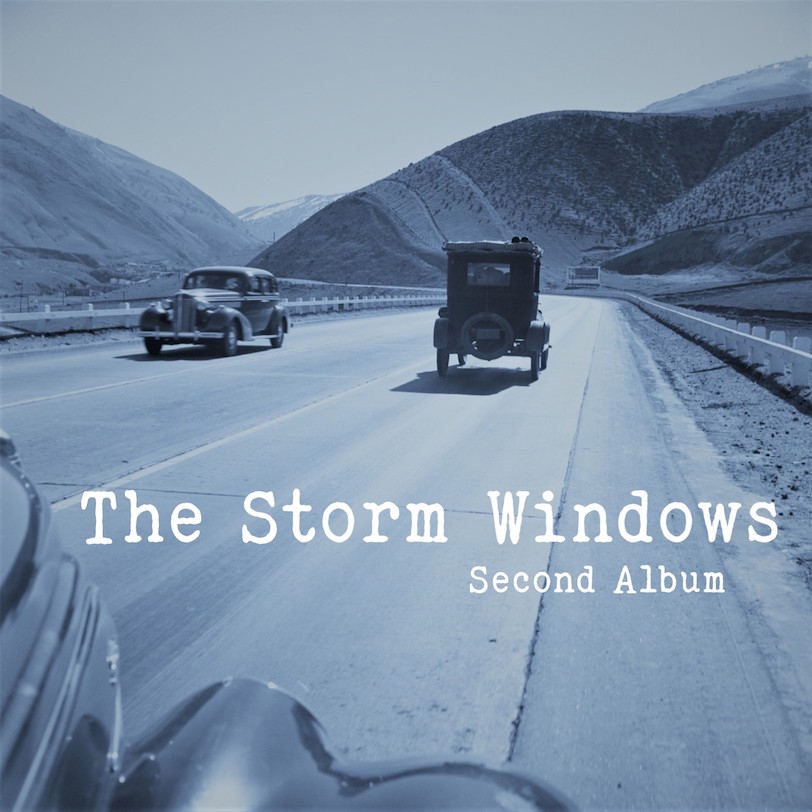 I consciously try to keep my eyes—and ears—open for new stories, sounds, ideas, and ways of thinking. We first engage with songs through our ears. We hear plucked strings, tapped percussion, and projected voices carrying melodies or harmonising together. If it's loud, we can feel rumbling or reverberations from our feet to our cores; if we're lucky, we might enjoy a fleeting sense of peace emanating from within. The Storm Windows' SECOND ALBUM has everything you should love about music. Exquisite melodies that sound fresh and inviting, historical references delivered in the lyrics, inventive musical arrangements and touches of tender moments that should reach out and embrace even the most hardened Neanderthal. This New York-based duo, comprising Rob and Don Mathews, makes the sort of music I've been fascinated with for much of my life, music that mixes the organic with the modern. The album's instrumentation radiates with warmth and is illuminated by subtle details like the wind and brass sections, slinky pedal steel and tasteful electric and acoustic guitar patterns. The daring pair interpret different musical styles in a personal and idiosyncratic way, planting their thick-soled heels in the rich American dirt to come up with a sound that they appropriately refer to as 'New Americana.' 
Deeply inspired by 1970s folk-rock, the duo has never been afraid of pushing labels aside in their search for arresting sounds and musical adventure. They demonstrate this adventurism with their stunning reinvention of Jefferson Airplane's late 1960s psychedelic rock classic Somebody To Love. Naturally, any time one tampers with the template there is a substantial risk involved, especially if there's an expectation that the original material can be bettered or, at very least, transformed, even if it's only superficially. Therein lies the dilemma—how does an artist insert his or her own imprint on any timeless standard while avoiding any attempt to rival the original. The band make the cover their own without overshadowing Grace Slick's ferocious, angry, screeching vocal tones of the original hit. In fact, they totally ignore that well-recognised approach. Somewhat quirky, but with an undefinable quality, they open with acoustic guitar moving effortlessly into Latin-jazz percussion with gorgeous layers of saxophone. A soft, stirring ray of sound washes over the ears as the forlorn lover's meditative and mesmerising vocal gently rises and shines. It's the sonic equivalent of sunlight catching the glint on a fresh teardrop. 
Another impeccable cover is their compelling rendition of David Allan Coe's The Great Nashville Railroad Disaster. Based on a true story, this is a classic train song, given a gently rumbling steam rhythm as the intricate fatalistic yarn unfurls. In the brothers' own songs there is often an undercurrent of wishing for a better way of life. This is very much at the centre of opening track A House Divided. Anxiety about the inhospitable world, the inequality between rich and poor, black and white, and the huge divisions in America, creeps into one of the album's lone up-tempo tunes. One Worldhas a smooth, folk-pop flow that keeps the emphasis on gentle vocals and beguiling sax as the lyrics passionately declare that it's 'one world … yeah, it's our world.' The delicate and forlorn Leaving Miami is so gentle and soothing it becomes an idyll of its own. Amidst the shimmering pedal steel wafts they offer up an absolutely beautiful trip into a love-soaked nostalgic reverie.
Irrepressible and pastoral, with honey-hued vocals blooming across its ten tracks, this record from this unusual, talented, boundary-bending band, reveals its instrumental and lyrical multitudes on every new listen.
February 2023