First published in Country Music People, June 1977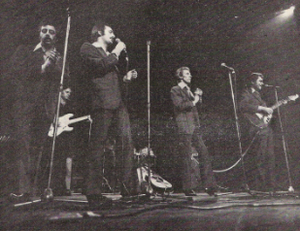 The Statler Brothers, the premier vocal group in modern country music, have followed their American successes of being continually named the best group by emerging as favourites in Britain. The country fans voted them best group in the International Festival Awards at Wembley over the Easter Weekend even though their last album release in this country was almost three years ago and they last visited us four or five years back when they were an integral part of the Johnny Cash Road Show.
The four-piece group from Virginia are very much an anonymous outfit, with most country fans having difficulty in naming the four members, and having more trouble in fitting the names to the faces. Yet, like Tompall & The Glaser Brothers did a few years ago, they have caught the imagination of the British country fan.
Their musicianship is flawless, their vocals precise and their material excellent. What they may lack in uniqueness, they more than make up for in, if I may use the word positively, professionalism. Their roots are in gospel music, but the music they produce both on record and pn stage, is much wider than that, and very much their very own. The Statlers have spent years grooming and cultivating their act and style. They are a hallmark of country harmony as they weave behind the smooth interchange of lead vocals.
Apart from an early brush with fame via
Flowers On The Wall
and
You Can't Have Your Kate And
Edith Too
in the mid-1960s, The Statlers didn't really come to power until 1971 with a string of hits like
Bed Of Roses, Carry Me Back
and
The Class Of '57
. Lead tenor singer Don Reid, his brother bass singer Harold Reid, tenor Lew DeWitt and baritone Phil Basley began as a gospel quartet known as the Kingsmen.
They began working in their home state of Virginia back in the late 1950s and slowly found it necessary to fill their act out with pop and country songs. Eventually they needed a change of name and chose the name Statler from a box of tissues. By the early 1960s they had their own television show, Green Green Grass Of Home, in Roanoke Virginia and quite often the major country stars would drop by for a guest spot when playing the area.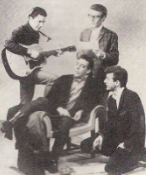 One such star was Johnny Cash, who was so impressed by the work of the boys that he asked them to join his road show. This naturally enough led to a recording contact with Columbia and within a matter of months they had their biggest hit in America, both pop and country, with the Lew DeWitt song
Flowers On The Wall
. In 1965 they won a coveted Grammy Award for the best song and best pop record. Touring with Johnny Cash gave them maximum exposure and they followed up with minor hits like
Ruthless
and
That'll Be The Day
, but the Statlers were unable to consolidate their initial recording success.
Their record company was never too sure how to handle their recordings and continually being on the road did not give the boys the opportunity to devote time to selection of material and arrangements. For five years they were recording mainly standards, like
Shenandoah, This Ole
House
and
Release Me
—great album tracks, fine for concert appearances, but not suitable for the all-important chart success they needed.
Eventually they realised that without regular record success, it was becoming more difficult to gain the lucrative work they needed. In 1970 they left Columbia and signed with Mercury, and this led to a new direction in their career. Their songwriting ability, which had only blossomed occasionally during the 1960s, came right to the fore, and they concentrated almost exclusively on their own songs in the studios.
With the guiding light of producer Jerry Kennedy, The Statlers rapidly established themselves as one of the hottest recording acts of the 1970s. They had with them a bundle of songs that they had been working on and it was Harold Reid's tale of a young man's association with a prostitute in
Bed Of Roses
that took them back to the country charts. It was a catchy story-song and the instantly memorable chorus line led to instant chart success.
Following this success they began experimenting new ideas and feelings, but not forgetting about the traditional roots of country music. Looking ahead without losing sight of what had gone down before, they created a song that is all their own, but without a doubt, country.
They turned to their youth for inspiration in their songwriting, and songs like
Carry Me Back, The Strand, Do You Remember These
and Whatever Happened To Randolph Scott blend a certain nostalgia for what has gone forever with a taste of Americana. The magic of the singing cowboy film typified in
Randolph Scott
, the changing landscape of our towns with old cinemas like
The
Strand
being pulled down to make way for new supermarkets, and even old friends lost forever but retained in memory as in
The Class Of '57
.
It was a formula that worked. The Statlers developed into the top vocal group in country music; the distinctive sound of their vocal blend is easily recognisable when applied to their tasteful song material. The vocal combinations are tremendous, the vocal sound soars out full, sweet and high, then they drop back to make way for the solo, before the vocals all melt together again.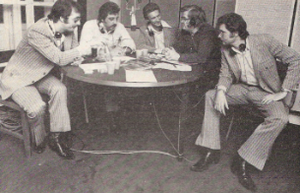 A slightly off-beat approach is there in the songwriting—there's real humour and perception as typified in songs like
Susan When She Tried, I'll Go To My Grave Loving You
and
The Streets Of
San Francisco
.
The Blackwood Bros
. is the fond recollection of their days as a gospel quartet. The gospel influence is noticeable throughout their recordings as they cleverly use the bass and baritone voices to emphasise certain phrases in the songs.
Two years ago they realised one of their greatest ambitions when they recorded two albums of gospel music—one covering the Old Testament and one for the New Testament—and both albums sold well enough to enter the country music charts.
With each album they only solidify their position as one of the very best and most  imaginative groups on the scene. The nostalgia of
Pictures Of Moments To Remember
, the changing face of country music typified in
Sons Of The Motherland
, and even a touch of comedy as they showed with their send-up of old fashioned country music radio shows typified in the hilarious
Saturday Morning Radio Show.
Throughout the 1970s The Statler Brothers have stamped a touch of class on modern country music. Along with their smooth vocal work they have utilised the finest of Nashville studio musicians creating a rural backcloth with banjo, Dobro, harmonica and steel guitar. And the dedication to their chosen profession has borne fruit with healthy record sales and the accolades bestowed upon them by both trade people and those who matter most, the country music fans.
Harold, Lew, Phil and Don may still be anonymous personalities as far as audiences in Britain are concerned, but if you've ever lived with their recordings, then you know that you have glimpsed into their lives, met their friends, old and new, and relived their memories of yesteryear, and you can't ask much more than that of any artist.