Soundly Music
****1/2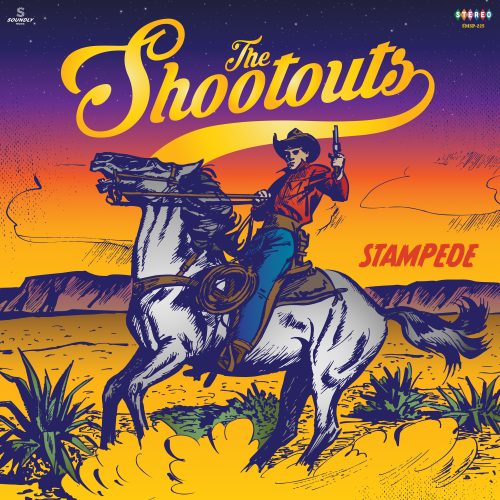 If you want something done right, you go to the experts. So, if you want some vintage western swing, honky-tonk and barroom country, you go to Ray Benson, longtime frontman and founder of Asleep At The Wheel. Well, okay, Ohio retro-country outfit the Shootouts, didn't actually go to Benson, he came to them, and more-or-less insisted that he should co-produce their third album. Working with co-producer Sam Seifert, he brought his Asleep at the Wheel bandmates up to the band's home turf in North-eastern Ohio and over five days at Son of Moondog studios, they completed STAMPEDE … a thrilling mix of supple western swing with brash barroom country, to A-plus results. As an added bonus, they also brought in some heavy-hitting guest artists, including Marty Stuart, Raul Malo, Jim Lauderdale and Buddy Miller. Known for their hard driving sounds and sweet, high harmonies, the band delivers 12 twangy, transportive tunes that evoke many beloved country forebearers, such as Hank Thompson's Brazos Valley Boys, Maddox Brothers, Buck Owens & the Buckaroos and even BR549.
Comprising Ryan Humbert (lead vocals, guitar), Emily Bates (harmony vocals), Brian Peston (lead guitar) and Kevin McManus (bass guitar), the quartet are joined by their 'extended family members' Dylan Gomez (drums), Ryan McDermott (bass), and longtime mentor and collaborator Al Moss (guitar). The album is book-ended by Better Things To Do, a rollicking number with flitting electric guitars, sawing fiddle, background vocals and lyrics about searching for something and someone better. Marty Stuart's mind-boggling mandolin skills lift this track into the realms of a modern classic. They close the album with an acoustic version of the same song, which is just as impressive. They are joined by Ray Benson and members of Asleep At the Wheel for the swaggering One Step Forward. It's a tip of the hat to the swinging big bands of Hank Thompson, Bob Wills and Spade Cooley, while incorporating a decent amount of dancing honky-tonk. The song's joy is contagious, stirring up all your appendages to wave, flutter, stomp, and wiggle enthusiastically and as simultaneously as possible according to your abilities.
The Shootouts stride boldly into the Mavericks' territory for I'll Never Need Anyone More, giving it a passionate reading. It's kinda fitting that Raul Malo adds his distinctive harmony vocals to this mid-tempo declaration of love. They perform the country struttin' Tomorrow's Knockin' with Jim Lauderdale, who adds rousing harmony vocals to this Bakersfield-styled toe-tapper with pedal steel and Telecaster echoing the Buckaroos.  In similar style is Anywhere But Here, with Buddy Miller adding harmony vocals and his distinctive guitar work. A fun little song about being ready to move on from something you know you don't really need anymore.
There is an infectious quality to Run For Cover, warning lyrics and the band's runaway sound that leaves you excited for more. They churn out blue-jeans, retro tinged, unapologetically rock'n'roll as if they invented it. All along, triumphant horns play wildly with fiery Berry-styled electric guitars and pulsating percussion in an arrangement that begs to be enjoyed on a sweat-drenched dance floor. The band's effusive performances—as demonstrated on such songs as Feelin' Kind of Lonely Tonight and the rousing instrumental title track, in particular—allow them to remain true to the traditional template without impeding their more melodic inclinations. They perfect a swooning dreaminess on Coming Home By Going Away, a well-crafted slice of breezy country with woozy steel guitar, relaxed rhythm, wistful lyrics and sunny melody. Hearing these rambunctious guys experiment with something much quieter is actually a thrill. On the whole, the album sounds like they're having a blast. They're a lithe and lively bunch whose sole intent seems to be to lift the spirits of everyone involved, and emphasise the joyful designs that this music has always embraced. 
February 2023