Soundly Music
****
The Ohio-based Shootouts commingle nuanced swing and country-rock elements in songs that shimmy their way into your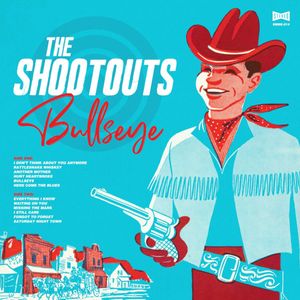 memory with breezy ease on their second album. With a dozen songs that manage to be retro and contemporary, current and ageless, happy and heart-breaking, the collection will have trad-country music lovers smiling from ear-to-ear. Recorded in Nashville under the watchful eye of producer Chuck Mead (BR549 founder), the songs, the sound and the overall impression is of a road-tested and experienced band. Too few bands are making this kind of unalloyed magic these days and for his part, Chuck Mead should be congratulated for being so adept at bringing their unique hybrid of classic country to a wider audience via this excellent album that truly shows off the band's creative flair.
The five-piece comprising Ryan Humbert (lead vocals, guitar), Emily Bates (backing vocals), Brian Poston (lead guitar), Dylan Gomez (drums), and Ryan McDermott (bass) is joined by special guests Al Moss (pedal steel guitar, acoustic guitar), Renae Truex (fiddle), Micah Hulscher (Hammond organ, piano) and
Mead on harmony vocals and acoustic guitar. BULLSEYE is a fully realised and seriously executed work that's never entirely serious. Full of playful rhymes and winsome melodies the message of joy and togetherness might as well be the motto of this whole record. Every song sounds like a standard, from the rousing refrains of Hurt Heartbroke and Here Comes The Blues, to the soaring chorus of Rattlesnake Whiskey and the persistent pulse that powers Everything I Know.
It's not all up-tempo fare. They also offer some quieter, more reflective numbers like the tear-stained Another Mother, which hits the heart and soul with a gentle caress. Humbert intones a powerful sense of emotion with a genuinely personal nostalgia of his mother who passed away in 2018. The lovestruck I Still Care features a sad-tinged vocal accompanied by a 1950s country arrangement, straight out of the Ray Price songbook, with prominent fiddle and steel gliding across a sawdust floor. A weeping steel opens Forgot To Forget, a classic country heartbreaker penned by Al Moss. They close the album with the frantic Saturday Night Town, a celebratory country romp with gritty electric guitars and searing fiddle and pedal steel underlined by the rock-steady rhythm section.
I dig this whole thang—the always-melodic hooks, the plaintive vocals, the crunchy band. There are echoes of Buck Owens, Texas twang and California sheen ... classic country heartbreak and cheating songs, but with a different perspective. There's an undeniable force of rhythm and energy. A blast of pure, classic country, the way many of us fondly remember how it used to sound.
April 2021