The Sensational Stonemans
Those singin', swingin', stompin', sensational Stonemans
When I looked forward to the Festival of Country Music at Wembley last Easter there were several acts I didn't know quite what to expect. Previous years I'd been giving big build-ups on the live  stage performances of artists like Waylon Jennings, Tommy Cash and Tompall and The Glaser Brothers and unfortunately only the last-named really lived up to their reputation. I'd heard rumours concerning the Stoneman Family. The greatest and most visual stage act in country music, yet to be honest recording-wise the Stoneman Family had hardly set the world alight. True, they'd been recording for several years, but you could hardly say they were big selling artists – in fact I couldn't think of one song that they might sing or play at Wembley.
I sat in my seat on the Saturday evening eagerly awaiting the appearance of an unknown entity. I imagined what they may be like. I knew there were five members of the group and I thought, well if they play bluegrass, they must be approaching middle-age, especially as they had been playing with their father, Pop Stoneman, for more than twenty-five years. Then they were on stage and for close on half-an-hour I was at first spell-bound then I was howling with delight.
For the first time since Roy Acuff's first appearance at Wembley in 1970 here was an act that for me really set Wembley alight. They were certainly the most exciting group I've seen in country music, not just relying on first class musical ability, but humour and showmanship. And now comes the news that The Stoneman's are to undertake a British Tour this October. To tell the unique story of The Stoneman Family you must begin with a brief introduction to their famous father Pop Stoneman. E. V. (Pop) Stoneman has amply more than one reason for proudly wearing his nickname. He was the daddy of twenty-three children and one of the first people to record country or hillbilly music back in the twenties.
Born at Monarat Post Office in Carroll County, Virginia, May 25, 1893, Pop Stoneman grew up on his father's small farm not far from where the future Mom Stoneman lived. They met at a Quaker Church Memorial Day Service (neither is a Quaker, but everyone attended all church functions regardless of denomination) and courted for seven years, Pop walking the five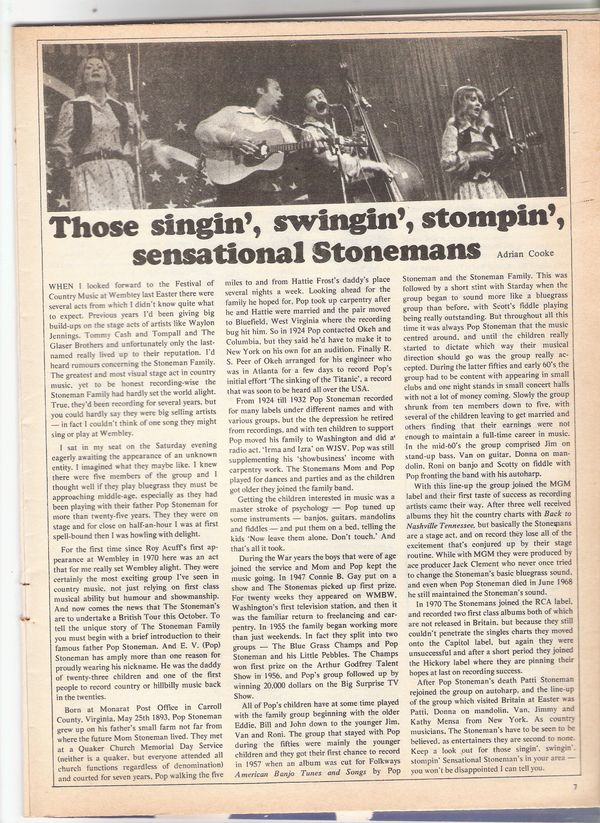 miles to and from Hattie Frost's daddy's place several nights a week. Looking ahead for the family he hoped for, Pop took up carpentry after he and Hattie were married, and the pair moved to Bluefield, West Virginia where the recording bug hit him. In 1924 Pop contacted Okeh and Columbia, but they said he'd have to make it to New York on his own for an audition. Finally R. S. Peer of Okeh arranged for his engineer, who was in Atlanta for a few days, to record Pop's initial effort, 'The Snking of the Titanic, a record that was soon to be heard all over the USA.
From 1924 till 1932 Pop Stoneman recorded for many labels under different names and with various groups, but in the Depression he retired from recordings, and with ten children to support Pop moved his family to Washington and did a radio act, 'Irma and Izra' on WJSV. Pop was still supplementing his 'showbusiness' income with carpentry work. Billed as The Stonemans, Mom and Pop played for dances and parties and as the children got older they joined the family band.
Getting the children interested in music was a master stroke of psychology – Pop tuned up some instruments – banjos, guitars, mandolins and fiddles – and put them on a bed, telling the kids 'Now leave them alone. Don't touch.' And that's all it took.
During the War years the boys that were of age joined the service and Mom and Pop kept the music going. In 1947 Connie B. Gay put on a talent show and The Stonemans picked up first prize. For twenty weeks they appeared on WMBW, Washington's first television station, and then it was the familiar return to freelancing and carpentry. In 1955 the family began working more than just weekends. In fact, they split into two groups – The Blue Grass Champs and Pop Stoneman and his Little Pebbles. The Champs won first prize on the Arthur Godfrey Talent Show in 1956, and Pop's group followed up by winning 20,000 dollars on the Big Surprise TV Show.
All of Pop's children have at some time played with the family's group, beginning with the older Eddie, Bill and John down to the younger Jim, Van and Roni. The group that stayed with Pop during the fifties were mainly the younger children and they got their first chance to record in 1957 when an album was cut for Folkways AMERICAN BANJO TUNES AND SONGSby Pop Stoneman and the Stoneman Family. This was followed by a short stint with Starday, when the group began to sound more like a bluegrass group than before, with Scott's fiddle playing being really outstanding. Throughout all this time it was always Pop Stoneman that the music centred around, until the children really started to dictate in which direction they should take their music, that the group was really accepted. During the latter fifties and early sixties the group had to be content with appearing in small clubs and one night stands in small concert halls, with not a lot of money coming. Slowly the group shrank from ten members down to five, with several of the children leaving to get married and others finding that their earnings were not enough to maintain a full-time career in music. In the mid-sixties the group comprised Jim on stand-up bass, Van on guitar, Donna on mandolin, Roni on banjo and Scotty on fiddle with Pop fronting the band with his autoharp.
With this line-up the group joined the MGM label and their first taste of success as recording artists came their way. After three well-received albums they hit the country charts with Back to Nashville Tennessee, but basically the Stonemans are a stage act, and on record they lose all of the excitement that's conjured up by their stage routine. While with MGM they were produced by ace producer Jack Clement, who never once tried to change the Stoneman's basic bluegrass sound, and even when Pop Stoneman died in June 1968, he still maintained the Stoneman's sound.
In 1970 The Stonemans joined the RCA label, and recorded two first class albums, neither of which are released in Britain, but because they still couldn't penetrate the singles charts they moved onto the Capitol label, but again they were unsuccessful and after a short period they joined the Hickory label where they were pinning their hopes at last on some major recording success.
After Pop Stoneman's death Patti Stoneman re-joined the group on autoharp, and the line-up of the group which visited Britain at Easter was Patti, Donna on mandolin, Van, Jimmy and Kathy Mensa from New York. As country musicians, The Stoneman's have to be seen to be believed, as entertainers they are second-to-none. Keep a look out for those singin', swingin', stompin' Stonemans in your area – you won't be disappointed I can tell you. Adrian Cooke
First published in Country Music Review, October, 1972