The Rifters - The Enchanted World
Howling Dog Records
****1/2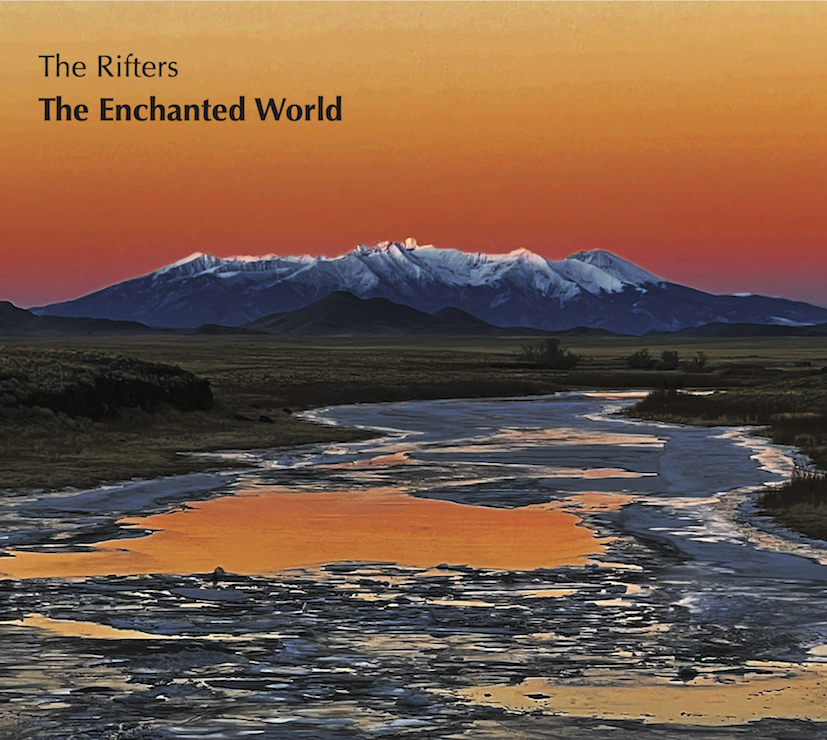 Every song on the Rifters' seventh album serves up a heaping helping of perfection. THE ENCHANTED WORLD is one of those albums that shouts out 'Drop me on the turntable and listen!' Wisdom, humour, reflection, tradition, originality, reverence for the landscape and an unsentimental love of living amidst one's fellow humans, all join to create this impressively out of the ordinary recording. Attention-grabbing stories and open-hearted melodies, this is their most ambitious offering yet. It boasts 14 songs, ten of which are the co-written originals, mostly cast in a low-key sonic quilt of inventive acoustic instrumentation, exquisite harmonies and a mind-blowing panoramic atmosphere, evoking the New Mexico high desert landscape of mountains, mesas, valleys and canyons they call home. While there's definitely an element of magical enchantment with their music, it manifests in a way that also feels slightly nostalgic. It's quiet, dreamy even, but when it hits you, you'll fall as hard as I have for this marvelous album. Suffused with a quiet melancholia and inviting you to stretch out and soak up the sounds, the Rifters' 'Enchanted World' may be in no hurry, but it's a fine reminder that it's the tortoise who wins the race, not the hare.
The trio formed some twenty-odd years ago, having played together and separately in different bands around the fertile music scene of Taos, New Mexico. Comprising Rod Taylor (lead vocals, guitar, resonator guitar, acoustic guitar, mandolin), Jim Bradley (lead and harmony vocals, bass, bowed string bass) and Don Richmond (lead and harmony vocals, Weissenborn slide, lap, pedal steel, 12 string electric guitars, organ, mandolin, Dobro, harmonica, fiddle, banjo, accordion), they are joined here by guest musicians Paul Pearcy (drums, spoons, djembe), Dexter Payne (clarinet), Jimmy Stadler (piano), Eliza Gilkyson (harmony vocals), Diamond Jim Richmond (fiddle, pedal steel guitar), Michael Hearne (lead, acoustic guitars) and Pete Wernick (banjo).
The opening song, The Circle, is the album's thesis, a sort of birds-eye view of the yearning through line of the 14 songs within. Don's vocal delivery is so relaxed and unpretentious, it's impossible to not get drawn into the world of the rancher, who accepts life's ups-and-downs, the inevitable changing of the seasons and the futility of however hard he works, for him—and for so many of us—life, seemingly, goes nowhere, just round and round like an endless circle. They pay further homage to the ranching and western way of life in Tres Pies (a heartfelt tribute to a devoted three-legged ranch dog), The Dollar Worth of Mother Earth (a thought-provoking environmental message), Andy Wilkinson's The Greatest Mystery (exploring the sheer wonder and beauty of the land and nature) and The Enchanted World (which questions how we look at what's all around us).
At the Foot Of The Mountain, a co-write with Eliza Gilkyson (who adds harmonies) and John Gorka, is a deeply relatable and powerfully catchy, jangly toe-tapper that reminds me of 1960s folk-pop trio the Pozo Seco Singers. There's a jaunty feel to The Perfect Dance, with accordion, fiddle, banjo and even clarinet added to the neat arrangement, that will inspire you to sing along, maybe even do a little jig around the kitchen. The philosophical Because You Lived, the album's most winsome ballad, eschews any mournful melancholia that a slower song might entail. Sighing pedal steel, tinkling piano and guitars sparkle with a dampness in places before the gentle fuzz takes hold of the track. Over the years I've heard many versions of That Lucky Old Sun. For my liking, too many of those renditions are over-sung. The Rifters get it just right; a delicate yet resigned rendition that is a fleeting standout for its rootsy acoustic sound and their fuzzed-out harmonies. There is so much space left in the mix that they might've considered crickets and lapping lake water to be collaborators. They close with John Hartford's Gentle On My Mind with the light, inventive picking of Pete Wernick's banjo and Don's fiddle creating yet another tight beauty. THE ENCHANTED WORLD is a wonderfully engrossing listen. A long player that I'd encourage you to `turn on tune in and chill out` to.
April 2023