The Rankin Family - A Family Affair
First published in Country Music International, February 1996
They started out playing for the locals on Cape Breton Island, but The Rankin Family have now taken their individual brand of country and folk to the rest of the world. Alan Cackett follows the campaign
"We grew up in a small community on Cape Breton Island, just off the coast of Nova Scotia," explains Cookie Rankin. "It has a population of less than a 1000 and strong Celtic traditions. When the Scottish emigrated to that part of the country they brought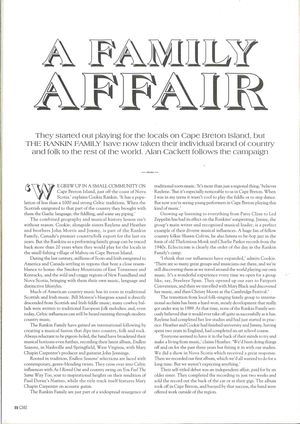 with them the Gaelic language, the fiddling, and some say piping."
The combined geography and musical history lesson isn't without reason. Cookie, alongside sisters Raylene and Heather and brothers John Morris and Jimmy, is part of the Rankin Family, Canada's premier country/folk export for the last six years. But the Rankins as a performing family group can be traced back more than 20 years when they would play for the locals in the small fishing village of Mabou on Cape Breton Island.
During the last (19th) century, millions of Scots and Irish emigrated to America and Canada settling in regions that bore a close resemblance to home: the Smokey Mountains of East Tennessee and Kentucky, and the wild and craggy regions of New Foundland and Nova Scotia, bringing with them their own music, language and distinctive lifestyles.
Much of American country music has its roots in traditional Scottish and Irish music. Bill Monroe's bluegrass sound is directly descended from Scottish and Irish fiddle music; many cowboy ballads were written to traditional European folk melodies; and, even today, Celtic influences can still be heard running through modern country music.
The Rankin Family have gained an international following by creating a musical fusion that dips into country, folk and rock. Always reluctant to be pigeon-holed, the band have broadened their musical horizons even further, recording their latest album, ENDLESS SEASONS, in Nashville and Springfield, West Virginia, with Mary Chapin Carpenter's producer and guitarist John Jennings.
Rooted in tradition, ENDLESS SEASONS' selections are laced with contemporary, genre-blending twists. They cross over into Celtic influences with As I Roved Out and country swing on You Feel The Same Way Too, soar to inspirational heights on their rendition of Paul Doran's Natives, while the title track itself features Mary Chapin Carpenter on acoustic guitar.
The Rankin Family are just part of a widespread resurgence of traditional roots music. "It's more than just a regional thing," believes Raylene. "But it's especially noticeable to us in Cape Breton. When I was in my teens it wasn't cool to play the fiddle or to step dance. But now you're seeing young performers in Cape Breton playing this kind of music."
Growing up listening to everything from Patsy Cline to Led Zeppelin has had its effect on the Rankins' songwriting. Jimmy, the group's main writer and recognised musical leader, is a perfect example of their diverse musical influences. A huge fan of fellow country folkie Shawn Colvin, he also listens to be-bop jazz in the form of old Thelonious Monk and Charlie Parker records from the 1940s. Eclecticism is clearly the order of the day in the Rankin Family's camp.
"I think that our influences have expanded," admits Cookie. "There are so many great groups and musicians out there, and we're still discovering them as we travel around the world playing our own music. It's a wonderful experience every time we open for a group like, say, Steeleye Span. They opened up our ears to Fairport Convention, and then we travelled with Mary Black and discovered her music, and then Christy Moore at the Cambridge Festival."
The transition from local folk-singing family group to international acclaim has been a hard-won, steady development that really got under way in 1989. At that time, none of the Rankin Family seriously believed that it would ever take off quite as successfully as it has. Raylene had completed her law studies and had just started in practice. Heather and Cookie had finished university and Jimmy, having spent two years in England, had completed an art school course.
"Everyone seemed to have it in the back of their minds to try and make a living from music," claims Heather. "We'd been doing things off and on for the past three years but fitting it in with our studies. We did a show in Nova Scotia which received a great response. Then we recorded our first album, which we'd all wanted to do for a long time. But we weren't expecting anything."
Their self-titled debut was an independent affair, paid for by an older sister. They completed the recording in just two weeks and sold the record out the back of the car or at their gigs. The album took off in Cape Breton, and buoyed by that success, the band were offered work outside of the region.
They recorded a second independent album, FARE THEE WELL LOVE in 1990, but follow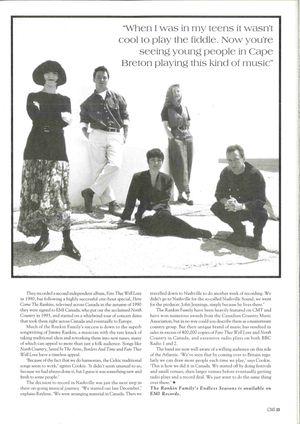 ing a highly successful one-hour special, Here Come The Rankins, televised across Canada in the autumn of 1990 they were signed to EMI Canada, who put out the acclaimed NORTH COUNTRY in 1993, and started on a whirlwind tour of concert dates that took them right across Canada and eventually to Europe.
Much of the Rankin Family's success is down to the superb songwriting of Jimmy Rankin, a musician with the rare knack of taking traditional ideas and reworking them into new tunes, many of which can appeal to more than just a folk audience. Songs like North Country, Saved In The Arms, Borders And Time and Fare Thee Well Love have a timeless appeal.
"Because of the fact that we do harmonies, the Celtic traditional songs seem to work," agrees Cookie. "It didn't seem unusual to us, because we had always done it, but I guess it was something new and fresh to some people."
The decision to record in Nashville was just the next step in their on-going musical journey. "We started out last December," explains Raylene. "We were arranging material in Canada. Then we travelled down to Nashville to do another week of recording. We didn't go to Nashville for the so-called Nashville Sound, we went for the producer, John Jennings, simply because he lives there."
The Rankin Family have been heavily featured on CMT and have won numerous awards from the Canadian Country Music Association, but in no way could you describe them as a mainstream country group. But their unique brand of music has resulted in sales in excess of 400,000 copies of FARE THEE WELL LOVe and NORTH COUNTRY in Canada, and extensive radio plays on both BBC Radio 1 and 2.
The band are now well aware of a willing audience on this side of the Atlantic. "We've seen that by coming over to Britain regularly we can draw more people each time we play," says Cookie. "This is how we did it in Canada. We started off by doing festivals and small venues, then larger venues before eventually getting radio plays and a record deal. We just want to do the same thing over there."