First published in Country Music People, August 1974
Gospel songs and ballads with strong bible-belt sentimentality have abounded in country music since its first commercial success back in the 1920s. Usually it's been a top-line singer making the odd religious single or closing their stage act with a stirring gospel-styled number that's perfectly timed to bring the audience to their feet, clapping and cheering for more. In recent years many country artists have forged a closer link with their religious beliefs and sacred albums have become a regular part of their recorded repertoire.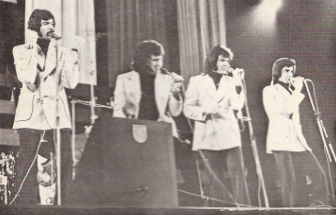 In Britain it's always been difficult to really accept religion as an integral part of country music. True sacred music is appreciated—but only because it's the country idols who have been performing and singing gospel songs. But will the British fans be ready to accept a group that is entirely gospel-based. This was the thought that was uppermost in my mind throughout the Wembley weekend.
I expressed my doubts to Bill Golden, leader of te famous Oak Ridge Boys who were due to make their British debut at the Wembley Country Music Festival. "We're mainly entertainers," he explained, "not just a gospel group, but singers and musicians who want to make people happy and forget their daily problems through the music and entertainment we provide."
There's no doubt that the 'Oaks' as they are usually referred to, certainly impressed the audience at Wembley with their slick, highly professional act. It was a far cry from the age-old image of gospel quartets that many were expecting. The music was 'sock-it-to-me' country with an insistent beat, the vocals polished, but pitched with a fervour that couldn't help but unsettle the most impassive listener.
For years white gospel has been a musical form all of its own, owing little to the modern influence of pop and rock. Gospel quartets used to sing sacred songs in regulation black coat and tie, standing up at the microphone, hands at their sides and just a lone piano player for musical accompaniment. This is the way the Oak Ridge Boys Gospel Quartet was formed back in the 1950s by Wally Fowler.
Unlike black gospel music, which has been a great influence on pop music and achieved commercial success in the process, white gospel—simpler and more straightforward, has only recently ventured out of the Southern 'Bible Belt' States of America to reach out to a much larger audience.
Much of this new found success is due to groups like the 'Oaks,' a different breed of gospel quartet. Brightly coloured, stylishly cut clothes, boots and neck chains—no ties—are the standard outfits for the long-haired mod group. They are no longer a group of part-time singers, but professional entertainers at ease on a stage anywhere in the world.
Since their transformation in the late 1960s from an old fashioned gospel quartet to a hip, modern commercial group, The Oak Ridge Boys have picked up many awards, culminating in 1971 with a Grammy Award for
Talk About The Good Times
as the Best Gospel Performance of the Year. They have moved from small gospel labels on to the American Columbia Label, which means that their recordings are now readily available right across the States instead of just in the South.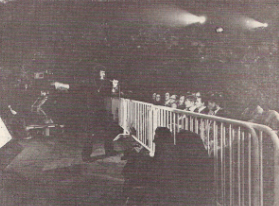 The change came when gospel music was on the verge of a slump, swamped by rock music and suffering from a decline in religious worship, which swept the world during the 1960s. Horns were added to the group's sound, not only on record but at live appearances. Then the group came under the production wing of George Richley, and the Nashville sound crept in, creating the unique sound of the 'Oaks.' Musically appealing and carrying a message at the same time.
The Oak Ridge Boys are much better 'live' than they ever are on records. I found their records enjoyable, but never exciting enough to stir up any feelings that I guess I should have felt. Whereas on stage their enthusiasm built up a firm foundation from which to launch their message of love and a better life.
As Bill Golden summed it up: "We're showman! The group really enjoys performing before an audience." And it would seem that the British country fans really enjoy being entertained by a polished, professional group like The Oak Ridge Boys.